If you own a Mac and enjoy working on it with an external keyboard, chances are you might like what the new Das keyboard MacTigr has to offer. This is a mechanical keyboard with Cherry MX switches, low profile key caps, a USB-C hub and dedicated volume control among other great features that Mac users will enjoy. Read on to learn all the details of the new Das keyboard MacTigr.
MacTigr Mechanical Keyboard – Features
Metallic Beauty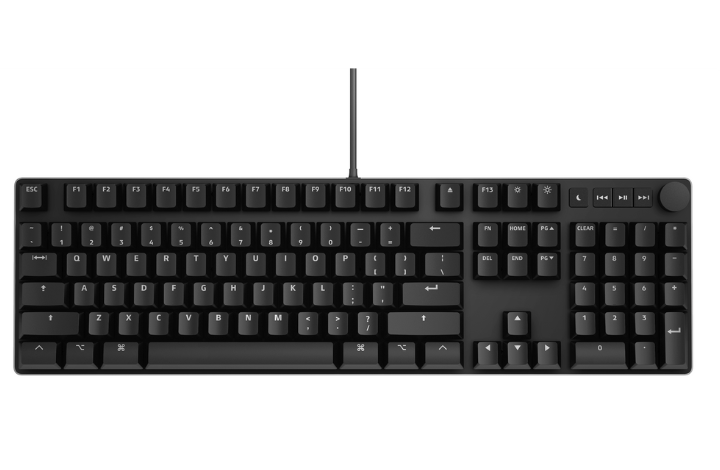 The MacTigr is a beautiful keyboard encased entirely in metal. It has a slim body made of gunmetal gray aluminum, and a heavy-duty, matte black stainless-steel plate. This makes the keyboard extremely strong and durable.
USB-C hub
MacTigr has a built-in superspeed 2-port USB-C hub, which is really great for fast charging and doing quick data transfers. With up to 5 Gbps data speeds, you can get a lot of convenience and versatility whether you are using it alongside your iPhone, iPad or USB-C hard drives.
Cherry MX red switches
This keyboard promises a seamless typing experience and lightning-fast precision thanks to its low profile Cherry MX red switches. These switches have a life expectancy of up to 100 million keystrokes.
Low Profile Keycaps
The MacTigr comes equipped with durable double shot low-profile PBT keycaps with sharp, crisp, white legends. These caps provide a soft touch to your typing experience and are highly durable as well.
Designed Especially for Mac
MacTigr has been designed specially for the Mac. It has Mac-specific keys, a 2-port USB-C hub for speedy data transfers and charging, dedicated media keys for play, pause, skip, and rewind, a large volume knob, eject, command, and brightness keys. There's also an energy-saving sleep button that can put your Mac to sleep instantly.
Dedicated Volume Button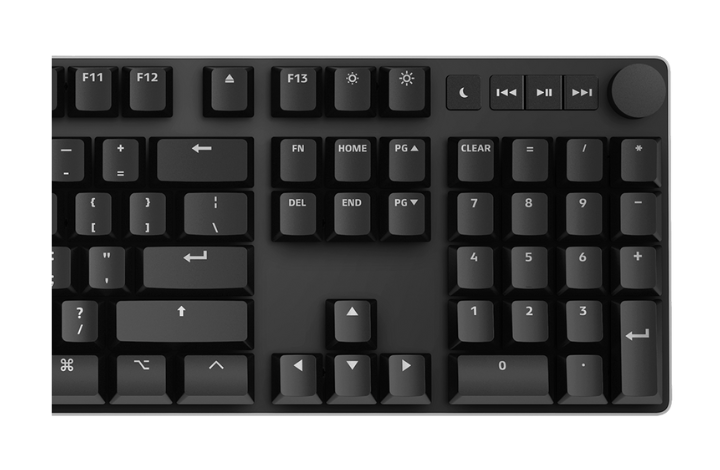 A dedicated volume button is placed in the top right corner of the keyboard. This button placement makes it a lot easier to adjust the volume without having to keep looking down while speed typing.
Quick Specs – Das Keyboard MacTigr
Low-profile mechanical keyboard
100% aluminium unibody
Built-in 2-port USB-C hub – 5 Gbps data speeds; 7.5W charging output
Full size layout with dedicated volume knob, play, pause, skip, and sleep buttons
Double shot PBT keycaps – US only
Full-NKRO: press FN and Play/Pause button to toggle on/off
Cherry MX Low-Profile red switches
Dimensions: 17.16" (436 mm) x 5" (127 mm) x 1.06" (27 mm)
Weight: 2.43 lbs (1100 g)
Final Thoughts
Don't forget that MacTigr is a mechanical keyboard. It does not have wireless connectivity, nor it does not offer RGB lighting. But what it does offer is a premium typing experience and Mac specific features that make it an absolute pleasure to use. The build quality is sturdy and there are handy features like the USB-C hub and volume knob that users will find good value in.
One sore point may be the fact that it has a low-profile design which means you may not be able to get a forward slant to raise the back of the keyboard for a more ergonomic position.
The company's co-founder and CEO, Daniel Guermeur describes working with the MacTigr as an experience like "typing on a cloud". If you do a lo of typing and want one such seamless experience, this keyboard is worth a look.
It is available on Amazon for $210.
Check it out and tell us what you think!