We review the free Android app Gradeup that offers a ton of useful exam preparation materials to ace various competitive exams in India.
Its not an easy task to score top marks in competitive exams. Time constraints, negative marks, lack of proper guidance, stress, poor time management and low confidence levels can quickly take a toll on you. You need to know exactly which exams to take up, the subjects involved in such an exam and how to prepare for them.
One handy guide that can help you prepare for competitive exams with confidence is Gradeup, an Android app that is available for free on Google Play. We take a look at the app and what it offers for anyone preparing to ace CAT, GATE, ZAT and other competitive exams.
What is Gradeup?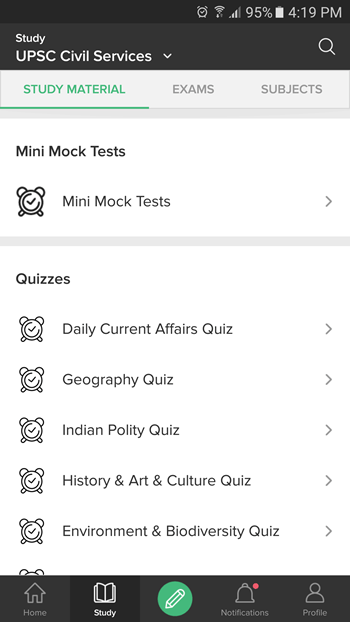 Gradeup is a community based exam prep app that offers students and aspirants all the necessary guidance, support and test materials needed to prepare for the exams.
Gradeup offers the most up to date quizzes, practice papers, mock tests to help students get familiar with the style of questioning. The app offers exam preparation for a range of subjects including Banking, Insurance, SSC, Railways, GATE, IES, JEE, BITSAT, UPSC Civil Services, MBA, and Teaching Exams.
Key Features of Gradeup
Covers all major competitive exams
Well structured format
Easy access to all information pertinent to an exam
Plenty of mock tests, quizzes, and daily activities
Lots of motivational information
Instant notifications on important exam information
Byte-sized tests and study material
Community driven app
Expert guidance and live sessions for doubt clearing
Free for mock tests/pay for full length tests
Easy to sign up and track app activities and exam scores
Only available on Android
Using Gradeup
Students can take their pick of exams, sign in with Facebook, Google credentials or email and start accessing all the relevant details related to that exam.
Once you are signed in, you can see all the information arranged in tabs.
The Home tab lists all the latest feeds from the community. Commenting, upvoting and sharing options are available for each of the feed topics.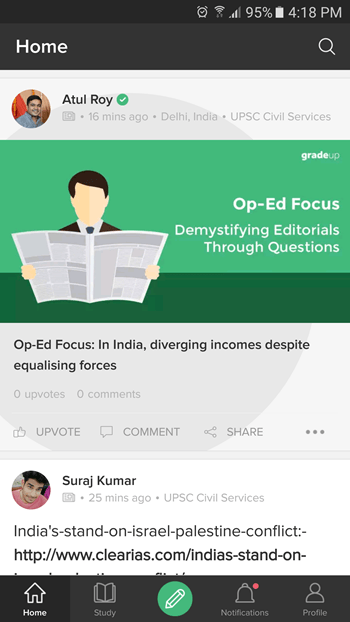 The Study page lists al the mock tests, quizzes, and initiatives you need to go through to prepare for the exam you've chosen to write.  The Study page is further organized into tabs, showing more details on the exam. You can find information on the subjects, essay preparations, daily reading lists, and exam details here. There are also plenty of success stories to help students stay motivated during the course of preparation.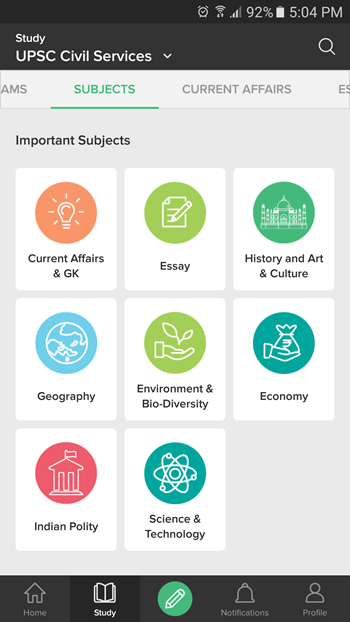 The third tab is where you creates posts. You can post doubts, test questions for the community, or information you found useful in your preparation.
Gradeup provides instant notifications when new quizzes, study materials or other information are added to the app. The app also conducts free live sessions where students can engage with subject matter experts to discuss their doubts and exam related queries. You can also track all of your app activities including exams taken and scores obtained in the Activity section.
While a lot of materials are free, if you want full length tests, you'll need to pay a fee to take them up.
My Impressions
Layout
In my use of  the app, I found Gradeup to be quite promising. The app offers in-depth coverage of the subjects for all the most popular competitive exams in the country. All pertinent information on the subjects, syllabus, and patterns are well laid out and easy to find. All information pertinent to the exam such as the dates, fees and so on are also easy to find.
Community Section
The community section is another good place to seek answers, help others and stay motivated when preparing for the exams. However, I found the choice of language for discussion downright annoying. India is a country with more than 20 officially recognized languages. Community discussions involving a regional language can be really off-putting since not everybody understands a particular language.
I found many many discussions happening in Hindi. I have no knowledge on Hindi so understand my frustration when I browse through the discussions. If I started a discussion in Bengali or Oriya and  discussed important topics with a bunch of people from that region of India, the rest of the students would be at a disadvantage, wouldn't they?
It would be nice to see some community guidelines on discussions so that the benefits of the chats extend to all.
Availability
Another limitation with Gradeup is that the app is available only on Android. You can use the web version, but if you own an iOS device or Windows Phone, you're at a disadvantage.
In all, Gradeup offers plenty of information to help you in your exam preparations. Its not the most comprehensive tool to prepare for the exams. However, it is a powerful companion tool that can supplement your studies.
If you're preparing for any competitive exam, be sure to check out this highly useful app.