Today, it is quite common to work on PDF documents, edit and share them with others. While most documents may not contain sensitive information, there may be times when you want to share a document that contains information that you only want to share with specific people. Adobe's PDF tools have a wide range of security features that help you protect sensitive information from being printed, edited, and copied by unauthorized users. But its an expensive option. If you are looking for something cheaper or free for personal use, check out PDF Unshare.
Features of PDF Unshare
PDF Unshare is a free PDF content protection software that encrypts and protects PDF and UPDF files. It contains all the necessary permission and authorization settings to prevent sensitive information from being printed, edited, or copied by unauthorized users. Many of the features are available by default but users can also change the restrictions to suit their requirements.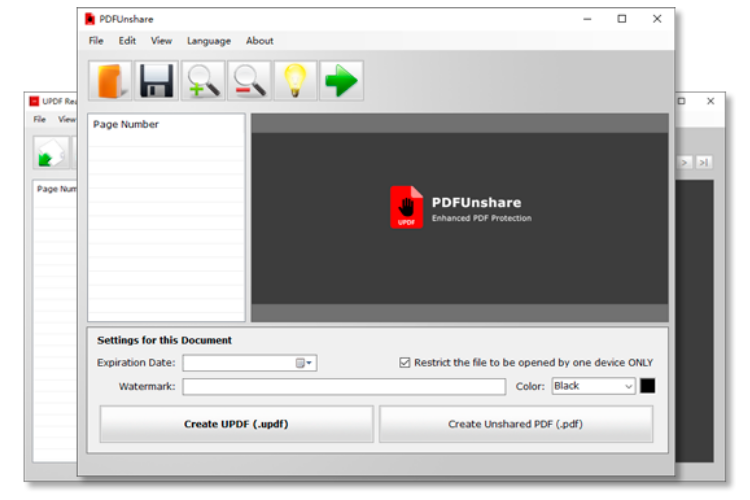 It does not use passwords to protect PDF files because passwords can easily be shared or removed by cracking programs. Instead, PDF files are protected using individual encryption keys. These keys are relayed to authorized devices from a web server and encrypted in a key store on the local device. The key store is locked to individual devices so it cannot be copied and moved elsewhere.
Users who make use of PDF Unshare will need UPF Reader is required to view the document to view the encrypted document. Unauthorized users who try to view the document will be faced with a lock page.
How to Protect PDFs Using PDF Unshare
Key features of the PDF Unshare include:
Programmatic protection of PDF files
This allows users to protect and unprotect PDF files programmatically using a single application with specified RMS rights policies.
Application of dynamic security watermarks
Users can set the security watermark text and color for PDFs. This is to prevent authorized copying of file content by way of screen shots, cameras, or video capture.
Generation of activity log files
The activity logs can help users track the history of files that are protected or unprotected and when they were protected/unprotected.
Restricted user access
The tool restricts authorized access to a single Windows PC, laptop or mobile device such as an iPhone or Android.
Set File Expiry Date
Allows document publishers to expire PDF files so that they can no longer be viewed after a certain period of time.
Multi-language user interface
The tool supports multiple languages including English, French, German, Italian, Spanish, Polish, Simplified Chinese, Traditional Chinese, Arabic, Czech, Greek Portuguese, Hungarian, Turkish, Russian, Japanese and Korean.
Final Thoughts
PDF Unshare is an ideal tool for organizations and entrepreneurs who are looking for an alternate to expensive solutions like Adobe and who want an easy-to-use encryption solution to protect sensitive data. PDF Unshare is free to use for personal use but will cost you just under $50 for commercial use. Check it out on the official site listed below.
Homepage: https://pdfunshare.com