One of the best ways to keep your home safe and secure is with a good home security system. If you are an Amazon prime member, you can now take advantage of the early Prime Day deal on this fantastic bundle offer from Amazon. The marketplace is offering an unbeatable deal on the Ring Video Doorbell and Echo Pop bundle, providing you with the ultimate combination of convenience, protection, and affordability. We take a quick look at the features and benefits of these two incredible devices and explain why this bundle is worth your investment.
If you are not a Prime member, click here to join and take advantage of this deal, plus numerous other benefits that apply specifically for Prime members. Come July 11th and 12th, you can enjoy more savings on your much needed home and office essentials.
Introduction to the Ring Video Doorbell and Echo Pop Bundle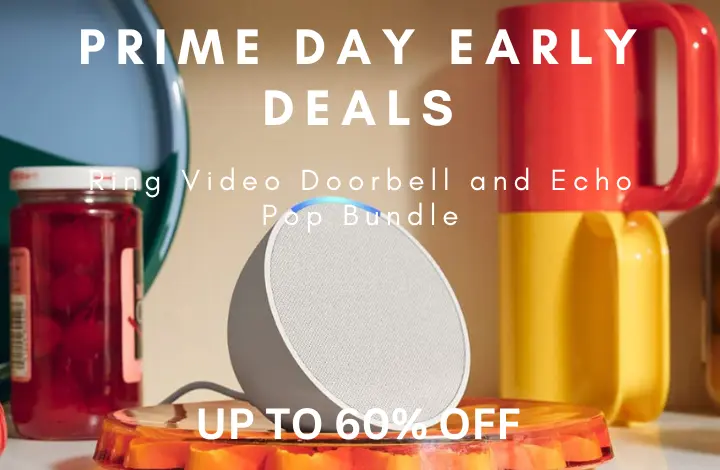 Imagine having the ability to monitor your front door, receive live feeds of visitors, and enjoy the convenience of a voice-controlled smart speaker. The Ring Video Doorbell and Echo Pop bundle offers all of this and more. These devices work seamlessly together, creating a formidable team that enhances your home security and brings the power of Alexa into your daily life.
The Ring Video Doorbell
The Ring Video Doorbell is a game-changer when it comes to protecting your doors. With its advanced features, you can easily keep an eye on who is approaching your home. This smart doorbell offers live feeds, allowing you to see and communicate with visitors from anywhere using your smartphone or compatible Alexa device. The full-HD 1080p recording capabilities ensure that you always have a clear picture of who is at your door.
The Echo Pop
The Echo Pop is Amazon's newest addition to its smart speaker lineup. Priced at just $40, this budget-friendly device is the perfect way to enter the world of Alexa. It features an updated design with a front-facing speaker, delivering an impressive audio boost for music playback. The compact size makes it ideal for smaller rooms, such as dorms or bedrooms, where you want a smart speaker that doesn't compromise on sound quality.
The Unbeatable Deal: Echo Pop and Ring Video Doorbell for $40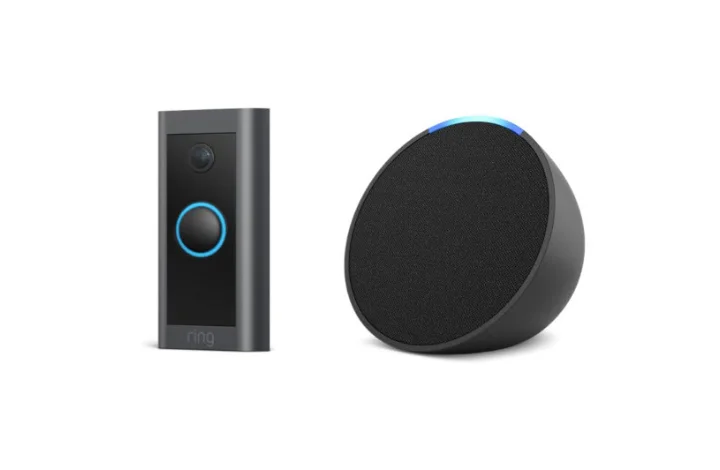 Amazon has recently dropped an early Prime Day deal that combines the Echo Pop with the Ring Video Doorbell, offering both devices for the incredible price of $40. This deal represents a massive 60% discount off the standard $105 price tag for both devices combined. Essentially, you are getting the Ring Video Doorbell for free when you purchase the Echo Pop at its regular price.
Alexa Compatibility
One of the key advantages of this bundle is the seamless integration with Alexa. Both the Ring Video Doorbell and Echo Pop are Alexa compatible, allowing you to control and monitor your home with simple voice commands. Whether you want to check who is at the door or play your favorite music, Alexa is there to assist you.
Enhanced Home Security
The Ring Video Doorbell is renowned for its exceptional security features. With motion detection capabilities, you receive real-time notifications on your phone or compatible Alexa device even before someone rings the doorbell. This proactive approach to home security offers peace of mind and enables you to take necessary actions promptly.
Versatile Smart Speaker
Aside from its security features, the Echo Pop is a versatile smart speaker on its own. Its compact design and powerful front-facing speaker make it an excellent choice for music playback. Additionally, if you have an Eero Wi-Fi network, the Echo Pop can act as a range extender, providing an extended wireless signal range while still functioning as a smart speaker.
Why Should You Invest in the Echo Pop and Ring Video Doorbell Bundle?
The affordability and functionality of this bundle make it a smart investment for any homeowner. Let's explore the reasons why you should consider adding the Echo Pop and Ring Video Doorbell to your smart home setup.
Unbeatable Price
At just $40, this bundle offers incredible value for money. You are essentially getting two devices for the price of one. Considering that the Ring Video Doorbell alone retails for $35, this deal is too good to pass up. Investing in this bundle allows you to enjoy the benefits of both devices while saving significant money.
Comprehensive Home Security
Home security is a top priority for any homeowner, and the Ring Video Doorbell is designed to provide just that. With its high-definition video recording, real-time notifications, and two-way communication, you can keep a close eye on your property and ensure the safety of your loved ones. The Echo Pop complements this by providing audible alerts through Alexa, keeping you informed even when you're not near your phone.
Seamless Integration
The Echo Pop and Ring Video Doorbell bundle seamlessly integrates with each other. It also integrates with other Alexa-enabled devices in your smart home ecosystem. This integration allows for a cohesive and efficient user experience. You can control both devices using voice commands, making it incredibly convenient to manage your home security.
Versatility and Convenience
The Echo Pop is a versatile device that goes beyond being a smart speaker. Its ability to act as a range extender for Eero Wi-Fi networks ensures a strong wireless signal throughout your home. Additionally, its compact design and powerful speaker make it perfect for smaller rooms. You can enjoy high-quality audio without sacrificing space.
Conclusion
The Echo Pop and Ring Video Doorbell bundle is a must-buy for anyone looking to enhance their home security. This unbeatable deal provides incredible value for money, offering two powerful devices for just $40.
See Amazon for all the details. (Exclusive for Prime Members Only)
Don't miss out on this opportunity to transform your home into a smart and secure haven. Invest in the Echo Pop and Ring Video Doorbell bundle today. Enjoy the peace of mind that comes with a connected and protected home.