With Amazon Prime Day 2023 around the corner, you get an exciting opportunity to transform your gaming setup into a visually stunning, high-performance gaming hub, all while staying within your budget. Samsung is offering a wave of incredible deals on gaming monitors for all budgets. If you are interested in picking up a fantastic monitor at a fabulous discount, there's no better time than now. Get yourself a Prime membership to take advantage of all the best offers.
Unbeatable Deals on Samsung Gaming Monitors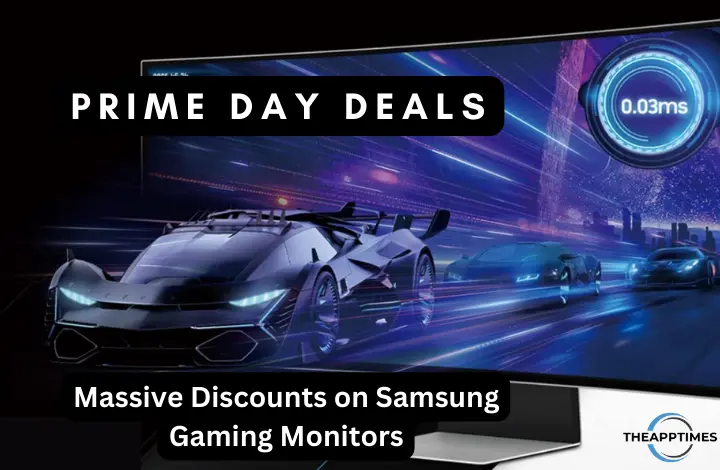 Prime Day is all about snagging those irresistible deals, and Samsung has some real doorbusters up its sleeve. Let's kick off our journey with a monitor that's stealing the show – the 43-inch Odyssey Neo G7 4K monitor. With a jaw-dropping 50% discount, this behemoth goes from an MSRP of $1,000 down to a wallet-friendly $500 for Prime Day. Equipped with HDR600, a lightning-fast 144Hz refresh rate, and a mind-blowing 1ms response time, this gaming monitor is a force to be reckoned with.
For those on a more modest budget, Samsung has you covered with the 24-inch Odyssey G32A. Boasting a high-definition 1080p display and a super-fast 165Hz refresh rate, this budget-friendly monitor is a steal at just $150 (previously $250). It's the perfect choice for gamers who crave smooth gameplay without breaking the bank.
Mid-Range Marvels: Samsung Gaming Monitors Under $500
Looking to step up your game without emptying your wallet? Samsung's mid-range monitors deliver the perfect balance of performance and affordability. Take, for example, the 27-inch G50A 4K monitor. This beauty features HDR10, a buttery-smooth 165Hz refresh rate, and the coveted G-Sync technology. Normally priced at $400, you can now grab it for a mere $250 during Prime Day. It's a no-brainer for gamers ready to make the leap to 4K.
If you've been eyeing an ultrawide display, the ViewFinity S50GC is the answer to your prayers. With a generous 34-inch panel, a crisp 1440p resolution, and a silky-smooth 100Hz refresh rate, this monitor is a sight to behold. And the best part? It's available for a discounted price of $266 (previously $380) during the Prime Day extravaganza.
The Best of the Best: High-End Gaming Monitors for the Elite
If you a serious gamer searching for the crème de la crème of gaming monitors, here are Samsung's high-end offerings. Prepare to be blown away by the 55-inch Odyssey Ark 4K curved monitor. Though it comes with a hefty price tag of $2,000 (originally $3,500), this monitor is the epitome of luxury. Its immersive curved display, combined with Mini-LED technology, will transport you to gaming nirvana.
For the ultimate competitive edge, the 34-inch OLED Odyssey G85SB is an unrivaled choice. Sporting a crystal-clear 1440p resolution, an astonishing 175Hz refresh rate, and an incredibly rare 0.03ms response time, this monitor is the stuff dreams are made of.
Embrace the Future: Samsung Gaming Monitors with Cutting-Edge Features
Samsung is renowned for pushing the boundaries of innovation, and their gaming monitors are no exception. Let's take a closer look at some of the noteworthy features that make them stand out from the competition.
HDR: Unleashing Vivid and Lifelike Visuals
High Dynamic Range (HDR) technology brings your games to life by delivering stunningly realistic visuals with vibrant colors and enhanced contrast. Samsung's gaming monitors equipped with HDR capabilities, such as the Odyssey Neo G7 and the G50A, ensure that every gaming session is a feast for the eyes.
Faster Refresh Rates: Smooth as Butter
When it comes to gaming, a high refresh rate is crucial for smooth and fluid gameplay. Samsung understands this need and offers monitors with refresh rates up to 165Hz, like the G50A, to ensure that every motion is rendered with utmost clarity. Say goodbye to motion blur and hello to a more immersive gaming experience.
Lightning-Fast Response Times: No More Lag
Gamers know that split-second reactions can mean the difference between victory and defeat. That's why Samsung gaming monitors, including the Odyssey Neo G7 and the G85SB, feature lightning-fast response times as low as 1ms. Bid farewell to input lag and gain a competitive edge in fast-paced games.
Ultrawide Displays: Immerse Yourself in the Action
Forget about the constraints of a standard 16:9 aspect ratio. Samsung's ultrawide monitors, such as the ViewFinity S50GC, take gaming immersion to a whole new level. The wider field of view allows you to see more of the game world, providing a truly cinematic experience.
G-Sync and FreeSync: Tear-Free Gaming
Tired of screen tearing and stuttering ruining your gaming sessions? Samsung's monitors with G-Sync and FreeSync technologies, like the G50A, deliver tear-free and smooth gameplay by synchronizing the monitor's refresh rate with your graphics card. Bid farewell to visual artifacts and embrace a seamless gaming experience.
Conclusion
Amazon Prime Day is the perfect opportunity to score massive discounts on Samsung gaming monitors. Whether you're a budget-conscious gamer or a high-end enthusiast, Samsung has a monitor to suit your needs.
From the jaw-dropping 43-inch Odyssey Neo G7 to the luxurious 55-inch Odyssey Ark, prepare to take your gaming experience to new heights.
With cutting-edge features like HDR, faster refresh rates, lightning-fast response times, and ultrawide displays, Samsung gaming monitors are designed to immerse you in the world of gaming like never before. So, seize the moment and upgrade your setup with these incredible Prime Day deals. Happy gaming!