Excel is a fantastic application that lets you work with complex data easily. However, there are times when you are stuck dealing with a damaged file. This can be due to a number of reasons. For instance, you may not have upgraded your software to the latest version, or you may be using third party add-ins that have become corrupt. While Excel 2019 has better built-in option to repair damaged files, you may have issues when working with older versions of the software. If you're looking for a third-party solution to repair corrupted Excel files, consider a tool like Recovery Toolbox for Excel.
What You Can Do with Recovery Toolbox for Excel
Recovery Toolbox for Excel has plenty of great features. It fixes all types of Excel files such as *.xls, *.xlt, *.xlsx, *.xlsm, *.xltm, *.xltx and *.xlam extensions. It can repair all types of formulas and functions. It can restore cell colors and border colors, repair cell formatting values and repair number formats.
If you're single using older .XLS files of MS Office 98, 2000, 2003, XP, Recovery Toolbox for Excel can read and repair such files too.
However, its single most useful feature is that it can fix large Excel spreadsheets. That's super important because usually the larger the file size, the more difficult it is to repair them.
What Recovery Toolbox for Excel Cannot Do
Despite having plenty of useful features, this tool cannot repair certain properties in Excel such as:
print settings
conditional formatting
data validity
range, worksheet, and workbook protection
Asian phonetic blocks
hyperlinks
calculation settings
sorting settings
included objects, such as pictures, diagrams, notes, and other
merged cells
comments
VBA macros
password-protected files
Recovery Toolbox for Excel – Key Features
Fixes all types of Excel files
Recovers table styles, fonts, worksheets, workbook cell data
Repairs number formats (except colors)
Fixes the column width and row height values in a sheet
Repairs all types of formulas, including functions
Repairs cell formatting values
Restore cell colors and border colors
Reads and repairs .XLS files of MS Office 98, 2000, 2003, XP
Recovers .XLSX files of MS Office 2007, 2010, 2013, 2016, 2019
Allows you to save directly to Excel or a new .XLSX file
Allows you to export data into new Excel document directly
How to Use Recovery Toolbox for Excel on Windows
Using Recovery Toolbox for Excel is simple.
1 . Download the application and install it on your computer.
2. Run the application.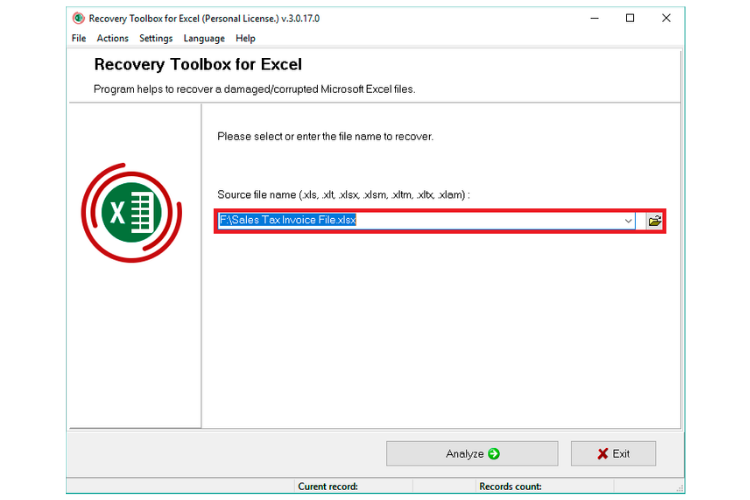 3. Select the file you want to repair.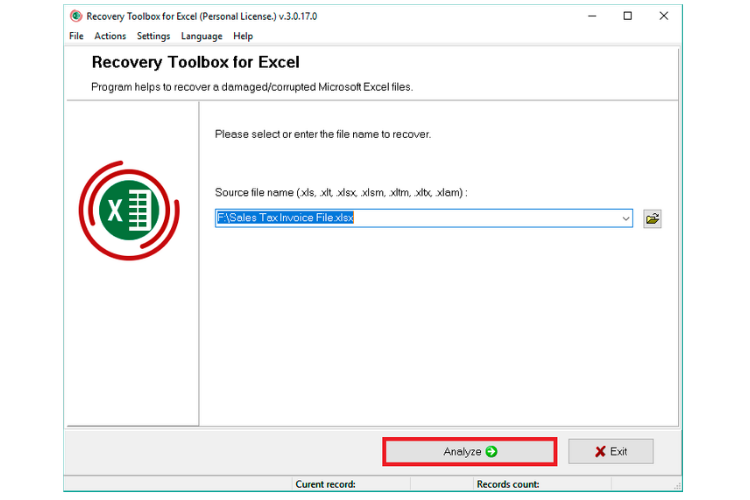 4. Click Analyze. The tool will do a few checks to see how much data from the file is recoverable.
5. Preview the contents of the file. The preview screen lets you decide if the data recovery is worth it or the file is too damaged to bother recovering.
6. If your data is worth recovering, click the Start Recovery button. You have the option to save the recovered file as a new Excel file or you can export the data to a new Excel workbook.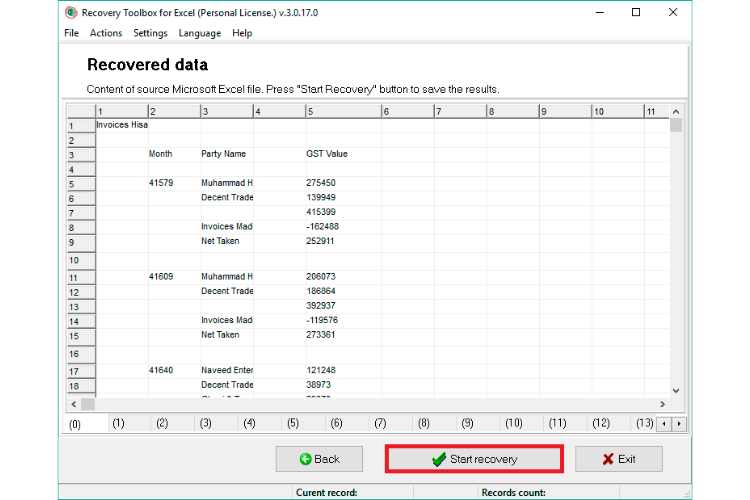 The application will take some time to recover the data, since it works from scratch to create the new file. Once the job is done, you will get a notification that the task is complete and you're safe to exit.
Compatibility
Recovery Toolbox for Excel is compatible with Windows 98/Me/2000/XP/Vista/7/8/10 or Windows Server 2003/2008/2012/2016 and above. If you don't have a Windows system, you can use this online repair tool on a supported browser to recover damaged Excel files.
Pricing
Recovery Toolbox for Excel is a shareware product and distributed under a Try before you Buy License. This means you can download the application for free, test its features and try to recover lost information from a corrupt file. If the preview shows that you can recover all or enough data, then you can pay for the license ($27) and complete the recovery process.
Tryware is great because you only need to buy the program if you are satisfied with the results.
If you prefer to use the online tool, the pricing varies according to the file size. The first file is $5. After this, you may pay around $10 to recover an average-sized Excel document. For more information on the online repair tool check this link.
Final Thoughts
Excel files are prone to damages and recovering lost data can often be a tiresome task. While not all files are 100% recoverable, experts are of the opinion that, on an average, at least 40-50 percentage of data can be recovered successfully. If you've lost important data, sometimes a 50% recovery may be a life saver. While no tool can guarantee a 100% success rate always, previewing your recovery results can help you decide if it is worth purchasing the tool.
The online file recovery service is a cheaper option if you usually don't face frequent data corruption. However, if you find yourself in need of a good Excel repair tool every now and again, investing in a tool like Recovery Toolbox for Excel may be a smart choice.
Check out Recovery Toolbox for Excel and tell us what you think!