Web-based applications or, as we like to call them, online tools, are very useful utilities that help us to perform a certain task without the hassle of downloading, installing and maintaining multiple software applications on our computers. It is pretty easy to find all sorts of online applications on the Internet that can boost our productivity, and sometimes it is even possible to find completely free online tools.
Productivity-wise, PDF converters are utilities that can save us lots of time. Using a PDF converter, it is possible to extract pages of information and data from PDF to an editable format like Microsoft Excel in minutes. Retyping would take hours, sometimes even days. With that said, today we're taking a look at the free online PDF to Excel converter.
PDFtoExcel.com – How it Works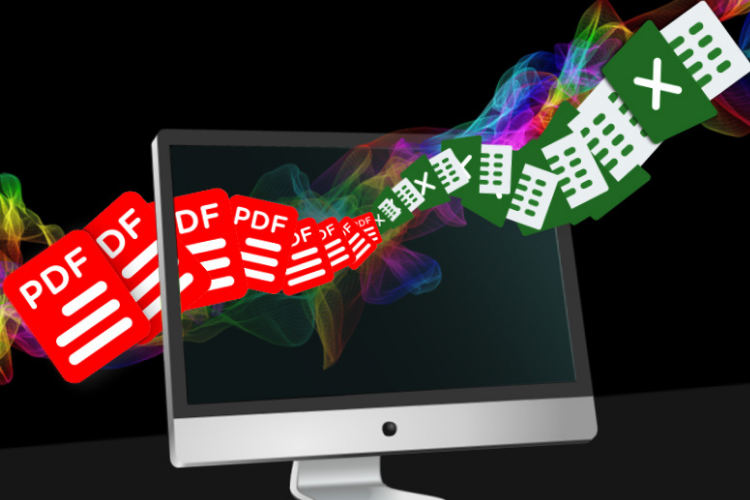 PDFtoExcel.com allows you to convert any PDF to Excel for free online. "Any" PDF means that you can convert both regular and scanned PDFs instantly. The conversion engine will automatically recognize the scanned PDF and run the OCR (Optical Character Technology) on that file in the background. The user does not even have to know if the PDF is scanned or not – you can leave these technical details to the conversion engine.
Let's see how it works!
How to convert any PDF to Excel?
The conversion process is intuitive and straightforward:
Start by selecting the PDF file for conversion to Excel and uploading it to the conversion interface. You can choose among three methods for uploading the PDF:
Use the Upload button to select the file from your computer
Drag and drop it in the marked space
Import it from Dropbox, Google Drive, or OneDrive.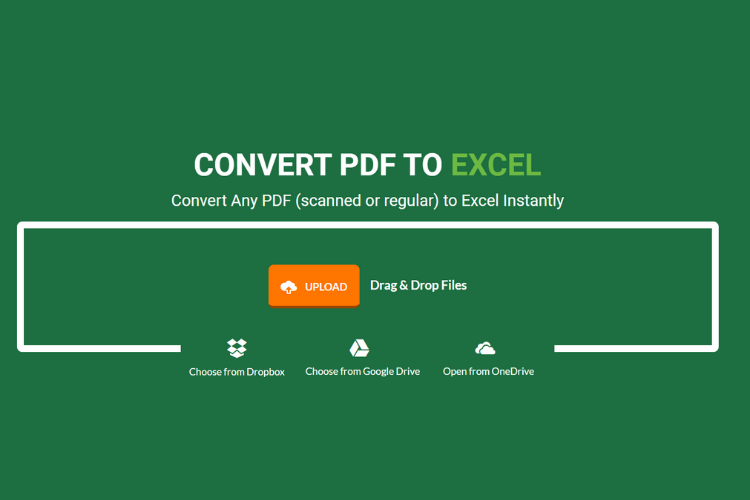 The conversion starts automatically as soon as your file has been fully uploaded. Wait for the conversion to finish.
Download the converted Excel spreadsheet and, optionally, convert another file by repeating the process. You can convert any number of PDFs to Excel for free.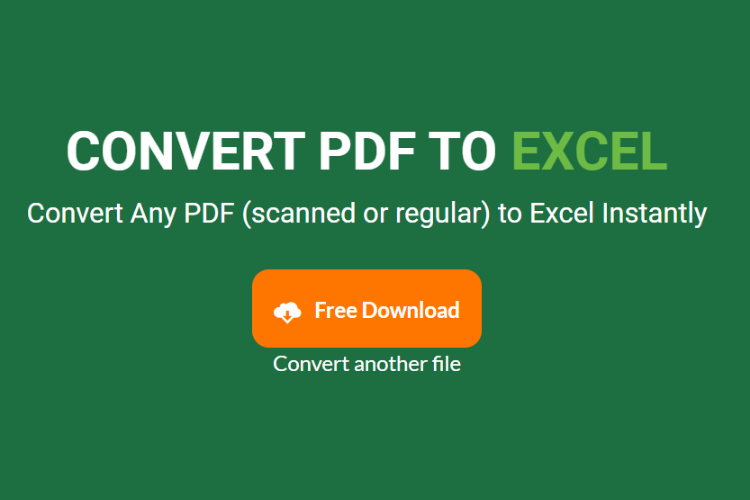 That's the entire conversion process. It is the same for every user and every file. In other words, there is no difference between registered and unregistered users. This is because the tool is available without any registration – you are not required to leave your email address or any other personal information in order to convert your PDFs to Excel.
The developers promise to keep user files safe and secure: all data uploaded to their servers will be used only for conversion purposes and permanently deleted shortly after conversion. Furthermore, files are accessed only by software agents.
The conversion is also fast. However, the speed of conversion depends on the file size and servers workload. Note also that you need to have a stable Internet connection and keep your browser tab open. If you happen to close your browser during the conversion process, you will have to upload the file again once you've reopened your browser. While this may sound like a nuisance, it helps in keeping your files and data safe.
All in all, this is a truly free online service that performs the PDF to Excel conversion task accurately and without hassle. Try it and share your experience!