Technology will always be evolving. And we will always be caught in the transition. The result is we carry multiple devices to manage different gadgets. A simple case in point -USB ports. There are plenty of devices that charge over USB-C but there are still times when we need USB-A and MicroUSB cables and ports. The Satechi 75W Dual Type C PD Charger is a game-changer for your USB-C setup. Here's more on why you'll want to consider buying this powerful, sleek device to carry with you on your travels.
Satechi 75W Dual Type C PD Charger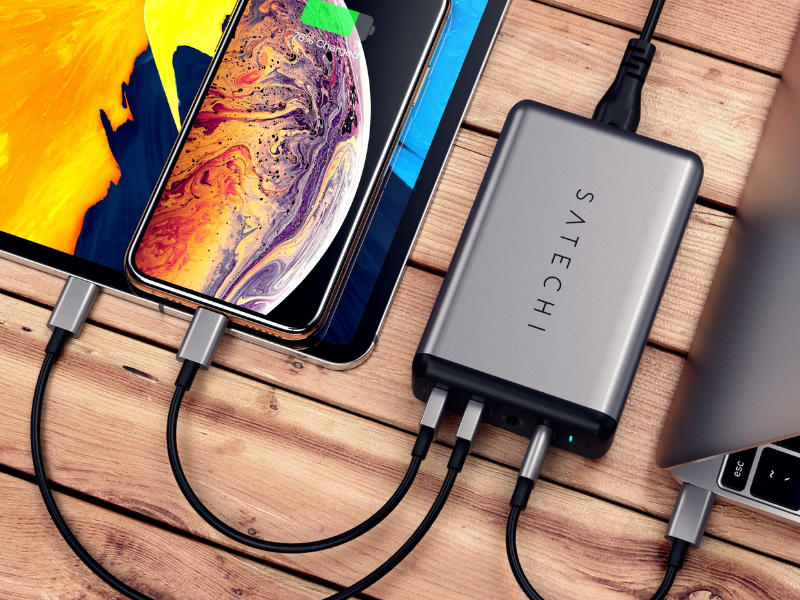 The Satechi 75W Dual Type C PD Charger is a great travel accessory for several reasons.
It is a One Charging Solution
With the Satechi 75W, you don't have to be concerned with carrying multiple chargers. That's because it can simultaneously power up to 4 devices. It has two USB-C PD ports (60W,18W) and two extra USB-A ports (total max: 12W) to simultaneously charge USB-C laptops, tablets and other USB-A devices.
When you are using both the Type-C ports at one time, the main port will drop to about 40-45W to accommodate the second one.
It Has Good Safety Features
This charging hub is built with durable, heat-resistant materials that complies and meets with CE, ETL, USBIF and FCC standards so you can charge your gadgets safely. As always, it is best to stick to using the original charging cables.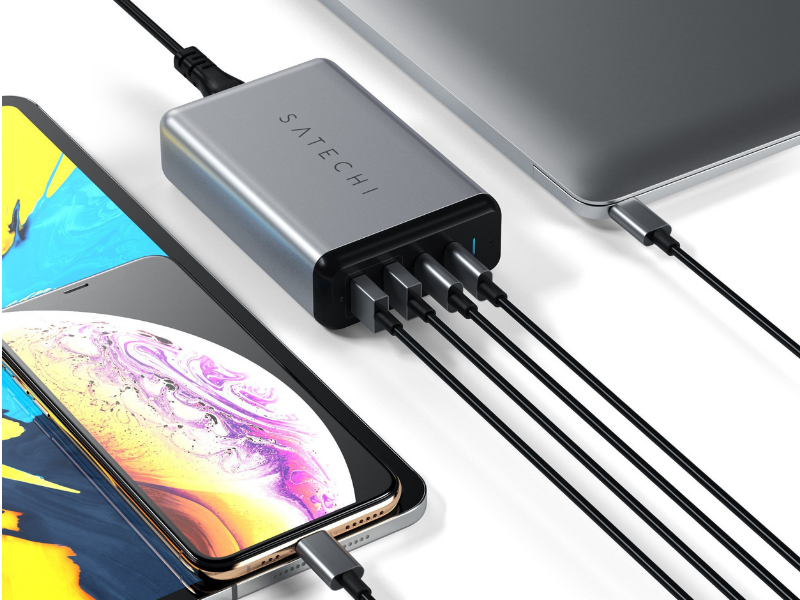 Fast Charging
It supports fast charge on compatible devices using Apple MFi.
Compact, Travel-Friendly Design
Finally, this charger is ideal for carrying with you on your travels for the simple fact that is supports a broad voltage input range (100-240V). It is also sleek and compact, easy to store in your luggage or carry-on.
Final Thoughts
The Satechi 75W Dual Type-C PD may not be ideal for you if you don't have a notebook or device that charges over USB-C. It also doesn't help if you have more gadgets than it can support or if your laptop can draw more than the 60W power. This can considerably slow down its charging capabilities, eventually not serving its purpose.
However, if you need a hub for charging your iPad, iPhone and Mac in one go, for your personal, official or travel use, this one should amply fit the bill. If you need something more feature rich, you could consider going for the Anker's 100W PowerPort PD 4 launching on March 2, 2019. Check out the Satechi 75W Dual Type C PD Charger on Amazon ($69).