If you spend a good amount of your day on a Mac, you need a reliable keyboard to help you stay productive throughout the day. The Satechi Backlit Bluetooth keyboard with handy features like good backlighting, number pad support, USB-C charging and multi-device pairing, makes it a good choice to consider when keyboard shopping. Here's more on what you can expect when you buy the Satechi Backlit Bluetooth Keyboard.
Why Buy the Satechi Backlit Bluetooth Keyboard?
Good Looking
You have an expensive, sleek Mac. That means you want to accessorize it with something that looks and feels good. The Satechi Backlit Bluetooth Keyboard is well built, with clean, minimal aesthetics that complements the Mac perfectly. Its aluminum body, with shiny bevel-like edges that gives off a great look. It is built to be sturdy, so that you have a steady, smooth experience when typing on it.
Typing Comfort
As far as typing on the keyboard goes, it promises a comfortable experience with responsive quiet keys that make it easy for you to type for hours on end.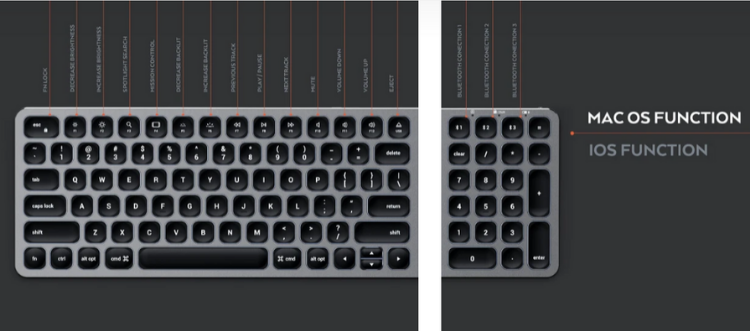 The upper keys on this keyboard are slightly raised to make it easy on your wrists. Thick rubber feet helps to elevate the function row for easier access. If you've used Apple's Magic Keyboard 2, you'll find a close resemblance, especially when it comes to the icons and Functions row.
Pair up to 3 Devices
One of the cool features of this keyboard is that you can pair to up to three devices in one go. Just press and hold any of the three Bluetooth buttons for a few seconds to enter pairing mode and you can then easily switch between devices using the same buttons.
You can pair this keyboard to your Mac, to a Windows PC, to a Chromebook, and even your iPhone, iPad, or Android phone.
Backlit Keys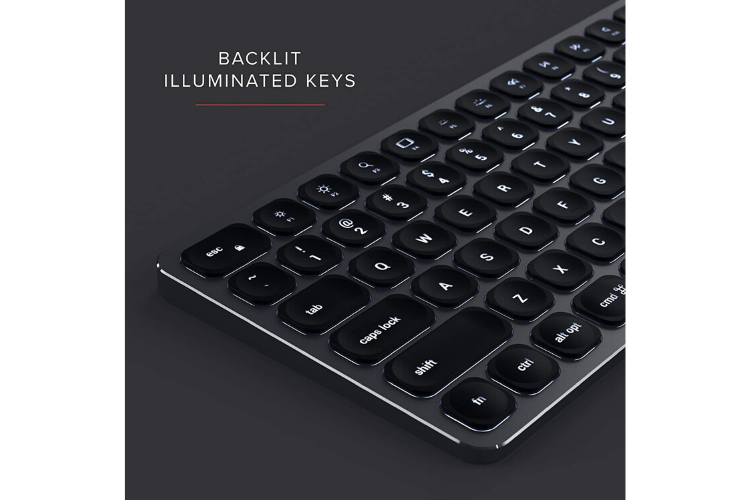 Another great perk of this keyboard is that it has backlit keys. There are many of us who work long into the night and having bright overhead lights can be a pain. The keyboard lets you choose between 10 levels of brightness with a shortcut key (F5) letting you go from no light to full bright in one tap.
Battery Life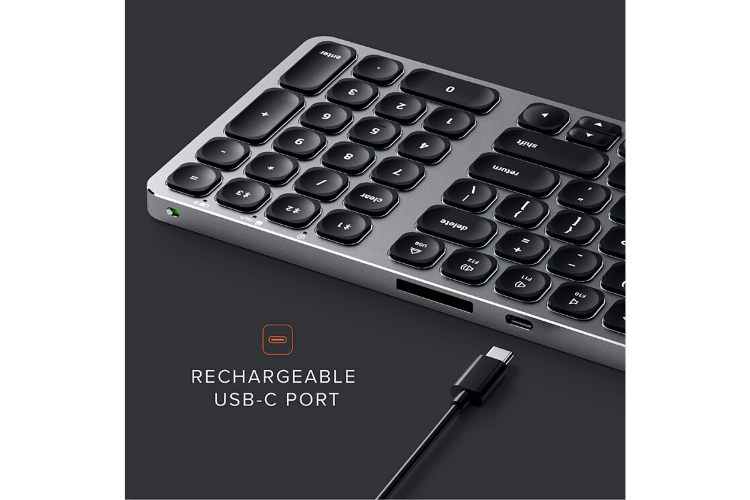 You can use the keyboard for about a week before you need to charge it. Thankfully, the USB-C port on the back lets you easily recharge with the same cable you use to charge your phone, laptop, or headphones.
Compatible Devices
This Satechi keyboard works great on the 2019/2018/2017/2016 MacBook Pro, 2018 MacBook Air, 2018 iPad Pro, 2018 iMac, iMac Pro, iPhone 11 Pro Max/11 Pro/11, XS Max/XS/XR/X, 8 Plus/8 and most 2012 and newer MacOS devices.
The Satechi Backlit Bluetooth Keyboard is available on Amazon for around $80. Check it out and tell us what you think!
See the Satechi Backlit Bluetooth Keyboard on Amazon
Note: When you purchase something on our website after clicking links in our articles, we may earn a small commission. Read our affiliate link policy for more details.