When it comes to PC protection, it never hurts to have an additional layer of protection. The Windows 10 Anniversary Update allows your built-in security tool, Windows Defender to keep protecting your PC despite the fact that you already have another anti virus software installed and running. Here's how to scan your PC with Windows Defender while using another antivirus program.
In Windows 10, you cannot run Windows Defender if you have another anti virus program installed. The tool will simply disable itself. But the latest OS update now offers some leniency in providing additional protection for your PC. Let's check out the details.
How to Scan Your PC with Windows Defender
The fact is, you cannot get full time protection with Windows Defender if you are using another antivirus program. But what you can do is allow for limited periodic scanning. What this means is that Windows Defender will occasionally perform a scan to check if any malware has been missed out by your primary antivirus solution. This feature is not enabled by default, so here's how you do it.
1. Go to Start and click Settings.
2. Click Update & Security.
3. In the left pane, select Windows Defender.
4. In the Windows Defender screen, turn on the Limited Periodic Scanning feature.
Note: You can enable this feature only if you are using another antivirus program. If you don't have another antivirus program installed on your PC, Windows Defender is already running real-time and scheduled system scans to protect your PC.
Perform a Manual Scan with Windows Defender
You can also perform a manual scan of your computer with Windows Defender, despite using another antivirus program. To do this:
1. Open  Windows Defender. Go to Settings->Update & Security-> Windows Defender and click Turn on Windows Defender.
2. The Windows Defender dialog box will open indicating that you have limited periodic scanning activated. It will also show you that the real time protection is being taken care of by another AV program.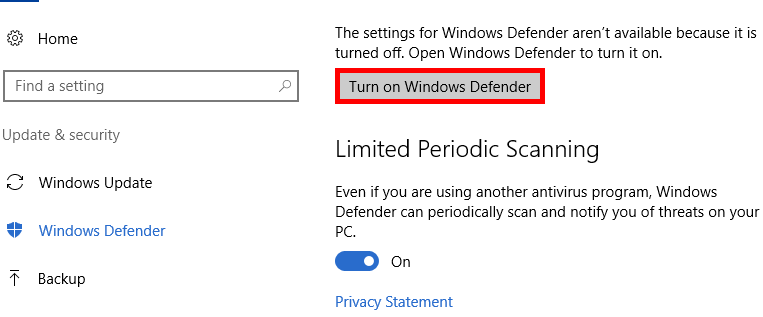 You can now perform a manual scan by clicking Quick for a fast scan, clicking Full for a deep system scan, or by clicking Custom for a scan of selected folders of your choice. Click Scan Now and you can start the manual scan.
As always, Windows Defender will notify you if any malware is detected through the scan and you can take necessary action. You can just click on the notification to take action. You can also see a list of malware detected by Windows Defender in the History tab in the Windows Defender dialog.
Ideally, you shouldn't find any malware, but if you do, check if you are following these best practices to prevent your computer from getting infected. If Windows Defender continues to identify malware, you should consider changing your anti virus program.