Do you want to send and receive SMS from your computer instead of your Android phone? Thanks to Google's latest initiative, you can send and receive messages from your computer instead of your Android phone. You can do this using Google's Android Messages app. Once you pair your phone to your computer, this process is seamless. Here's what you need to do to send and receive SMS from your computer using Android Messages.
How to Send and Receive SMS From Your Computer Using Android Messages
First, you need to download the Android Messages app. This is Android's official app for texting (SMS, MMS) and chat (RCS). The app lets you message anyone from anywhere and has plenty of features you'll love using. You can send group texts and share your photos, emojis, videos, and audio messages with friends and family.
1. Once installed, launch the Android Messages app.
2. Tap the Messages for web option.
3. On the next screen, you will receive instructions to set it up.
Go to  https://messages.android.com on your computer.
Use your phone camera to scan the QR code on the computer screen.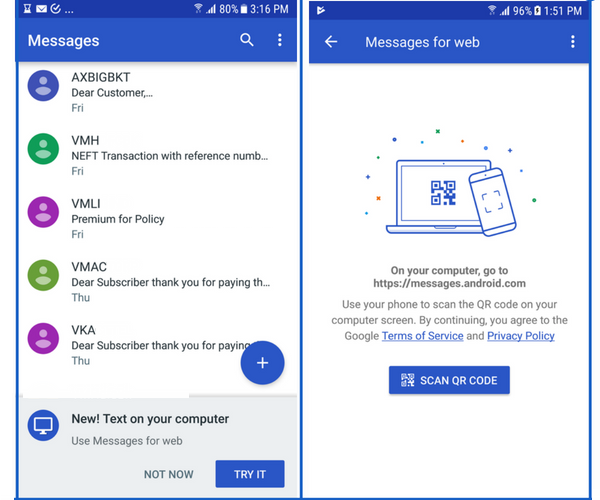 You have now paired your Android with your web app. You will be able to see all messages you receive on your Android on your web browser. You can now start new conversations with contacts on your Android phone right from the browser window. You can also reply to messages from the browser, which will be routed through your phone number. The recipients will see the messages normally like how it appears when you send from your phone.
That's it! Try this feature and tell us what you think. Do you plan to use this feature to send or reply to your contacts when your phone is not near you?
Let us know in the comments.