Did you know that you can quickly configure how Windows 10 works with desktop apps using the Default Programs feature? Its an oft overlooked Control Panel tool that lets you customize and set your default programs, associate a file type with a specific program, change the AutoPlay settings and set the program and access and computer defaults settings. Let's take a look you can set Default Programs in Windows 10.
How to Access the Default Programs in Windows
1. To access the Default Programs feature in Windows 10, right-click the Start button and select Control Panel.
2. In the Adjust your computer settings screen, click Programs.
3. In the next screen, click Default Programs.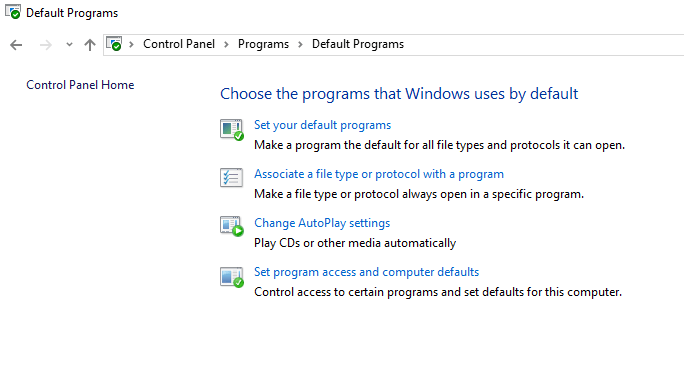 This will open up the Default Programs tool from where you can configure how Windows 10 works with desktop programs:
How to Set Default Programs in Windows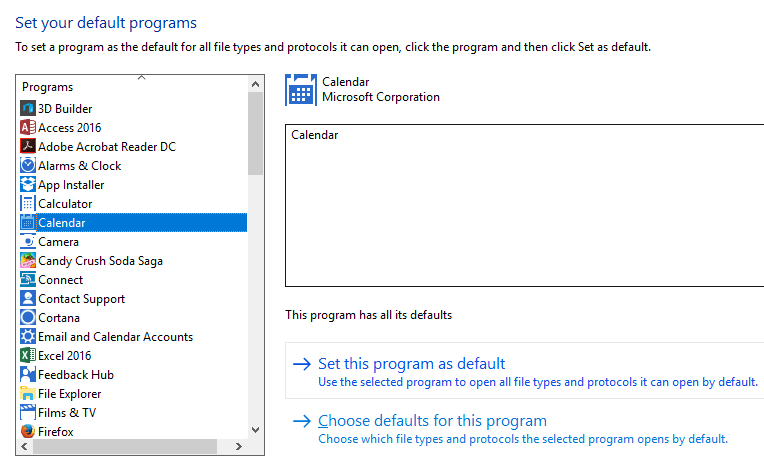 The first option Set Your Default Programs lets you make a specific program the default program for all file types that it can open. When you click the link, you will see a section that lists all the desktop programs and Windows Store apps that are installed in Windows 10. When you select a program, you will see a description of the program, along with information that tells you how many of the default options are associated with it. You'll also find links for setting the program as the default and choosing the file types or protocols that will be associated with it.
Any changes you make to this setting will apply only to your user account and won;t affect other user accounts on the computer.
Set a File type Association
The Associate A File Type Or Protocol With A Specific Program window option lets you change the file type associations of a program. Select a file extension and click the Change Program button. A pop up pane will appear asking you how you want to open the file extension henceforth. You'll have a few options to choose from. Just select an appropriate one.  For example, I selected the AVI file extension and choose Windows Media Player as my default app choice instead of Films & TV.
Change AutoPlay Settings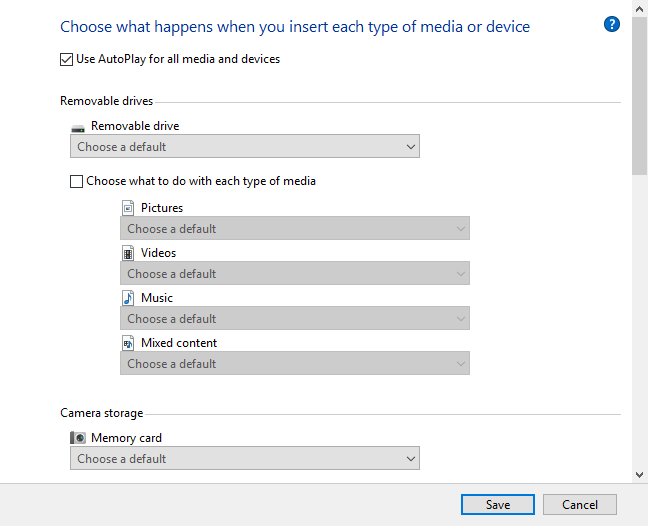 This option lets you choose and set the default programs to play a CD, DVD, USB flash drive, or other removable media. Usually when you insert an external device in your PC, AutoPlay will pop up asking you to choose the application to play the media. To stop being bothered with this pop up, you can configure the default apps here. If you don't care for AutoPlay, you can also completely disable it.
Set Program Access And Computer Defaults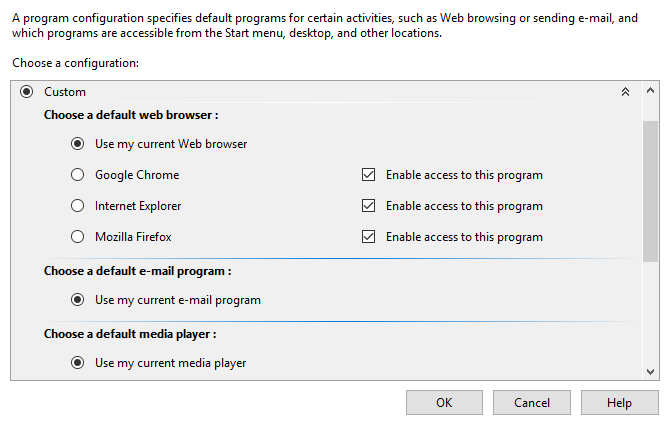 The last option in the Default Programs screen is Set Program Access And Computer Defaults. This option lets you set the default options for all the main programs in Windows 10.
For example, you can set the default web browser, the default email program, the default media player, the default instant messaging program and the default virtual machine for Java.
If you find yourself frequently selecting the default app for a program you are using, explore the features in the Default Programs tool and set them according to your convenience. You'll save a lot of time and frustration in manually applying the settings.