With modern advances in communication technology, more and more people are discovering newer, faster and better methods of doing almost everything. Thieves, spies and spammers are no exemption. Modern technology has given them an avenue to get more information about potential targets. This is what SpyWarn has been built to fight. This anti-spyware app has been made to ensure that nobody gets remote access to your phone calls, text messages or anything else that's stored in your phone without your permission. Does the app succeed at this? Let's dive in to find out!
SpyWarn App Review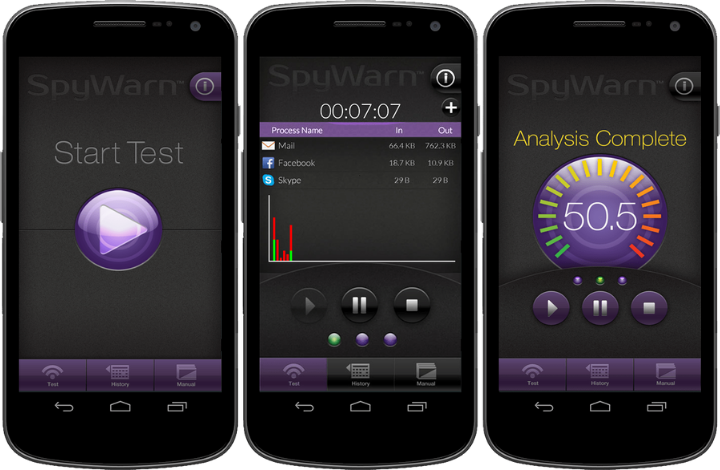 Basically, SpyWarn tries to see if any app on your phone is working with the 'enemy' by monitoring the way in which resources are utilized. Although this is not done around the clock (it would really drain your battery), you have the option of doing a thorough analysis of the running apps on your phone at any time of the day for up to 24 hours.
Also Read: What is Spyware – a detailed guide
It is however not recommended to do it for 24 hours because it might result in faster battery discharging. A good practice is to do an analysis when your phone is at a normal spyware free state and save the results. From there, you can check when you suspect that something is not right on your phone and compare the results with the results from the initial analysis.
Of course, you will need a supported device and some free memory to install this app. Once you have installed it, you are ready to take control of your phone. You can monitor changes in the utilization of resources by the installed apps. The first screen allows you to take a survey that's used to generate a threat level. You can use it to make some projections of the likelihood of your phone having spyware.
After the survey, you can go ahead and either do an analysis or you can do some read the included free eBook. The eBook is on the third tab titled 'Manual'. It has a lot of information about spyware and generally all matters related to espionage on mobile devices.
The analysis tells you the application that is likely to be sending data that it's not supposed to be sending. Like I've mentioned earlier, it is advisable to first check when your phone is unlikely to be running spyware and use the results as a gauge in subsequent analyses.
First of all, SpyWarn comes with an eBook. This book contains all the information you need to tell if the results that you get from this app are a cause for worry. A little shopping will show that the hard cover version of this eBook is available at $17.95.
Another unique aspect of this app is the round the clock eavesdropping alert. It notifies you when both the microphone and the data transmitter are working at the same time. This is not a fool-proof method of telling that you have spyware, but it tells you when you need to look behind your back.
The only con we were able to identify is the size of the alert you get when the app suspects eavesdropping. When it happens during a call, you may find it to be very annoying because it will cover the entire screen.