Barnes & Noble's answer to the Amazon Kindle Fire has finally been revealed. It's called the Nook Tablet and unlike the newly designed Kindle Fire, this one's an upgrade on the Nook Color. With the holiday season around the corner, the Nook tablet looks ready to take on the Amazon Kindle Fire. Let's take a look at what the Nook tablet has to offer and what makes it stand out from the Amazon Kindle Fire.
The Nook Tablet Tech Specs
| | |
| --- | --- |
| Feature | Description |
| Height | 8.1 inches |
| Width | 5.0 inches |
| Depth | 0.48 inches |
| Weight | 14.1 ounces |
| RAM | 1GHz TI OMAP4 (dual-core) processor with 1GB RAM |
| Memory | 16 GB (up to 10,000 books) built-in memory; Can add up to 32GB with microSD™ memory card |
| Touchscreen | 7-inch VividView™ Color Touchscreen |
| Colors | 16 million+ colors, IPS (In Plane Switching) display |
| Resolution | 1024 X 600, 169 pixels per inch (PPI) ; Fully laminated with no air gaps to provide clarity and reduce reflection and glare |
| Fonts | 8 text sizes, 6 font styles, change background colors, line and margin spacing |
| Built-in Dictionary | Pre-loaded with the Merriam-Webster's Collegiate® Dictionary, Eleventh Edition |
| Web | Enhanced Web browsing with video via Adobe® Flash® Player; Parental controls to disable the Web browser |
| Email | Email facility from one inbox (POP and IMAP webmail, including Yahoo, Gmail, Hotmail, AOL and others) |
| Built-in WiFi | Wireless connectivity via Wi-Fi® (802.11b/g/n); FREE Wi-Fi® in all Barnes & Noble stores |
| Microphone | Record narration for kids' Read and Record™ books |
| Supported File Types | EPUB (including Adobe DRM or DRM free) PDF, XLS, DOC, PPT, TXT, DOCM, XLSM, PPTM, PPSX, PPSM, DOCX, XLX, PPTX |
| Video Formats | MP4, Adobe Flash Player format, 3GP, 3G2 MKV, WEBM (Video Codecs: H.264, MPEG-4, H.263, VP8) |
| Image File Types | JPG, GIF, PNG, BMP |
| Audio Formats | MP3, MP4, AAC, AMR, WAV, OGG (Audio Codecs MP3, AAC, AMR, LPCM, OGG Vorbis) |
| Battery Life | Up to 11.5 hours of reading or 9 hours of video without recharging with wireless off; Installed rechargeable battery; charging time: approximately 3 hours from wall outlet |
| Pre-Loaded NOOK Apps | Netflix, Hulu Plus, Pandora, Chess, Crossword, Sudoku, Media Gallery, NOOK Friends™, Email |
The Nook tablet is priced $249 and will be available from November 18th. The entry of the Nook tablet means that the Nook Color and the Nook Simple Touch will have its prices slashed to $199 and $99 respectively.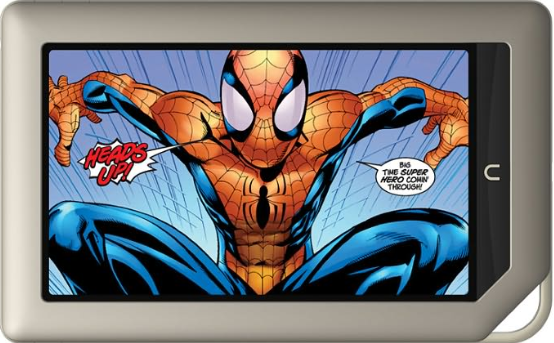 The Nook versus the Amazon Kindle Fire
The Nook Tablet comes with 16 GB of memory, with options to add up to 32 GB additional memory using an SD card. The Amazon Kindle Fire offers a meager 8 GB, but that's because storage is taken care of by the Amazon Cloud Services account.
The Nook Tablet offers 1 GB of RAM unlike the Fire which is speculated to offer just 512 MB of RAM.
The Nook tablet just like the Amazon Kindle Fire has no camera and is Wi-Fi only.
The Nook tablet only has an improved Android web browser unlike the Amazon Silk browser.
The battery life of the Nook tablet is expected to be much longer than the Kindle Fire; up to 11.5 reading hours or 9 hours of video usage.
Although the Nook Tablet runs on Android 2.3, you don't have complete access to the Android market. The apps need to be optimized for the Nook so that might take a while to become fully operational. So users will have to currently contend with just 1500 apps at the time of launch.
More pricey. The Nook tablet is priced $50 higher than the Amazon Kindle Fire. With not too many superior features as compared to the Amazon Kindle Fire, the extra charge does not seem to have any justification.
The best and most important factor for many users will be the ability to purchase and use the device outside of the US( with some workarounds I guess). Although the Amazon Kindle Fire has set the world on fire with its amazing array of features and promotions, the fact that it is limited to just the United States with no plans to reach other countries leaves the market wide open for the Nook tablet and paying the $50 extra may not even be a factor.
The Nook matches the Amazon Kindle in terms of providing entertainment. Movie entertainment in the Nook comes via the pre-loaded Netflix and Hulu Plus apps. There are over 2.5 million e-books, a large comics collection, and a huge resource of digital magazines and newspapers that you can try for free for 14 days. The interactive kids book collection combined with the recording feature means that parents can include their own narration to the stories. You can also listen to songs from the pre-loaded Pandora app or choose from other ones such as Grooveshark, Rhapsody, and others.
The good news for consumers the world over this holiday season is that at a time when there is much economic gloom, not one but two top quality tablets are available to choose from at extremely affordable prices. So if you're looking to pre-order this device, just click the link below and get into the spirit of the season!
Preorder your Nook Color here. PREORDER