The Samsung Galaxy Z Fold 5 has taken the smartphone market by storm, offering a unique foldable design that combines the functionality of a tablet and a smartphone. Plus, there are several hidden settings and features that can enhance your experience with the Galaxy Z Fold 5. In this article, we bring you some handy tips for the Samsung Galaxy Z Fold 5 so that you can get the best out of your device.
Tips for Samsung Galaxy Z Fold 5
Customize Your Device with Good Lock
One of the first things you should do to personalize your Samsung Galaxy Z Fold 5 is to download the Good Lock app. Good Lock is an official Samsung app that offers a variety of mods to customize different aspects of your device. From the lock screen to the app drawer and even the S Pen menu, Good Lock allows you to tinker with various settings to create a truly unique user experience.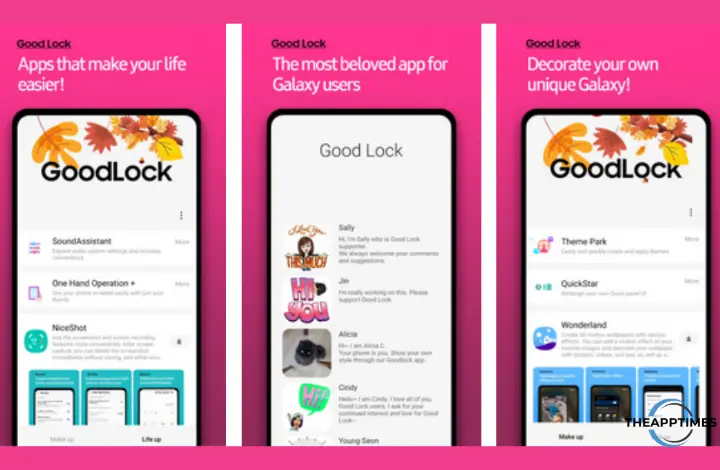 Some notable mods within Good Lock include:
Theme Park: Create a comprehensive theme for your phone based on your wallpaper, including keyboard, volume controls, icons, and more.
Pentastic: Customize the S Pen pointer and Air command menu, and create app shortcuts with the pen button.
Home Up: Redesign your One UI home experience by changing grid settings, adding popup folders, and configuring the layout of your recent apps.
Take the time to explore each module within Good Lock and experiment with the different features it offers. You'll be amazed at how much you can customize your Samsung Galaxy Z Fold 5.
Enhance Multitasking with MultiStar
The Samsung Galaxy Z Fold 5 is designed for multitasking, and the MultiStar module within Good Lock can further improve your multitasking experience.
By default, when you close your phone while using an application on the main screen, it doesn't transfer over to the cover screen.
However, with MultiStar, you can enable the feature that allows applications to continue running on the cover screen even after closing the phone.
To enable this setting:
1. Open MultiStar, navigate to "I Heart Galaxy Foldable."
2. Toggle on "Continue All Apps on front screen."
Keep in mind that some apps may not work properly or may restart when transferred to the cover screen, so it's best to test it with different applications.
Optimize One-Handed Use with One Hand Operation Plus
Given the size of the Samsung Galaxy Z Fold 5's main screen, it can be challenging to operate the device with just one hand. However, the One Hand Operation Plus module within Good Lock makes it easier to use your phone without requiring both hands.
With One Hand Operation Plus, you can create gesture handles on the left and right sides of the screen. These handles allow you to perform various actions, such as accessing recent apps, changing the volume, playing/pausing tracks, and viewing your apps screen.
Additionally, you can activate a virtual touchpad and mouse by swiping from the side of the screen. This lets you to access buttons that may be difficult to reach with one hand.
Experiment with the different settings available in One Hand Operation Plus to find the gestures and actions that work best for you.
Unlock Split Screen for All Apps
Split screen functionality is a powerful feature of the Samsung Galaxy Z Fold 5. It allows you to run multiple applications simultaneously on a single display. However, not all apps in the Play Store support this feature by default.
Luckily, there's a way to force any application on your Z Fold 5 to open in split screen or pop-up view, even if it doesn't natively support multitasking.
To enable this feature, go to "Settings > Advanced features > Labs" and turn on "Multi window for all apps."
Keep in mind that some apps may not display properly or may have limited functionality in certain multitasking configurations. Exercise caution when using this setting.
Adjust Display Refresh Rate for Optimal Performance
The Galaxy Z Fold 5 has a high refresh rate of up to 120 times/sec, providing smoother animations and improved scrolling. However, the default setting for the main screen is 60 Hz. If you want to take full advantage of the 120 Hz refresh rate, you can easily adjust the motion smoothness settings.
To do this, go to "Settings > Display > Motion smoothness" and select the "Adaptive" option.
Keep in mind that using the higher refresh rate will consume more power and drain your battery faster. If you don't require the enhanced performance, you can stick with the standard 60 Hz setting.
Optimize App Layouts for the Foldable Display
The Samsung Galaxy Z Fold 5's unique foldable design allows for different app layouts depending on whether the device is folded or unfolded. To optimize the app layouts for the foldable display, you can access the "App Continuity" settings.
App Continuity ensures that apps seamlessly transition between the cover screen and the main screen when you fold or unfold your device.
By default, most apps should support this feature. However, if you encounter any issues with specific apps, you can check the "App Continuity" settings and make sure the desired apps are set to "Full screen" or "Split screen."
Take Advantage of App Pairing
App Pairing is a convenient feature that allows you to launch two apps simultaneously in split screen mode. This can be particularly useful when you want to multitask or compare information from two different apps.
To create an app pair, open the Edge panel by swiping from the right side of the screen and locate the "App Pair" tab.
From there, you can select two apps that you frequently use together and create an app pair shortcut for quick access.
Once created, simply tap on the app pair shortcut to launch both apps in split screen mode.
Experiment with different app combinations to find the pairings that suit your workflow and enhance your productivity.
Utilize the Flex Mode for Enhanced Functionality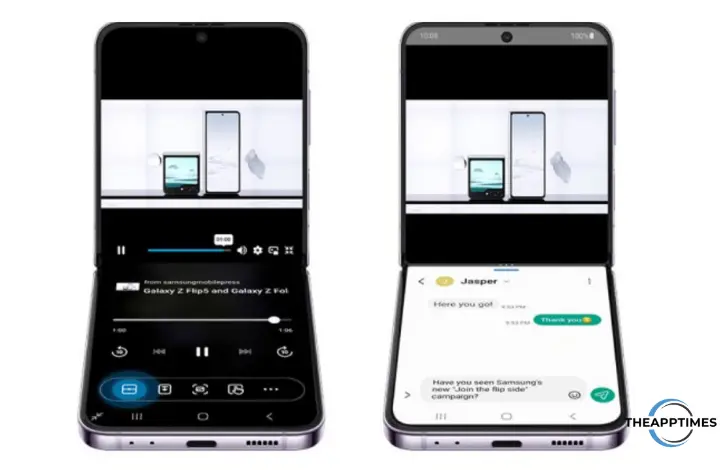 The Samsung Galaxy Z Fold 5's Flex Mode is designed to optimize the user experience when the device is partially folded. In Flex Mode, the screen is split into two sections, allowing you to use different apps or access additional controls simultaneously.
To activate Flex Mode, you can partially fold your Galaxy Z Fold 5 until it reaches the desired angle. Once in Flex Mode, certain apps will automatically adjust their layout to take advantage of the split screen configuration.
For example, the camera app will display the viewfinder on the top half of the screen. Settings or controls will be displayed in the bottom half.
Experiment with different apps and explore how they adapt to Flex Mode to make the most out of this unique feature.
Customize Edge Panels for Quick Access
The Edge Panels on the Samsung Galaxy Z Fold 5 provides quick access to frequently used apps, contacts, and tools. By customizing your Edge Panels, you can create a personalized shortcut menu tailored to your needs.
To access Edge Panels, swipe from the right side of the screen until the Edge Panel handle appears.
From there, you can customize the panels by adding or removing apps, contacts, and other shortcuts.
You can even download additional panels from the Galaxy Store to expand the functionality and versatility of your Edge Panels.
Take advantage of this convenient feature to streamline your workflow and access your favorite apps and tools with ease.
Protect Your Galaxy Z Fold 5 with a Case and Screen Protector
Last of all, protect your Samsung Galaxy Z Fold 5 with a suitable case and screen protector. The foldable design of the device makes it more susceptible to accidental drops and scratches. Investing in proper protection is crucial to keep your device in pristine condition.
There are several options available for Galaxy Z Fold 5 cases and screen protectors, ranging from clear cases that showcase the device's design to rugged cases that provide maximum protection.
Additionally, consider getting a screen protector specifically designed for foldable displays to safeguard against scratches and potential damage.
By protecting your Galaxy Z Fold 5, you can enjoy its innovative features and functionality without worrying about accidental damage.
Final Thoughts
The Samsung Galaxy Z Fold 5 offers a unique and immersive user experience with its foldable design and powerful features. By customizing settings, utilizing multitasking capabilities, and protecting your device, you can enhance your overall Galaxy Z Fold 5 experience.
Whether you're a power user or simply enjoy the versatility of a foldable device, these tips and tricks will help you make the most out of your Samsung Galaxy Z Fold 5.