Do you know someone who has a problem with alcohol or drugs? Perhaps you've finally admitted to yourself that you need help with a potential addiction. No matter who you are trying to help, yourself or a family member or friend, it can be difficult to understand what someone is going through.
Recovering from drug addiction is difficult enough in itself, but in all honesty most people aren't equipped with the right information to make the right decisions all the time. Hopefully, this list of the top 10 Drug Addiction Information apps should help.
Top 10 Apps for Drug Addiction Info (2015 Edition)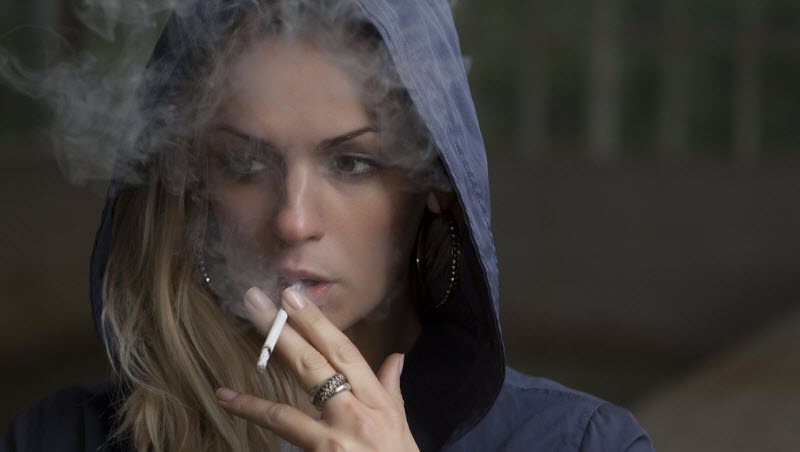 Drug Addiction
What exactly is drug addiction and how does one become an addict? If you have trouble understanding why people use drugs, how addiction works, and how to start taking your first steps to getting out of the habit, this reference app is a great one to pick up. The app contains details on the dangers of different types of drugs and how they wreak havoc on the human body, and help you identify users with tips on the signs you need to look out for.
You'll also learn a little bit about the 12 step programs available and how they help addicts; how to get family members to get involved in recovery; and how to continue to remain sober and keep your self esteem high during this time. The app is an honest eye opener for anyone struggling to deal with addiction and offers plenty of hope and motivational quotes to fight to live a better life.
Download Drug Addiction for Android
Download Drug Addiction for iOS
RCMP Drugs Awareness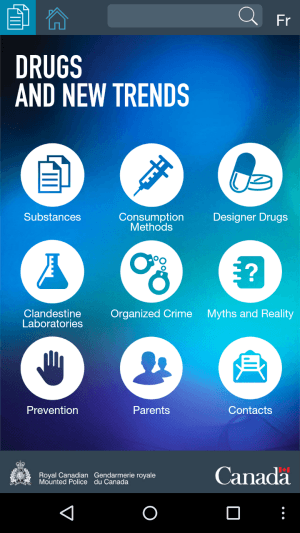 RCMP Drugs Awareness is a drug addiction information app released by the Royal Canadian Mounted Police for young people, parents, the general public, law enforcement agencies, addiction workers, educators, the others involved in the fields of health, social and correctional services.
The app is available in both French and English and talks about the different depressants, stimulants, hallucinogens, and other substances abused, how they are consumed, their effects and side effects, what happens when you overdose on them, and important facts that you need to be aware of for each type of substance.
There is also a brief history of each drug and its legal status. The app also lists the myths and reality of drug intake, and offers guidance and advice for parents and users alike.
Download RCMP Drugs Awareness app
Drug Addiction Information

Understanding an addiction is one of the first steps to accepting and fighting it. This Drug Addiction Information app offers a glimpse into the behavioral patterns of users, the causes and risk factors associated with dependence, complications that can rise from drug usage, how to take the steps to acknowledge and prepare for recovery and how to play a role in preventing and relasping from an addiction. The app is helpful for parents, young adults and anyone who is struggling to deal with addiction.
Download Drug Addiction Information for Android
Overdose Aware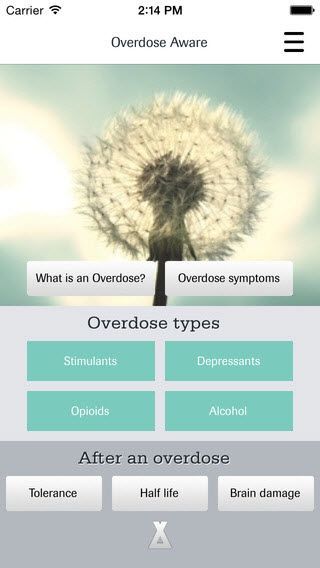 The Overdose Aware app offers information on what an overdose is, the symptoms of overdose and what to do if you suspect someone is having an overdose.The information contained in the app is not medical advice for handling a any specific situation but is designed to raise awareness that the tragedy of overdose death is preventable.
Download Overdose Aware for iOS
My Narcotics Anonymous Toolkit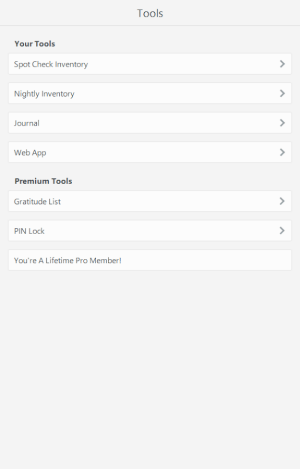 This app is a sobriety tool that can help addicts jot down their thoughts and feelings in a journal securely as a way to overcome them. It also offers a Spot Check Inventory to list out resentments and a Gratitude List to list all the things you are thankful for everyday, which will leave you more energetic, optimistic and hopeful. Finally the Clean Calculator will help you track how long you've been clean in total hours, days, months, and years.
Download My Narcotics Anonymous Toolkit for Android
Narcotics Anonymous – Speakers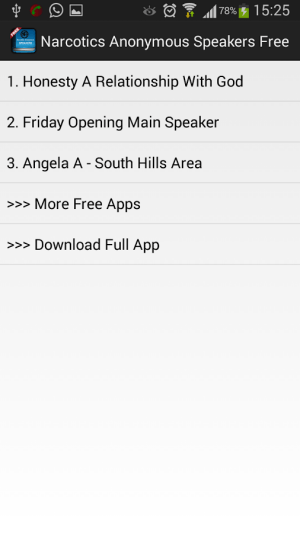 The NA community has been a rock for thousands of men and women who have drug problems and are determined to overcome them. This app features inspiring and motivating speeches from recovering addicts and also provides a whole lot of information on how NA works, on the 12 step program, the 12 traditions and a Just for today section that provides wisdom to stay strong and sober, one step at a time. Also included in the app is a Clean Time calculator that lets you see how many days you've been sober.
Download Narcotics Anonymous – Speakers for Android
Addicaid: Addiction Recovery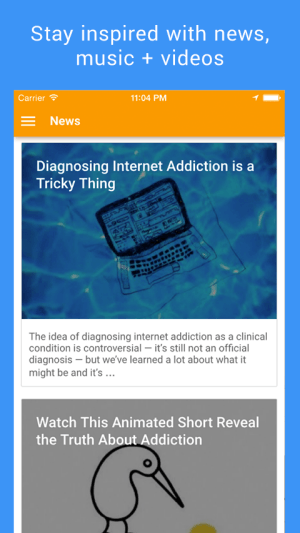 Addicaid helps users find and connect with a community to support them in their fight against an addiction. Its lets users set up a profile to manage the meetings, set goals to stay motivated, record their progress, and receive entertaining videos, articles, and music to remind them everyday about how great it is to be on the path to recovery. The app also provides a calendar to save your meeting dates and maps out meetings so you can see the bigger picture. The app also has a social side allowing people to comment and talk to others in the community.
Download Addicaid: Addiction Recovery for Android
Download Addicaid: Addiction Recovery for iOS
Sobertool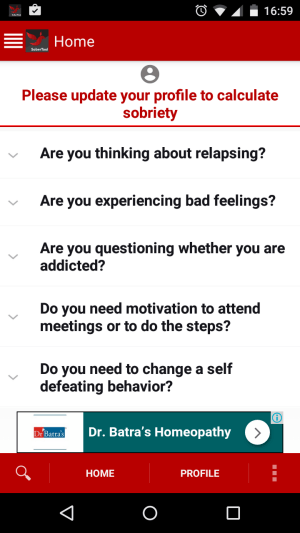 Sobertool is an app not just for substance abusers but also for recovering alcoholics and anyone working to get rid of an addiction from a bad habit. Cravings have a nasty habit of urging us to relapse when we least expect it and this app will offer a series of questions to help you deal with the specific issue that has triggered your craving. Sobertool can help you come out of a defeated behavioural pattern and guide you to make wise decisions that won't jeopardize your sobriety.
Download Sobertool for Android
Sobriety Clock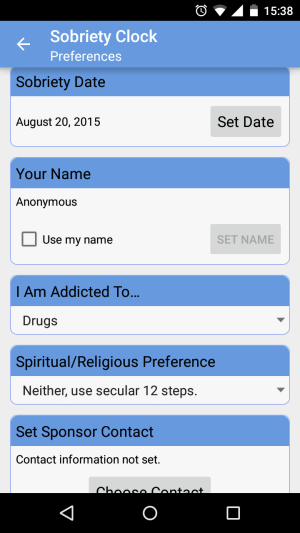 The trouble with addiction of any kind is that once you've made it a habit and given it power over your thoughts, getting out of that habit and empowering yourself to live free of it is difficult. With drug and alcohol abuse the rate of relapsing is high in the first 12 months but the good news is that the longer you stay sober, the better are your chances of avoiding a relapse.
But for a recovering addict, even 1 minute of staying sober is a hard won victory. The Sobriety Clock app lets you set your sobriety date, your addiction, and your recovery program along with your sponsor information. This simple app will then remind you of how far you have progressed and how much more to go, giving you the will to fight your way through the rest of the recovery period.
Afternoon Affirmations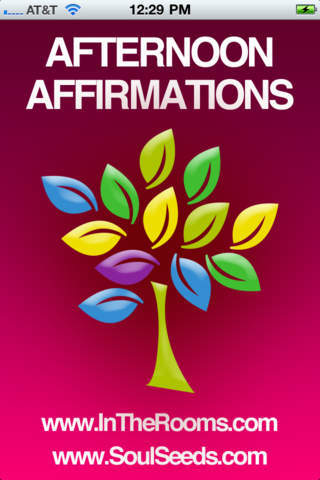 Afternoon Affirmations is an app designed by the Global Recovery Community, InTheRooms.com. Whether you are on the way to staying sober or you are a family member of someone who is, you can find something valuable to learn everyday. The app sends a thought provoking, insightful and, spiritually uplifting message everyday at 1 PM that will help heal the soul and help users finding their full human potential.
Download Afternoon Affirmations