Do you feel that your home could do with a good redesign? Don't waste your time buying expensive home improvement magazines or browsing through interior designing websites for the perfect designing idea suited for your home and personality.
Because you can do all that by simply using your smartphone to visualize ideas for your home's interior design. There are various interior designing apps today that you can use for every room in your home. And most of them are available online for free. Here is our pick of the top 10 interior design apps for your smartphone.
Top Interior Design Apps for Easy DIY Home Designs
Houzz Interior Design App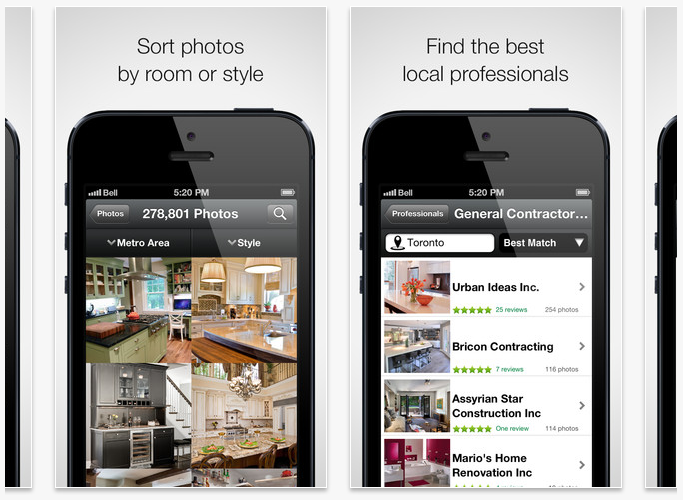 There are times when our minds are like blank walls. You just can not seem to find creative ideas or inspiration to help you out. Sadly, this situation often leads you to a dead end. What you need is an opportunity to access various design ideas to help you determine what your home needs. This means you'll need to do thorough research.
Incredibly popular (CNN called it "the Wikipedia of interior design"), Houzz is the Pinterest of the interior design world. All the available interior decorating ideas you need can be browsed by style, location and room. You can also bookmark them for future reference. What sets this apart from other rival apps is the find a local pro feature. If you need help with a design aspect or just want a second opinion, you can get in touch with a local expert through the app.
Download Houzz Interior Design App for Android
Download Houzz Interior Design App for iOS
Remodelista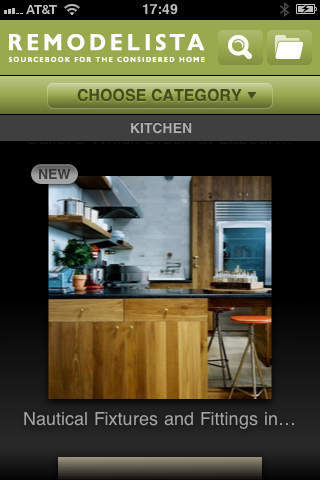 Remodelista is an amazing online sourcebook that is a favorite among professionals and laymen. Many consider it a must-have, must read app. And you will be pleasantly surprised to know that its fan club includes devotees like Gwyneth Paltrow apart from other stylists and architects from around the world. You will find superb Do It Yourself projects here with special features like Steal This Look and 10 Easy Pieces. It is one great iPad app on the whole.
Homestyler Interior Design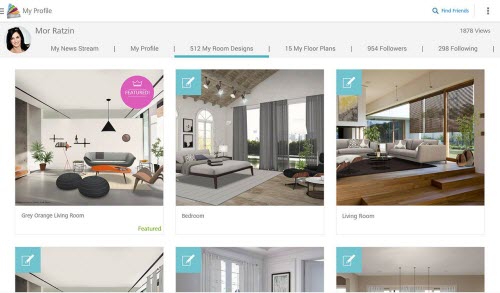 Homestyler Interior Design from Autodesk is a free piece of interior designing software. It allows you to design your dream interior while not having to waste countless scraps of paper doing so. The app allows you to recreate any room in 3D and load it up with furniture, rugs, lighting fixtures, etc. You can mix and match pretty much everything in a room and see exactly what you are getting yourself into. The app also lets you connect with professional designers. It lets you share your own design ideas on your Facebook wall, for feedback from friends and family.
To change your desired interior you only need to click and drag! You can also gain inspiration from what other interior designers have done by searching through the software's design gallery. The great thing about Autodesk Homestyler is that you can visualize what a room will look like before forking out thousands of dollars on furniture, paint and fittings with just a little bit of effort.
Download Homestyler Interior Design for iOS
Download Homestyler Interior Design for Android
Planner 5D – Home Design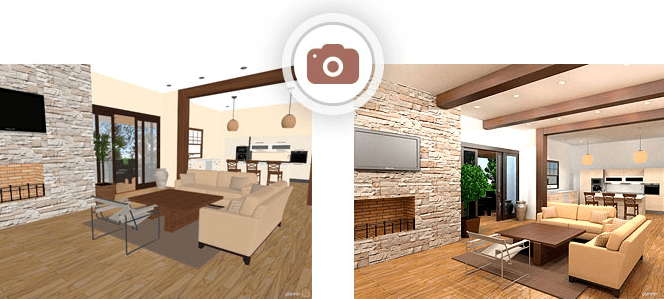 Who says you need to have special training and skills for designing your dream home? With a simple app like Planner 5D, you can create beautiful and realistic home interior designs in 2D and 3D HD modes. You can choose from over 4.6 million interior design ideas. You can select and customize accessories and decor elements, apply textures and colors in different combos and drag and drop items on your layout. Planner 5D offers plenty of inspiration for creating and visualizing your home project. This app is definitely a great addition to your interior design app kitty.
Download Planner 5D – Home Design for iOS
Download Planner 5D – Home Design for Android
MagicPlan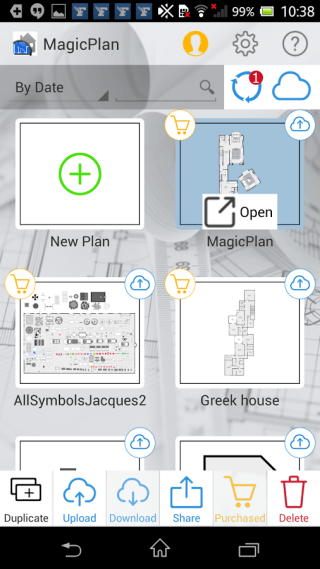 Downloaded by over 8 million users and ranked #1 in over 98 countries, MagicPlan is the go to app for creating professional floor plans and work estimates. The app is perfect for professionals but even newbies can create a great floor plan in no time at all. That's because all you need to do is take a picture of the room and the app will draw out the necessary measurements and plan. You can then add objects, annotations, photos and such to generate reports in PDF and a number of other formats. The app is free to download and use though you'll need a subscription to make use of all its features.
Download MagicPlan for Android
Home Design 3D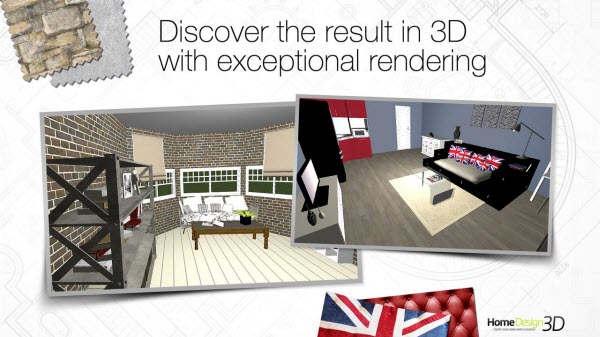 Home Design 3D is one of the most creative home design apps available on the App Store and its no surprise that it is used by over 12 million users worldwide.The app lets you draw rooms, create openings, add walls and change its height and thickness, change the shape of the room itself if you like and do other cool stuff simply by dragging and dropping objects around.
The freemium app also allows you to import plans that you may already have with you and share them with others, if more than one person is working on the project. If you upgrade to the 3D mode, you can get a more realistic view of your project. Another cool feature of the app is the day/night function, which will show you exactly where the light will fall at different times of the day. The app has an extensive list of features but has an intuitive interface that makes it easy to use.
Download Home Design 3D for iOS
Download Home Design 3D for Android
Handy Man DIY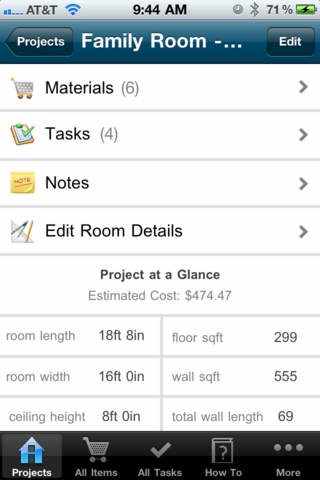 If you prefer to design your home's interior without the help of any professionals, this Handyman DIY app will help you plan out your home re-designs. This app will assist you in your project by providing all the information you'll need for project completion such as how much paint you'll require, shopping list templates for common home improvement projects, cost estimates, as well as tools for calculating various room dimensions. If you are ever in need of a handy man for any of your home decoration needs, this one is a great pick for just $1.99.
Download Handy Man DIY for iOS
Morpholio Board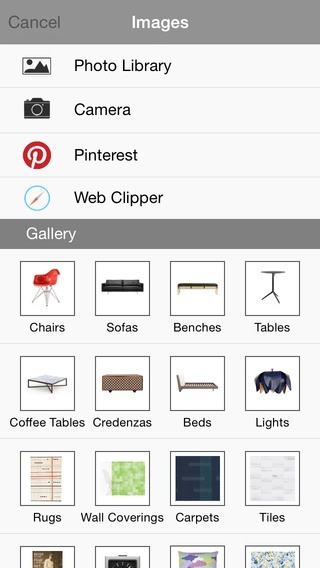 Morpholio Board is a collage app that lets you design rooms on a board by making use of web clippings of images curated from the web. Its library boasts over 1000 design elements and interior accessories. You can curate cool designs, assemble photos, add people or annotations, generate a list of items, save and share them with the world. Its a fantastic app to have in your kitty whether you're a designer, architect, highly creative person or just a kid or student looking for some inspiration.
Download Morpholio Boardfor iOS
LikeThat Décor and Furniture – Free Home Ideas
If you're looking for unique furniture to deck up your home, LikeThat Decor and Furniture should be the one-stop search and discovery app that will help you find it. You can explore thousands of home catalogs, discover unique ideas for your home, get access to top picks from popular designers, find furniture using pictures from your phone, and shop from stores at less expensive prices.
Download LikeThat Décor and Furniture – Free Home Ideas for iOS
Download LikeThat Décor and Furniture – Free Home Ideas for Android
ELLE DECOR Lookbook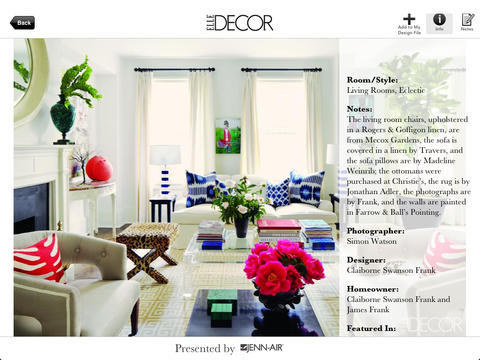 Whether you are looking for something classic or contemporary, when it comes to home decor and interior designing, there's no better place to look for than the popular magazine Elle Decor. Their app for iPad brings you fantastic design ideas and inspiration.
It offers the latest information and tools that will help you decorate, renovate, and stylize your home. You can browse hundreds of images from their archives, save your favorites and share them with friends and clients. Plus, you can get the best advice from the experts themselves.
Download ELLE DECOR Lookbook for iOS
Whether you're a casual do-it-yourselfer or a professional contractor, when something in the house needs to be fixed or a project needs to be completed, you may want to learn how to do it. Fortunately, today's technology comes to the rescue by providing an array of apps to help you. You can generate ideas, choose the right tools, accomplish small repairs or tackle larger projects. The next time you're thinking about a contracting job or DIY project, consider one or more of these top home design apps to help you.