Social trading is very popular among beginners even if they don't have enough trading experience and knowledge about market trends. Social trading apps play a major role in helping these beginners copy trades from investors who are consistently successful and make money easily. These apps help newbies learn from the mistakes of fellow traders and alert them to avoid such mistakes in their future trades. In this post, we take a look at some of the popular social trading apps for the year 2016.
Popular Social Trading Apps for Smartphones
Zulu Trade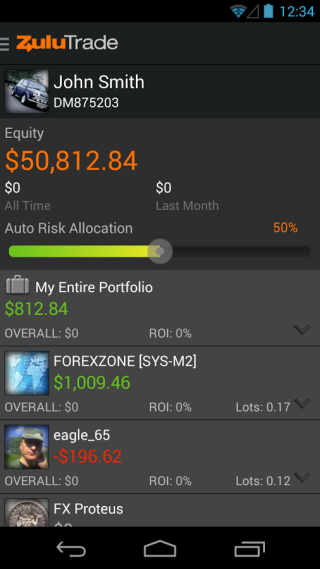 It is the world's largest social trading community for binary options and Forex trading. It provides a simple and easy method for beginners to follow the successful traders and copy their best trades instantly. They have designed their own algorithm to evaluate the performance of top traders and rank them based on their success percentage. The signal providers of ZuluTrade are actively monitoring the traders of all financial markets on 24/7 basis and there is no need for any formal training for users to understand the market trends.
This app supports more than seventy international brokers globally such as FXCM, FXDD, AAAFX etc. The ZuluTrade platform is very open and easily accessible to all beginners and you can check out the free demo app to practice trading. In order to sign up and open a real trading account with them, you need a minimum deposit of 300 USD.
Along with Forex trading, they also have binary options trading which is very popular method in recent days among beginners. There are hundreds of strategies to follow and can be copied automatically based on your custom settings. It also has a feature named ZuluGuard which provides capital protection for your account and will perform certain predefined actions to prevent any harmful trading behavior.
IronFX Social Trader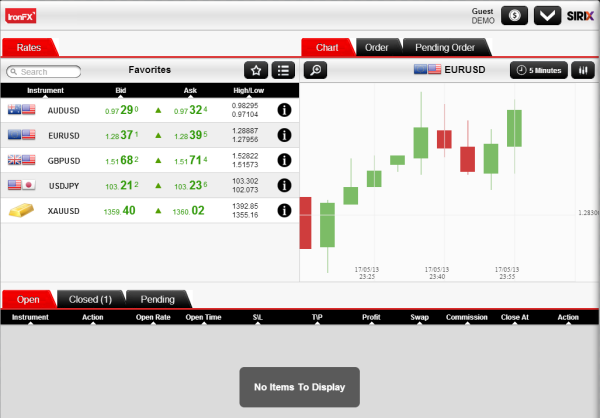 This is one of the popular Android social trading applications which is completely synchronized with its web platform and offers customized solutions to its users. Registered clients who are using the trading platform on the web can also enjoy the customized features available in the app.
The app allows users to watch live feeds of the successful trades from popular investors and also to continuously monitor and follow them. It is one of the most effective social trading apps that allows users to trade different kinds of portfolio including stocks, indices, commodities, CFD's and Forex currency pairs.
It also offers historical charts and real-time data using graphs. You can also view the status of your trading accounts and monitor the trades of other users to make well-informed trading decisions. IronFx Social trader can be downloaded for free from Google Play store.
Ayondo
It is another popular social trading network based out of Germany that is becoming very popular throughout Europe. It was the 1st social trading platform that offered spread betting Forex trading accounts to its users from United Kingdom. It also provides demo trading account for free to its users and the option to trade using a huge range of trading instruments such as stocks, commodities, bonds, Forex currency pairs and indices.
eToroOpenbook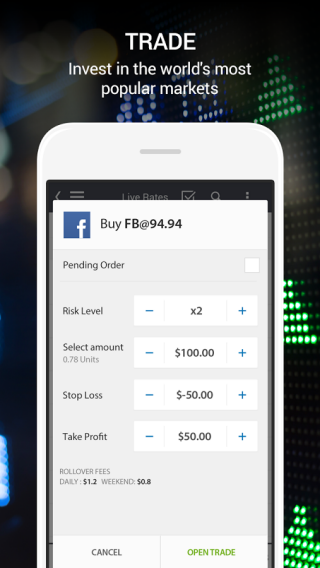 This is also an interesting social trading App that has more than 4.5 million users from various countries around the globe. You just need a minimum deposit of 50 USD to open a trading account with this platform. Also the app is very intuitive and user-friendly which makes it comfortable for beginners without any trading knowledge. You can watch live news feeds and get important market updates in the app and trade using commodities, stocks, Forex currencies and indices.
CopyOp Social Binary Trading App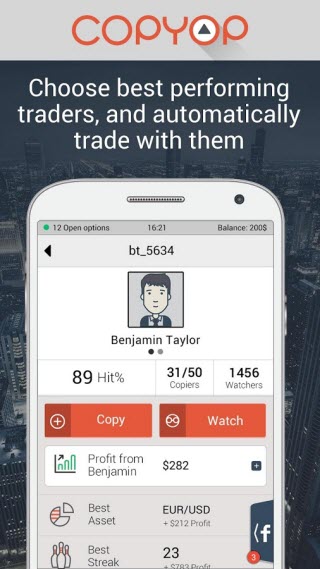 Being the first social trading platform, copyop social trading app is very popular among beginners since it introduced the concept of social trading. By allowing the users to copy trades of other successful investors, Copyop became an attractive choice for newbies who want to make money with trading. It introduced social trading for binary options trading which is a recent trading method widely used by beginners.
The app offers multilingual support in more than 15 languages and also 24/7 technical support to handle issues faced by users in a prompt manner. You don't have to understand complex technical indicators and charts in order to trade using this App. Its user-friendly interface makes it easily accessible for beginners.