Have all the best travel apps on your smartphone but still missing out on something? Google Trips is a brand new travel app from Google is specifically designed to help travelers when they are actually at the destination. If you are an avid traveler, Google Trips promises to be one of the best guides and travel planner you can have at you side for free. Let's check out the app's features.
Google Trips App Review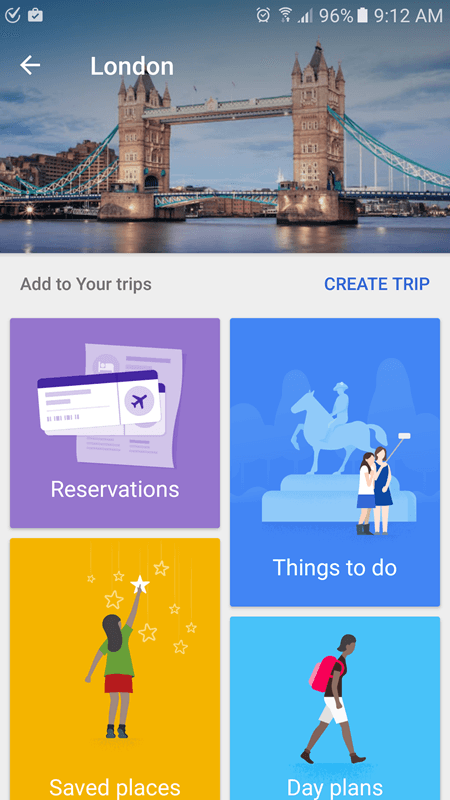 Once you download and install Google Trips, you need to allow the app access to your current location. Then you're taken to the rather unimpressive home page that shows your current location and gives you a series of city slides to explore. If you wish to go to one of these cities, you tap on the slide and create your trip. Or you can search for a city you wish to travel using the Search bar at the top.
Once you select a city to travel to, that's when Google Trips comes to life. The app displays a series of tiles showing details of your reservations, things you can do, your saved places, your day plans, food and drink, and other essential information. Here's a closer look at the different options the app offers:
Viewing Your Reservations
Trip reservations are automatically added to the app from your Gmail correspondence with the hotels. If you've been using another email account to do your hotel reservations, you can simply forward that email to Gmail and Google Trips will update the details on the app. You can view all your  bookings (flight, hotel, rental car, restaurant) in one place without having to search for them individually.
Things To Do On Your Trip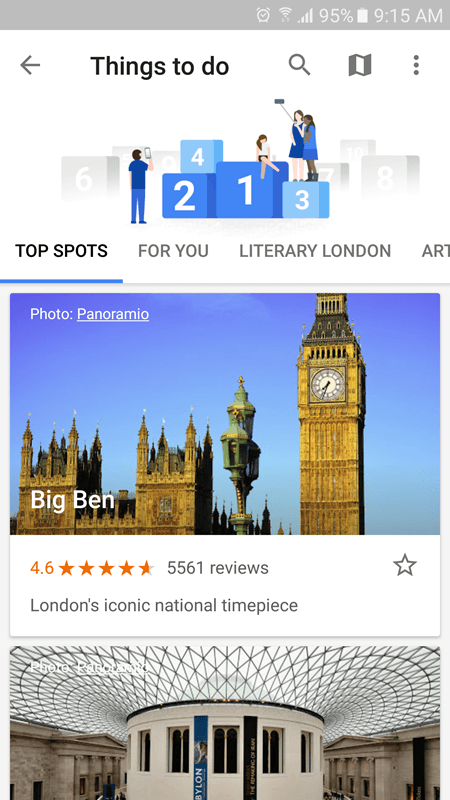 This section features a gorgeous tabbed interface showing you all the top spots in that city. There are reviews, opening times, and a brief description of the spots to visit while you are there. Whether you're interested in art, history, churches, shopping, indoor or outdoor activities, there's plenty to choose from in this section.
Saved Places
If you plan on going to a specific place, just tap the star icon and it will get added to your saved places section. You can then directly look it up for all the details and avoid scrolling through the app to find out which destination (s ) you planned to visit.
Day Plan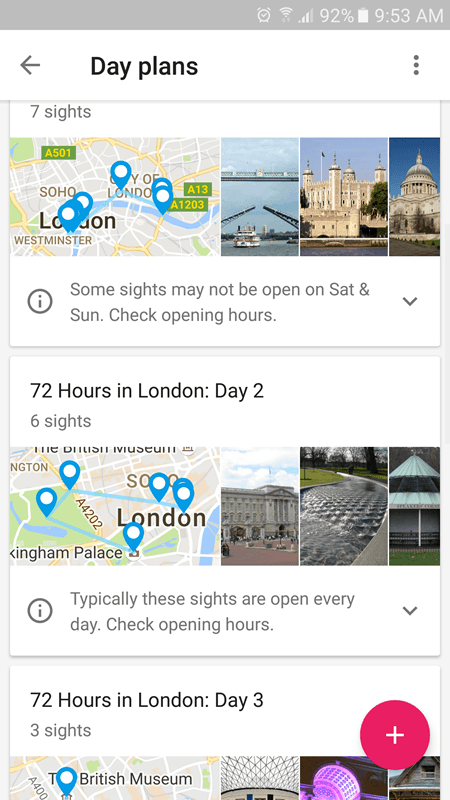 Google Trips also offers some good day plan suggestions so you make the best of your trip. For example, if you had just 72 hours to spend in London, the app will suggest you visit 7 sites on Day 1, another 6 sites on Day 2,  and 3 sights on Day 3 so you have a good itinerary prepared ahead of your trip. You can even add your own day plans if you don;t like Google's suggestions.
Food & Drink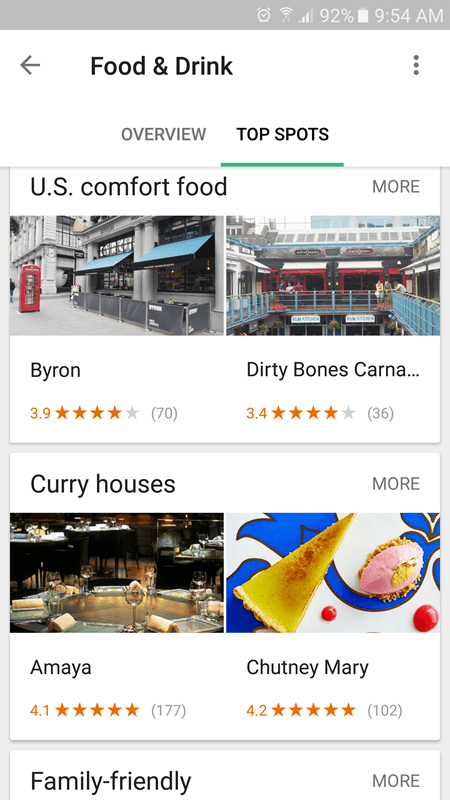 This section displays a wonderful overview of the local foods in the city. You can also find top food joints depending on what you wish to indulge in – coffee, comfort food, curry house, high end dining and so on.
Getting Around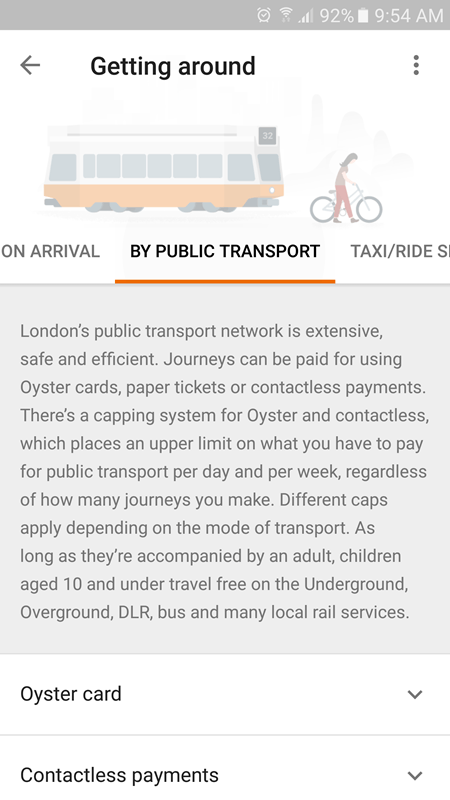 If you're planning a trip to a non-English speaking place, chances are you can't find your way around town. The Getting Around section of this app offers ample information on how you can get around the place as soon as you arrive there. There is information on public transport, taxi service, car, walking and biking with links and phone numbers you can call to avail of any transportation services.
Need to Know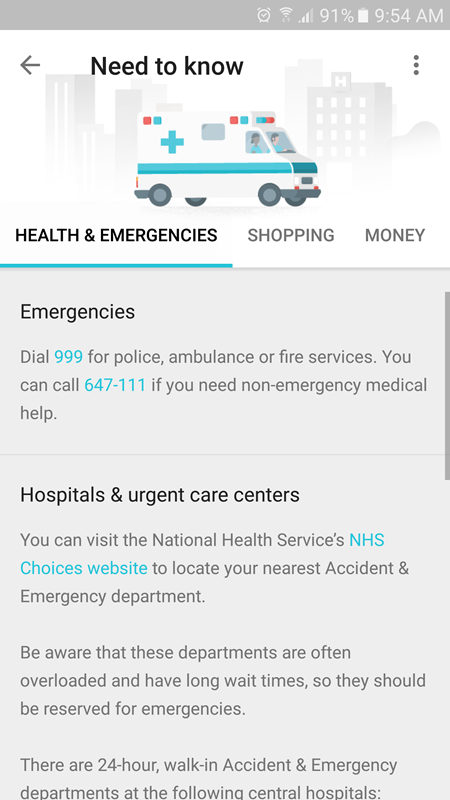 This section offers the most important details you need to know when traveling to that destination. Emergency numbers, hospitals, insurance, free Internet are just some of the key pieces of information the app offers.
The best part of the app is that Google Trips is available offline, so you'll always have access to all your information, even if you are stranded in a place with no Internet.

If you still haven't downloaded Google Trips, you're missing out on a killer travel app that's available for free! Click the link below to download it.