Entrepreneurs and business founders across the United States constantly seek new ways to transform their industries, gain a competitive edge, and drive growth. One powerful tool that has emerged as a catalyst for innovation is software as a service (SaaS). In this article, we explore ten promising SaaS ideas tailored to the needs of business creators, revolutionizing various industries and sparking unprecedented growth.
The Role of Software as a Service (SaaS) in Driving Innovation Across Industries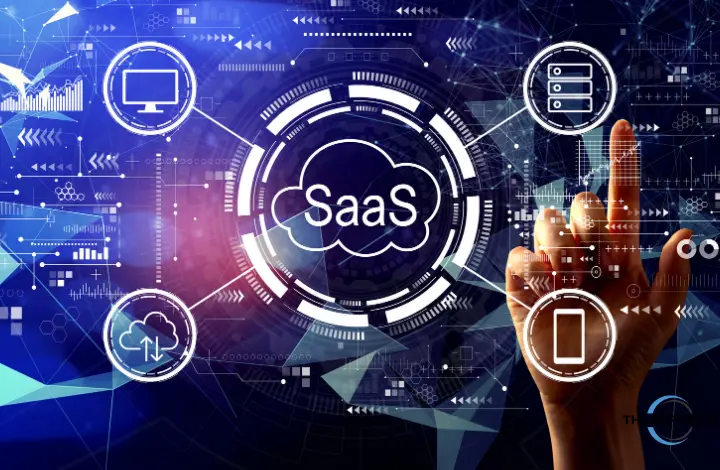 SaaS (software as a service) has become a driving force behind digital transformation and innovation in industries worldwide. By shifting from traditional software models to cloud-based services, companies can access cutting-edge technology without significant upfront costs or complex infrastructure requirements. SaaS offers scalability, flexibility, and continuous updates, ensuring businesses stay ahead of the curve in an increasingly competitive landscape.
Let's explore ten SaaS ideas one by one.
SaaS Ideas for Industry Transformation
As technology reshapes industries, business founders constantly seek innovative solutions to drive transformation and gain a competitive edge.
Idea 1: SaaS Solution for Streamlining Supply Chain Management
The supply chain is the backbone of any business, and optimizing its efficiency is crucial for success. A SaaS solution that integrates inventory management, logistics, and demand forecasting can empower business creators to streamline operations, reduce costs, and enhance customer satisfaction.
By leveraging real-time data and analytics, this SaaS solution will enable businesses to make data-driven decisions and respond swiftly to market demands.
Idea 2: SaaS Platform for Data-Driven Marketing Automation
Marketing is pivotal in driving business growth, and leveraging data-driven strategies is vital in today's digital age. A SaaS platform that combines customer data, analytics, and automation tools can help business creators optimize their marketing efforts.
By personalizing customer experiences, automating campaigns, and measuring marketing ROI (return on investment), this SaaS platform will enable businesses to reach their target audience more effectively and drive revenue growth.
Idea 3: SaaS Application for Intelligent Customer Service and Support
Delivering exceptional customer service is paramount in fostering customer loyalty and satisfaction. A SaaS application that integrates AI-powered chatbots, natural language processing, and sentiment analysis can enhance customer interactions and resolve real-time queries.
By providing personalized and efficient support, businesses can build strong customer relationships, drive repeat business, and increase brand advocacy.
Idea 4: SaaS Solution for Optimizing Project Management and Collaboration
Efficient project management and seamless collaboration are critical for driving innovation and delivering successful outcomes. A SaaS solution that combines project management tools, task tracking, and team communication features can empower business creators to streamline project workflows, enhance productivity, and ensure timely project completion.
By centralizing project information and fostering collaboration, this SaaS solution will enable businesses to achieve their goals efficiently.
Idea 5: SaaS Platform for AI-Powered Financial Analytics and Reporting
Accurate financial insights are essential for making informed business decisions. A SaaS platform that leverages artificial intelligence and machine learning algorithms can automate financial analysis, forecasting, and reporting processes.
By providing real-time data visualizations and actionable insights, this SaaS platform will enable business creators to optimize financial performance, mitigate risks, and drive profitability.
Idea 6: SaaS Application for Personalized e-Learning and Training
In today's rapidly evolving world, continuous learning and training are essential for businesses to stay competitive and for individuals to enhance their skills. A SaaS application that offers personalized e-learning and training can be a game-changer for business creators.
By leveraging advanced technologies such as artificial intelligence and machine learning, this SaaS application can analyze individual learning preferences, skill gaps, and career goals to deliver tailored learning experiences.
Idea 7: SaaS Platform for Telemedicine and Remote Healthcare Services
Access to quality healthcare is a fundamental need, but geographical barriers, limited resources, and time constraints often hinder individuals from receiving timely medical assistance. A SaaS platform for telemedicine and remote healthcare services can bridge these gaps and revolutionize the healthcare industry.
By implementing this SaaS platform, business creators can establish virtual clinics, expand their reach, and enhance patient satisfaction.
Idea 8: SaaS Solution for Smart Energy Management and Sustainability
With increasing concerns about environmental sustainability and rising energy costs, businesses seek innovative ways to optimize energy consumption and reduce their carbon footprint. A SaaS solution for smart energy management and sustainability can provide businesses with the tools and insights necessary to achieve these goals.
By integrating with smart devices, sensors, and data analytics, this SaaS solution can monitor energy usage, identify inefficiencies, and recommend energy-saving strategies.
Idea 9: SaaS Platform for Intelligent Fleet Management and Logistics
Efficient fleet management and logistics are critical for businesses involved in transportation, delivery, or supply chain operations. A SaaS platform for intelligent fleet management can streamline processes, optimize routes, and enhance overall operational efficiency.
This SaaS platform can integrate with GPS tracking systems, vehicle sensors, and advanced algorithms to provide real-time visibility and control over the fleet. It can offer route optimization, predictive maintenance, fuel consumption monitoring, and driver performance analysis.
By leveraging this SaaS platform, business founders can enhance fleet productivity and reduce fuel costs. Additionally, they can improve customer satisfaction through accurate delivery estimates and proactive communication.
Idea 10: SaaS Application for Data-Driven HR and Talent Management
Effective human resource management and talent acquisition are crucial for businesses to build high-performing teams and achieve organizational goals. A SaaS application for data-driven HR and talent management can provide the necessary tools to attract, retain, and develop top talent.
By embracing this SaaS application, business creators can streamline HR operations and improve employee satisfaction and retention. They can also foster a continuous learning and growth culture within their organizations.
Embracing SaaS Innovation: Challenges and Future Possibilities
While SaaS offers immense potential, implementing and integrating these solutions into existing business processes may pose challenges. Business creators must consider factors such as data security, scalability, and user adoption when embracing SaaS solutions. However, by overcoming these challenges, businesses can unlock unprecedented growth and innovation opportunities.
Looking ahead, the future of SaaS-driven innovation is promising. Emerging trends such as edge computing, artificial intelligence, and blockchain integration will further enhance the capabilities of SaaS solutions. This will open up new possibilities for businesses across industries. By staying ahead of these trends and continuously embracing SaaS-driven innovation, business creators can shape the future of their industries and drive sustained success.
Final thoughts
In conclusion, software as a service (SaaS) is a powerful tool that can revolutionize industries and drive innovation. By adopting the ten promising SaaS ideas tailored to their needs, business creators can streamline processes, improve efficiency, and deliver exceptional experiences. Embracing SaaS innovation may present challenges, but the future possibilities it offers are vast. It is an exciting time for entrepreneurs to seize the potential of SaaS and revolutionize their industries.