The uncertainty of  Delicious' future has resulted in most users jumping to various bookmarking sites such as Google Bookmarks, Pinboard, Zootool and Diigo among others. In this web app review, I will be listing some of the features that make Diigo a good alternative to Delicious. Learn how to use diigo to transition your Delicious bookmarks effortlessly.
How to Transition Your Delicious Bookmarks
Diigo is actually more than a bookmarking tool.  Check out some of the cool Diigo features in this video.
[vimeo]http://www.vimeo.com/12687333[/vimeo]
Diigo organizes bookmarks by tags, lists and groups, and boasts of a whole lot of features over and above what Delicious can do such as organizing your bookmarks as a list, automatically bookmarking your twitter favorites, and more. What's more, you can  simultaneously add your new bookmarks to delicious. With this feature enabled, you can start using Diigo as your primary bookmarking service and take advantage of all its advanced features, while keeping your delicious account updated.
What Makes Diigo a Great Tool
Here's a list of some of the interesting Diigo features, which makes it a must have tool.
1. You can highlight text in multiple colors, and add sticky notes on webpages
2. You can archive pages with integrated search functionality
3. You can use WebSlides to play, browse, and annotate any list of URLs as an interactive slideshow
4. Organize bookmarks by tags and lists
5. Access your account from anywhere as it is cloud based
6. Use Diigo tools on almost any device including iPad, Android, desktop, and iPhone.
7. Install cool apps for Firefox 4, Safari, and Mac
8. Share bookmarked pages with other users
9. Build a personal network by searching for users with common interests and adding to your friends list
If you like what Diigo has to offer, simply create a Diigo account and get started.
How to Import Bookmarks from Delicious to Diigo
1. Login to Delicious.
2. At the top-right corner of the screen, click Settings.

3. In the Bookmarks section, click the Export/Backup Bookmarks link.
4. Select the license for your feed.
5. In the Export / Download Your Delicious Bookmarks page, check the options as desired and click Export.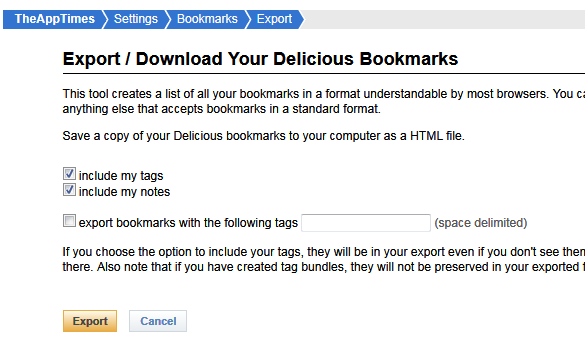 6. In the dialog box that appears, click Save.
7. Logout of Delicious and login to Diigo.
8. In the top right of the screen, click the Tools link.
9. In the left navigation Diigo Tools section, click Import from Delicious.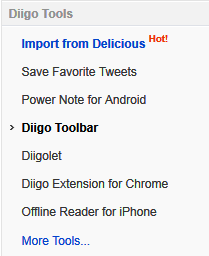 10. Click the Browse button, navigate to the location where you saved the exported bookmarks and click Open.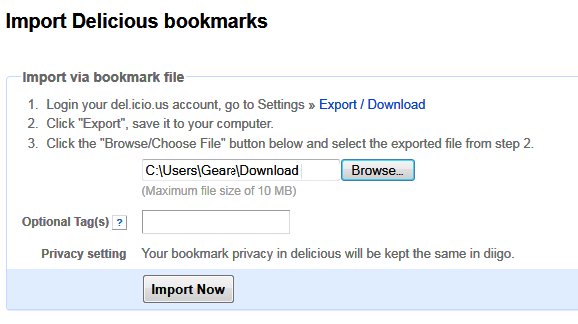 11. Click Import Now.
That's it. Your bookmarks will be transitioned in just a few simple steps.
If you are already using Diigo share your Diigo user experience with us. If you haven't got a Diigo account, this one's certainly worth a try.