Safari is simply THE best browser to use on an iOS device, but there are some who find the Chrome browser more handy. If you are indeed planning to use Chrome for iOS, you'll want to import any bookmarks you've used previously in Safari to Chrome, but there's no straightforward way of doing that. If you still want your bookmarks transferred, you can do it, albeit in a roundabout way. Here is the step-by-step process to transfer bookmarks from Safari to Chrome on an iPhone running iOS 9.3.3.
How to Transfer Bookmarks from Safari to Chrome on iOS
Step 1: Sync Safari with iCloud
The first step to move your Safari bookmarks to Chrome is to move them to your desktop computer using iCloud.
1. Go to Settings and tap iCloud.
2. In the iCloud settings screen, check that Safari is enabled.
If you've enabled this option just now, give Safari some time to sync with your iCloud account.
Step 2 : Import the Bookmarks to Your Windows Chrome Browser
Once the sync is complete, the next step is to import the bookmarks into your Chrome browser. The following steps are only to be performed on a Windows PC.
1. Install the iCloud Chrome Extension for Windows.
2. Install iCloud for Windows and sign in with your Apple ID.
3. In the iCloud dialog box, ensure that the Bookmarks option is checked. You'll see that your default browser, (in my case Firefox) is selected with Bookmarks.
To change this to Chrome and make it easier to complete the transfer of bookmarks, click Options in the Bookmarks field and select Chrome. Click OK.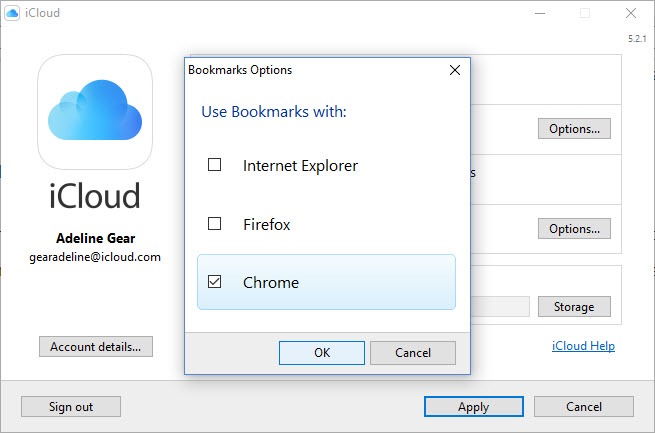 Note: You may encounter one potential problem when you transfer bookmarks to your default browser. That is, all existing bookmarks in your default browser will get synced to Safari as well. This may be something you don't want to do. In such a case, select a browser you don't use and move your bookmarks to that browser and then do another transfer from that browser to Chrome. I'm going to do a straightforward transfer of my bookmarks to Chrome.
3. Click Apply.
4. In the pop-up message that shows up, click Merge.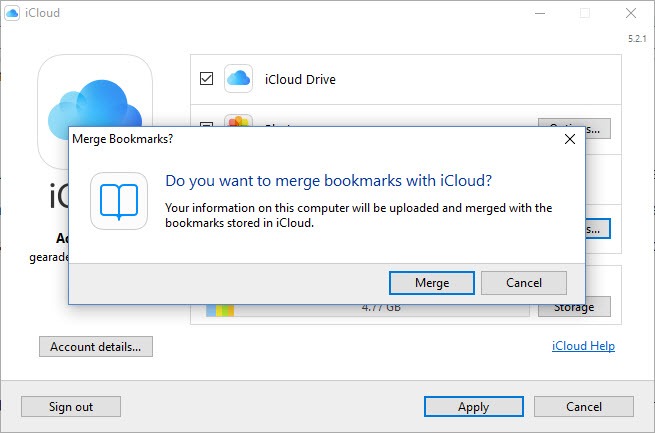 5. On your iOS device, open Chrome and sign in with the same Google credentials you used to sign on your desktop.
Wait for a few minutes for the bookmarks between Chrome on your desktop and Chrome on your iOS device to sync.
That' s it! Your Safari bookmarks will now be transferred to your Google account.
If you are moving bookmarks to another browser before moving to Chrome, the process is a little convoluted.
1. Select Firefox or Internet Explorer in the iCloud dialog box.
2. Then, on your Chrome desktop browser, click the Tools menu.
3. Select Bookmarks and then choose Import Bookmarks and Settings.
4. In the menu that shows up, select your browser (Firefox or Internet Explorer) and click Import.
5. Then sign in to Chrome on iOS. The bookmarks will automatically be synced to your device.