Google Tasks may seem like an inconsequential little blob on the Gmail sidebar, but I find it particularly useful since I link my tasks to my mail items. My only grouse is that sometimes I want to use it as a standalone tool rather than a slim attachment on the browser screen. Now, thanks to a new Chrome extension, I can do precisely that – work with a bigger and better Google Tasks interface. Check out the Full Screen for Google Tasks Chrome Extension.
Full Screen for Google Tasks Chrome Extension
The Full Screen for Google Tasks Chrome Extension is available as a free download on the Chrome Web Store. Setting it up is rather simple.
Click Add to Chrome and then click the Add extension pop up to install the extension on your Chrome browser.
Once installed, you'll see the extension icon at the top left of your browser. To start using it, you'll need to sign in to your Google account. Click the Sign in to Google Tasks account and follow the prompts.
Once you sign in, you'll see an interface with 3 panes to manage your to-dos.
Full Screen for Google Tasks Interface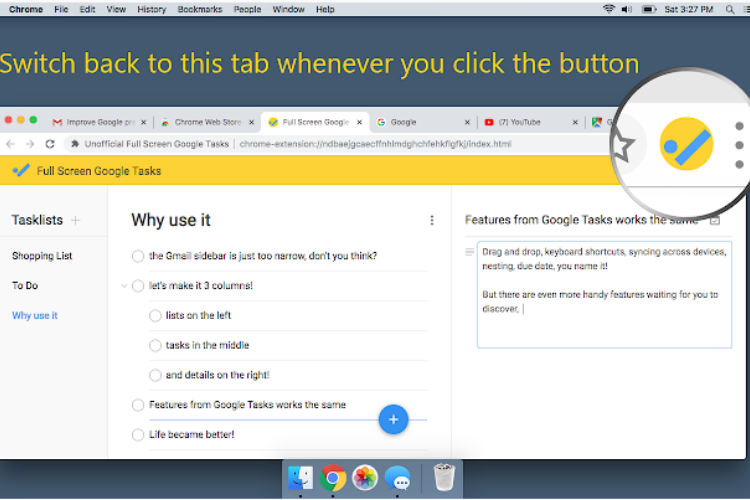 On the far left, you have the Tasklists pane. This is where all your main tasks or to-dos are listed.
The middle pane displays the current task you selected from the list above. It displays all the items as you created in Google Tasks, including details like due dates and nesting.
The right pane displays the details associated with each task that you select in the middle pane. You can click the tiny calendar icon at the top to add dates for each task item on the list.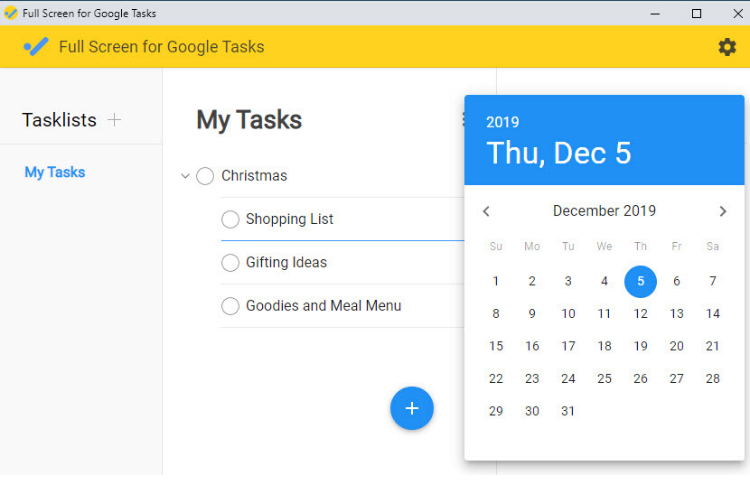 Overall, I found this extension to be a charming way to work with my to-do's in Google Tasks. It offers a nice, neat logical way to work with all my to-dos.
The extension has a Gear icon on the yellow header bar where you have a few extra settings options. You can also find keyboard shortcuts and options to order your lists a particular way.
Final Thoughts
I love Full Screen for Google Tasks for the simple reason that I can use it as a standalone app and how easy it is for me to organize my to-do list items. That said, this extension has its limitations. For instance, you cannot create recurring tasks, setting a reminder or a specify an exact time.
But that's probably because this is not Google Tasks but simply a third party extension that is limited by what the main app can do.
Still, if you're a big-time user of Google Tasks, you might want to consider giving this extension a try.
Check it out and tell us what you think!
Download the Full Screen for Google Tasks extension