Have you always dreamed of your own pet, maybe a horse or a mystical dragon? Now you can not only have a pet but you can take them everywhere with you on your Android device or iPhone. There is a wide selection of virtual pet apps available, so we have chosen five top apps for both Android and iPhones. You can now download your favorite pet, care for them, watch them as they grow and keep them happy.
Cool Virtual Pet Apps For Android
Android has a selection of great apps including a choice of virtual pet apps. Find your pet, download him or her now and start caring for them and raising them as you would if you had a real pet at home.
Drago Pet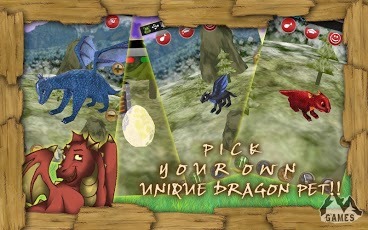 Drago Pet lets you raise your own mystical dragon. You start by keeping your little dragon egg warm until it hatches. Once your cute dragon hatches you are responsible for feeding it, cleaning its den and playing with it.
The advantage is that your Android device will let you know when your dragon needs your care, even if you aren't in the game at the time. Drago Pet can be downloaded from the Play Store.
Pet Care
Pet Care lets you take care of your pet throughout his or her life, play games, feed him and ensure your pet is always fit and healthy. Collect coins, buy food and give your pet loads of love. Just like having a real pet in the house.
Virtual Pet Cat
The virtual pet cat has some Android users loving it while others find the animation a little slow. But if you have always dreamed of having a kitten in the house, this is the cleanest and easiest way to do it. Keep your kitty on your Android device as you play with them, feed them and keep them healthy. This app can be downloaded here.
Tiny Farm
Have you always wanted to throw on your Wellies and dungarees and get your hands dirty managing a farm? Well now you can from the clean warmth of your home with Tiny Farm Android app. Take control of your own virtual farm where you must take care of your chickens, cows, horses and sheet. Breed your own animals and see what you come up with and then socialize with your friends, visit their farms.
iQuarium
Decorate your own virtual aquarium. Unlock items through the easy point system while you care for your fish by feeding them and keeping them healthy. This app is great fun for anyone who longs for a fish tank but can't afford one, take your fish tank anywhere with you by downloading the app here.
Now For Virtual Pets for iPhone
iPhone users can also enjoy the benefits of having great virtual pets at their fingertips.
My Horse
If you have always wanted a pony but never been able to afford one now is your chance. My horse is a true horse simulation game where you can bond with your horse as you groom for it. Feed your horse and maintain its paddock as you would a real horse. You can unlock tasks to ensure your horse remains happy and healthy and then you can enter show jumping events. There are up to eight horses for you to collect.
Pet Puppy
There is nothing better than having a puppy in the house. With Pet Puppy you can customize your pet and then take them to the park which is designed just for you. The aim of the game is to keep your puppy entertained, fed and cared for. You can buy a selection of toys and accessories to make your puppy your own.
Touch Pet Dogs 2
After the original game was such a big hit, the second game has been released with even more features and your pet dog is more interactive and much more fun to play with. The new game is exactly the same as touch pet cats which is also a free iPhone app. Feed and care for your pet and be sure to play with them to keep them happy.
Pocket Frogs
Pocket frogs is the ideal game for boys where you can raise, breed and trade your frogs. Customize your frog's habitat, keep them healthy and happy and then try breeding all the different types to come up with something unique to trade.
Dragoo
Dragoo is your own 3D dragon that lives in your iPhone or iPad. He is a virtual pet that you will need to raise through his three stages of growth. Once your dragon is able to fly and breathe fire, you can enter him or her into a selection of mini games.
This article has been contributed by Invisible Fence® Brand, specialists in electronic pet containment systems.