As an Android user, have you found yourself wanting to share your WiFi network with friends? There are of course plenty of ways to do it, but it can usually be a little tedious. For instance, if you are using an app, your friends must also have the app to gain access. Or you may have to deal with long winding access keys. If you're having a bit of a hard time, then check out WiFi QR Code Generator. It lets you generate a QR code that can be scanned with Barcode Scanner – the hugely popular QR scanner that has become the default app on most Android devices.
Using WiFi QR Code Generator to Share your WiFi Network
It is easy to get started with WiFi QR Code Generator.
1. Download the app from Google Play and open it up.
2. Enter the network name (SSID) and password.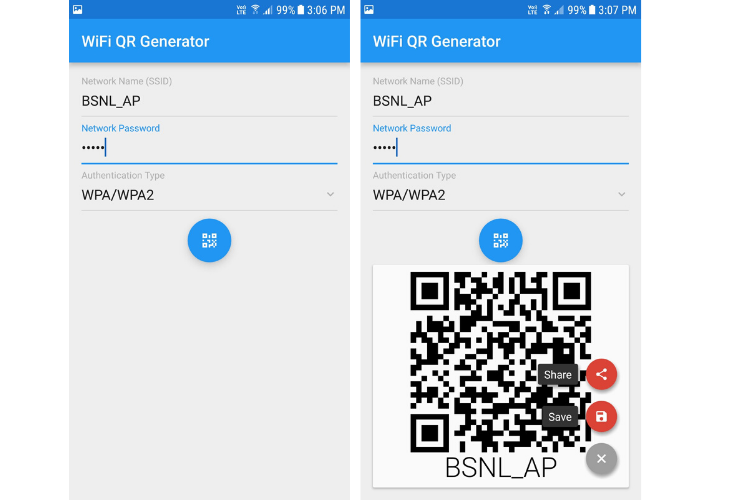 3. Select your network type such as WPA, WEP.
4. Tap the QR code button to generate the code.
5. Tap Save to add the network to the app's menu or tap Share to share the QR code over the web, via Dropbox or other platforms. If the person is standing right next to you, just show the QR code to get it scanned.
Your friends with whom you are sharing the QR code need not have WiFi QR Code Generator installed. It can simply be scanned with Barcode Scanner.
The scanned QR code will show the name of the WiFi network, the type of the security protocol (WPA/ WPA2, WEP and None) and a Connect to Network button. Tapping on the button turns on WiFi. It also saves the affiliated WiFi network to your device.
The next time you want to share your WiFi network with your friends easily, consider doing it with the WiFi QR Code Generator app.
Download WiFi QR Code Generator