The Samsung Gear S3 is one of the best smartwatches you can buy in 2018. If you own one of these watches, chances are you'll want to keep it always charged and ready to use, be it at home, work or wherever your travels take you.  You can trust these wireless charging docks for Samsung Gear S3 to get the job done.
Top Wireless Charging Docks for Samsung Gear S3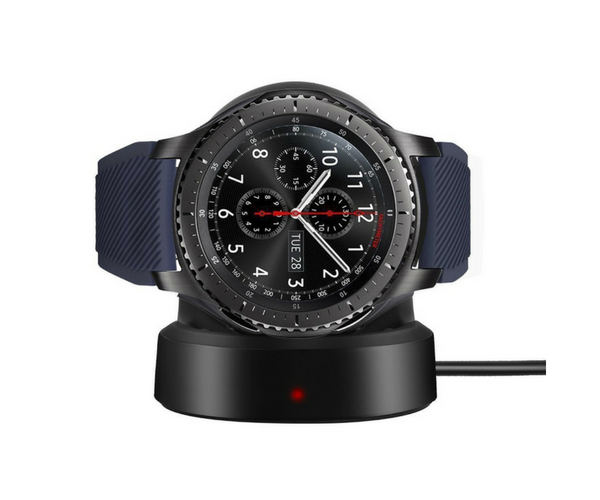 Halleast Gear S3 Charger Holder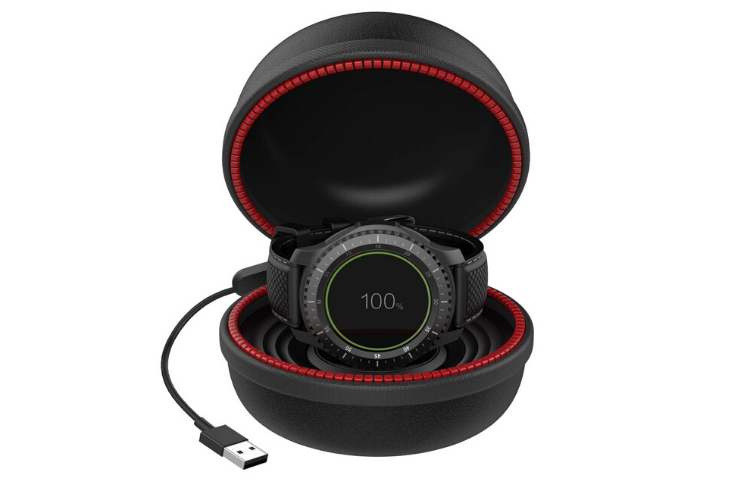 Halleast's Gear S3 charger is a sleek, compact charger made from environmentally friendly materials. It offers a neat holding space to store your Gear S3 charger and charging cable. It works only on certain S3 models so check compaibility before you buy. The case is water-resistant and scratch-proof. When not in use, you can seal the zipper and drop it in your bag to carry it conveniently on your travels. The case also comes with a durable key chain for easy carrying. Price: $12
Samsung Smartwatch Wireless Charging Dock for Gear S3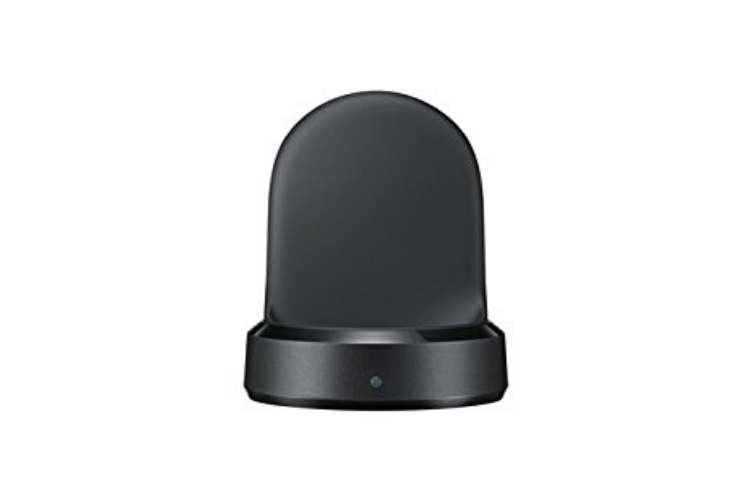 This is the official Gear S3 charging dock from Samsung. Most official accessories tend to be pricier and this one is no different. At $75, this charger does not even come with supported cable. But for anyone who trusts an official accessory over a third party one, this is it.
BeneStellar Charging Dock for Samsung Gear S3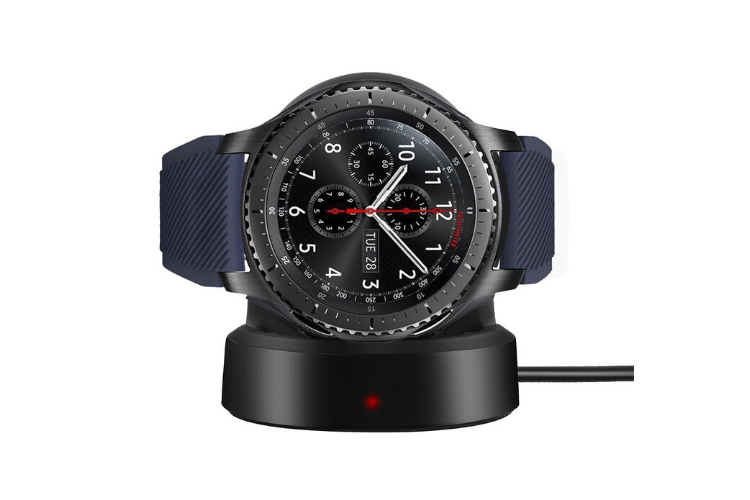 At just under $11, the cradle shaped BeneStellar charging dock for the Gear S3 is a steal. It includes PTC protection to protect your device from overcurrent or over charging faults. An LED indicator lets you know at a glance the status of your charging.
This dock comes with a 3-foot Micro-USB cable for supplying power and is backed by an 18-month warranty as well. Works best with a 5V/1A plug or 5V/500ma (on a computer or PC USB connector) while charging.
EEEKit Qi Wireless Replacement Charging Dock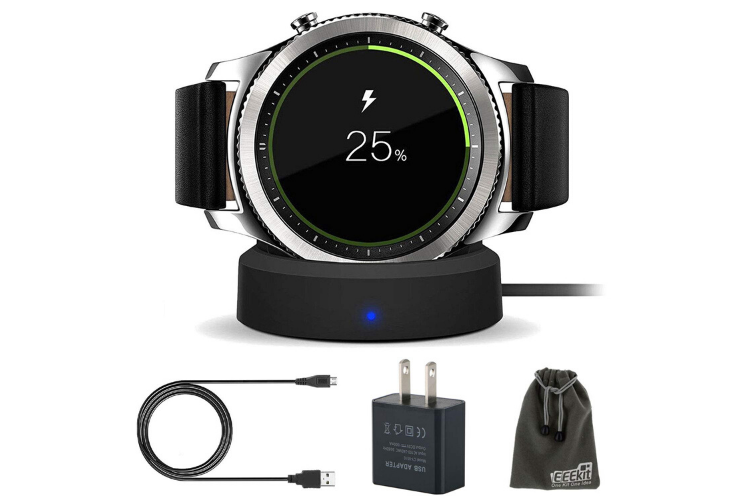 The EEEKit Qi Wireless Replacement Charging Dock is a compact and lightweight dock that is ideal to take with you on your travels. It has a built-in magnet to keep your smartwatch securely in place when charging. The dock also has adequate safety measures to protect the Gear S3 from over-current or over-charging when connected to a power source. The EEEKit also comes with an AC Wall Charger Adapter so you can charge your Gear S3 conveniently at home, in your office, in the car or while traveling. Price: $13.97
Maxjoy for Gear S3 Charger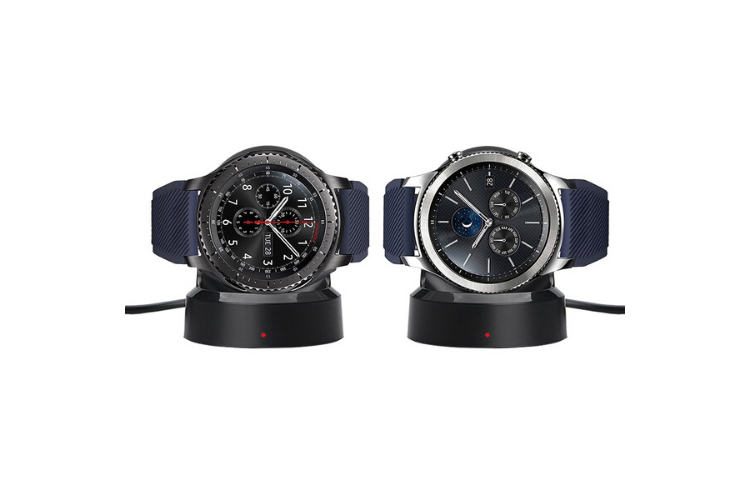 The Maxjoy Gear S3 charger is another lightweight compact charging dock that is perfect for carrying with you on your travels. It has power protection features to keep your device safe from damages caused by over-current and over-voltage faults. An LED indicator shows to the status of your charge at a glance. The charger is backed by a one year warranty and the company even offers replacement of the device if there are quality issues. Price: $10.69
Threeeggs Charging Cradle Dock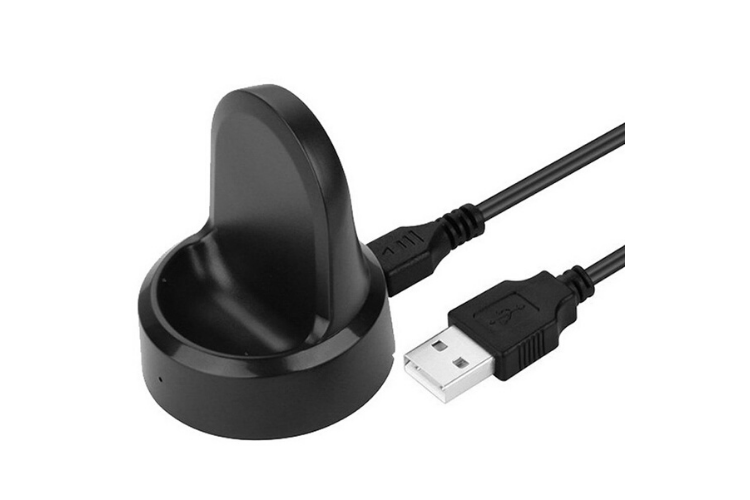 Last up, we have the fast charging Threeeggs Charging Cradle Dock. It comes with Power Protection inside so your smartwatch is not damaged by over-current and over-charging when connected to a USB power source. The company also has a 30 day money-back guarantee and a 1 year warranty.

Price: $9.99
Note: One note of caustion when using these charging docks. Make sure to follow the charging instructions as mentioned in the manual. Plugging it into an outlet with higher load may result in overheating and damage of the device.
That's a quick roundup of some of the best wireless charging docks for the Samsung Gear S3 that you can conveniently pick up on Amazon. If you own a charger that works great and is not in this list, let us know about it in the comments section.