Writing tons of content on a mobile device, particularly a smartphone has never been convenient or intuitive. That's all about to change now with the writing app Ulysses Mobile that gives you a uniquely streamlined toolset, covering every phase of the writing process. Its a simple, yet powerful text editor with a fantastic text library offering iCloud sync to move your content across all your iOS devices with ease and a flexible multi format export support.
Ulysses offers everything a writer needs for his work – from markup, images and footnotes, links and comments to code. Its unified library offers access to everything you'll ever write, including snippets, ideas, blog posts and  manuscripts.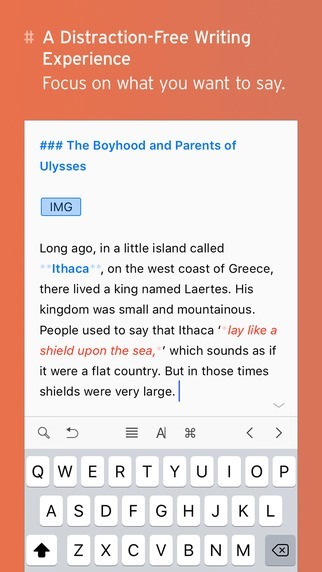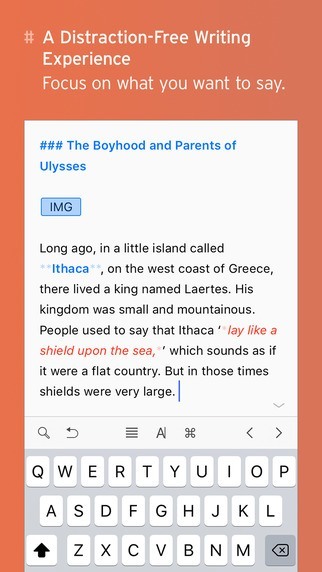 Ulysses is available for all the Mac, iPad or iPhone and synchronization is simple, seamless and neither requires third-party apps, nor any kind of interaction. If you got iCloud, you got sync.
And once you're finished, export is just a tap away. Ulysses can transform your text into beautiful PDFs, web pages, ebooks and Word documents. You can copy as HTML, save to the cloud as Markdown, and even publish a draft to your Medium account. Export is as easy as tapping a format, selecting a style, and choosing a destination.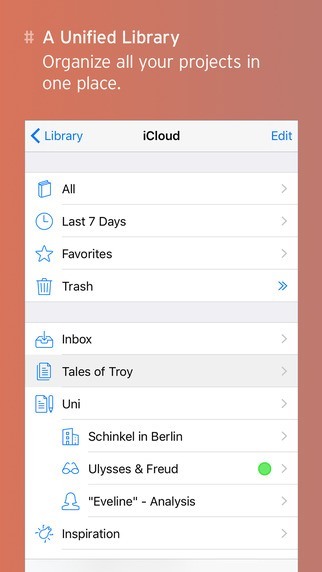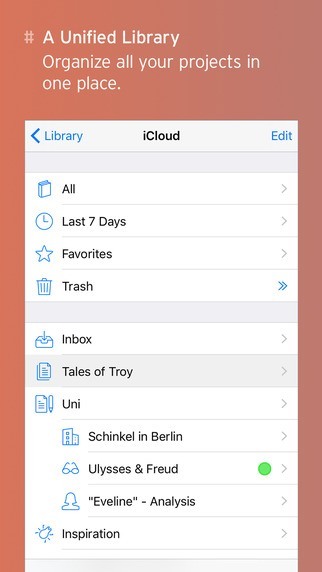 Features of the Writing App Ulysses Mobile
Productivity Features
Clean, distraction free interface
Easy swipe navigation
Markup-based text editor
Light and dark writing modes
A wide choice of color palettes
Writing Goals (characters, words, pages etc.)
Comprehensive text statistics
Split View, Slide Over and 3D Touch on supported devices
Writing Features
Simple markup for headlines, lists, comments, quotes, important passages and more
Easy insertion of links, annotations and footnotes
Shortcut buttons for comfortable editing
Option to attach keywords, notes and images
Search & Replace
Glueing, Split & Merge
Spell check, auto correction, dictionary, dictation
Smart Lists
Optimized for use with external keyboards
Organizing & Exporting Features
A single library for all texts
Groups, intelligent filters, favorites, bookmarks
Sorting by date, by title or manually
Automatic, scheduled backup of your text library
Import of DOCX, Markdown and text files
Spotlight integration
Built-in Share Extension
Export as PDF, DOCX, TXT, Markdown, HTML and ePub
Publish Story Drafts to Medium
Download more styles from the Ulysses Style Exchange
Ulysses Mobile is priced $24.99 but is currently on sale for $19.99.
If you do a lot of writing on your iOS device, check out the writing app that everyone's raving about!