Whether you run a company or are an independent blogger, if you have something to sell to the world, you most likely have an email list. But is your email list delivering the results you expected? Or are your email campaigns bouncing off and resulting in poor click-through rates? With so much spam dominating customer's Inboxes, it is no surprise that customers are using smart junk filters and fake or throwaway email addresses, to reduce spam. However, if you are a genuine marketer, there's a good chance that you are affected by email deliverability issues. If that's the case, then, you need the help of a good email scrubbing service, with a reliable email scrubbing API.
Email scrubbing services help ensure that the customers who sign up to your list are real people, genuinely interested in connecting with you. By validating your email list, you ensure that your free samples, downloadable files and other complimentary services you offer, reach the right people. This way, the cost and effort you put into nurturing and building your leads are optimal and effective.
Today, we look at an award-winning email scrubbing service, ZeroBounce, that offers a speedy resolution to such problems.
About ZeroBounce
ZeroBounce is a name that is synonymous with e-mail bounce detection, email abuse and spam trap detection, e-mail data append and advanced security on the platform. It uses the most cutting-edge techniques in the industry to operate a fully encrypted system that keeps customers' data safe from cyberattacks and breaches. The company is fully compliant with the General Data Protection Regulation (GDPR) protocols. And even has a tie-up with Cloudflare to offer greater security to their customers.
ZeroBounce was recently awarded the 2018 Affy Award for Outstanding Internet Achievement at the Affiliate Summit West event in Las Vegas.
Getting Started with ZeroBounce
Getting started with ZeroBounce is simple. Just register for a free account and login to it. You'll be taken to the Dashboard where you can access the Bulk Email Upload page.
Here, you can upload a .CSV or .TXT file with your contacts. Zero Bounce currently offers a free trial of up to 100 contacts.
Once the scan is complete, you can download the results and review them.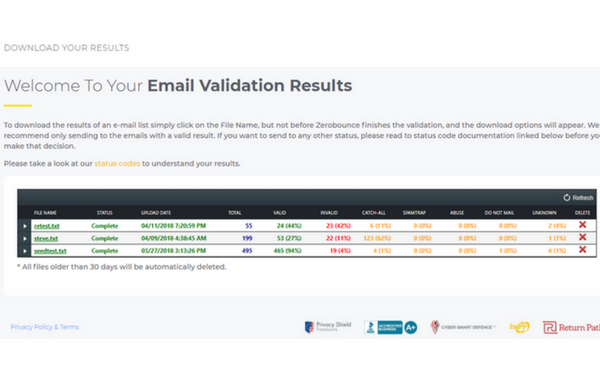 Note: All uploaded and downloaded files are encrypted and once deleted, no trace of your personal data is left on the system.
Depending on how good the results are, you can decide on picking up a payment plan. You can buy credits according to the size of your email list, and you can also buy a certain number of credits to use with the email scrubbing API. When the validation is complete, you can download the clean list and update your email service platform accordingly.
Top Features of ZeroBounce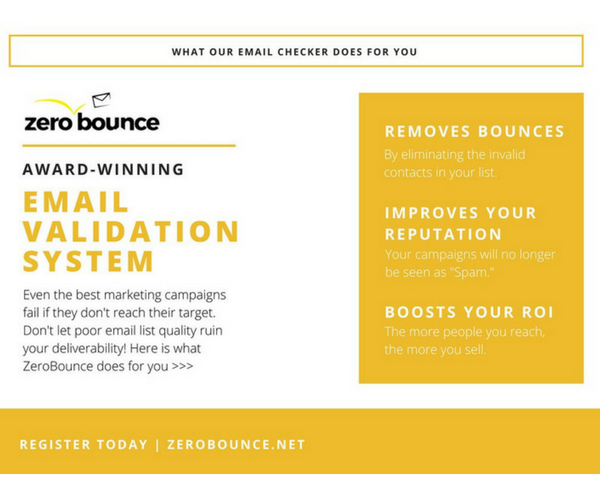 Zero Bounce has plenty of features that will help you scrub your email list. The main features include:
Email Bounce Checker
This is a unique email scrubbing system that identifies and removes invalid addresses from your list. This way, you avoid sending emails that will bounce and reduce your email deliverability and sender reputation. You will also avoid getting blacklisted as a spammer by various mailing services.
Spam Trap & Abuse Email Checker
This service can identify known email complainers, abusers and spam traps and keep them off your mailing list. This keeps your list clean and improves its overall effectiveness.
A.I. Email Scoring and Catch-All Validation System
ZeroBounce uses an A.I. scoring system to rate the value of an email address. Once you run your email list via its validation tool, you can use its A.I to get a quality score based on activity levels. The A.I tells you how what kind of engagement you can expect from a certain subscriber. It also helps in identifying risky catch-all emails, so you can eliminate them from your database.
Email Append
The email verifier is capable of appending missing information to your email list. Details such as the first name, last name, gender, city, state, country, and IP can be filled in by the tool, so you get to know more about your subscribers.
Apart from these services, you can also use the below mentioned services to have better control of your email list.
Abuse Email Checker: Identify email that habitually marks mail as spam.
Email Bounce Checker: Identify emails that tend to bounce.
Spam Trap Checker: Identify spam traps that exist in your email list.
Free Email Checker: Identify email from a free domain, like Gmail.
Disposable Email Checker: Identify temporary email accounts.
Catch-all Email Checker: Identify domains that are catch-all.
Email Scrubbing API: Instantly verify email addresses on your platform.
Toxic Domain Checker: Identify domains known for abuse, spam and bot-created emails.
Email Typo Correction: Get suggestions to correct commonly mis-spelled email addresses.
MX Record Recording: Record the MX Record where SMTP test was done.
MX Record Detection: Check if an MX record was found.
SMTP Providers Info: Group emails so you can see which mail provider you are sending to.
Anti-Greylisting: Get more accurate results.
Overview Reports: See the big picture of what your data looks like.
Pricing That Suits All
With such a rich list of features, it is easy to assume that ZeroBounce will be an expensive service. Surprisingly, it isn't. The company's pricing tier is designed to suit everyone. You can buy credits depending on the size of your email list. Best part, these credits never expire. You can even buy custom credits if you have a larger email list. And before you spend any money, you can try out their service for free (up to 100 contacts) so you know how effective its offerings are.
Final Thoughts
Maintaining a clean, active email list is vital to the success of your marketing campaigns. Sending emails to non-existent users can affect your reputation as a sender. Invalid emails add up to a poor response rate. Plus, you end up paying more to your email service provider for these invalid emails.
ZeroBounce helps ensure that you only have the cleanest email list to work with. The service has a 98-99.5% data accuracy rate that is highly commendable. It is easy to use, delivers speedy results (can process 100,000 contacts in about 45-60 minutes), is budget friendly and, more importantly, offers a solid 24/7 customer support service. It is no surprise then, that the company has so many happy customers.
If you are having trouble with your email marketing campaigns with high bounce rates, poor click through rates, or blacklisting issues, consider using the friendly services of ZeroBounce.
If you have used the services of ZeroBounce, we'd love to hear your experience with them. Want to know more about ZeroBounce? Just drop us a comment in the box below and we'll be happy to answer your questions.