According to the National Retail Federation, at least 140 million people started their holiday shopping over the Thanksgiving weekend. Its always good to make a head start with your shopping plans and these helpful Christmas Shopping apps should be just what you need to get started.
Christmas Shopping Apps for the Holidays
Xmas Organizer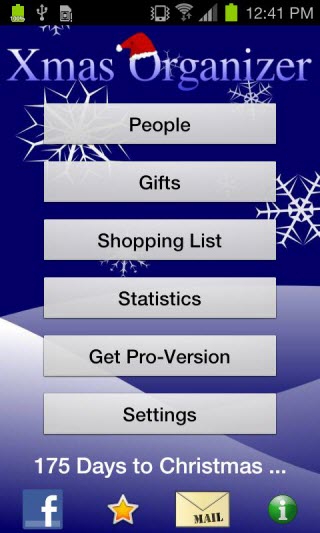 Xmas Organizer is a nice little personal assistant to help you with your holiday shopping. It lets you create folders to organize your recipients, shopping, budgeting and spending data and reminds you when gifts need to be wrapped as well. You can add people to your naughty or nice list and assign how your budgetary spends for each person.
Once you set up the profile you can see how much you have spent and how much of the budget is still left. You can also see at a glance the items you ordered and gift ideas that you noted down for purchase. A password protection option lets you ensure that no one else can access your gift list. Overall, a great Android app to organize your holiday gifting ideas.
Download Xmas Organizer for Android
Santa's Bag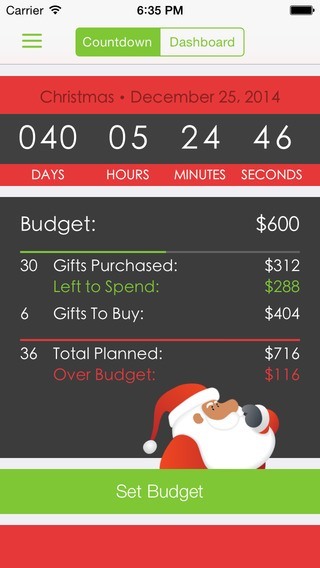 During the holidays it's easy to get caught up in the attractive window displays, giant sale signs and the desire to find the best Christmas present ever. But if you aren't careful you can easily, and quickly, spend more than your budget allows for. If you want to keep track of who you're buying presents for and how much you're spending, you need to download Santa's Bag from iTunes.
The app lets you import recipients, set budgets, plan gifts, create wishlists and shopping lists, track your shopping progress and more. With Santa's Bag you can never forget picking up a gift for anyone. It allows you to list the names of people you're buying gifts for and set a budget for each person. If you know specific gifts that you want to get a person you can make a list and then mark off each present you purchase. The app will alert you once you've closed in on your budget.
The Christmas List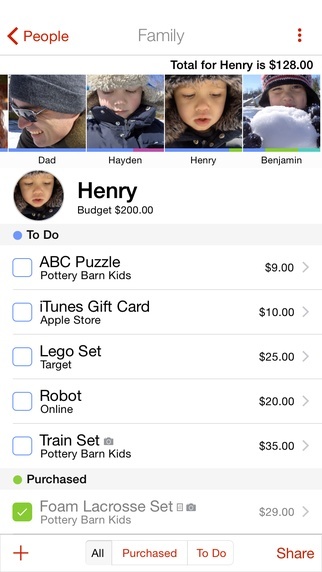 The Christmas List has an easy intuitive interface that lets you manage your Christmas shopping lists. You can quickly enter multiple gifts, sync lists via AirDrop, enter a gift and assign it to multiple recipients, track the budgets you allocated for each person and even add a list of your favorite stores so you can make your shopping experience easier.
The app takes care of every little detail including letting you track the status of your online purchases. The app also comes with custom Christmas backgrounds and a countdown of shopping days until Christmas. If you should ever have a favorite shopping app, this one could easily qualify as one of the best.
Download The Christmas List for iOS ($1.99)
Christmas Gift List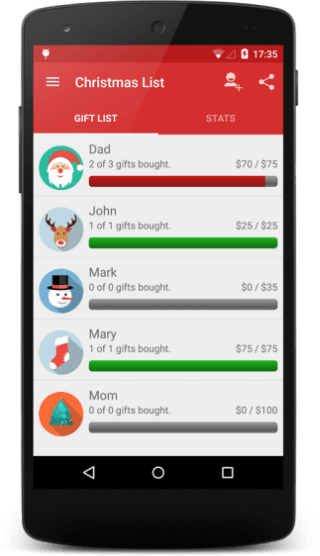 Android users can make use of the Christmas Gift List app to track all their Xmas gift ideas. You can set a budget for each person and mark them as purchased when you're done. The cool feature about the app is that it automatically archives your gifts so you can always look back and check out the gifts you purchased for your loved ones in previous years.
Download Christmas Gift List for Android
GiftPlanner
GiftPlanner is another fantastic iOS app that lets you easily keep track of your gift list and events. You can add your gift plan ideas, stores and prices, purchase status, order and tracking numbers, photos, links, and much more, in one convenient app!
You can also the send gift ideas from the web directly to the app using the bookmarklet, making your shopping management so much easier. You can also track your contact's wish lists and interests so its easier to shop for them. The app allows you to sort your gift list using a number of filters and export them should you need to delegate your shopping responsibilities.
Sharing gift ideas, keeping tracks of budgets, saving pictures of your wrapped gifts, and progress of your shopping, shipping, and wrapping is also available in this awesome app. I'll let you check out the rest of the features of this free app for yourself.
ShopSavvy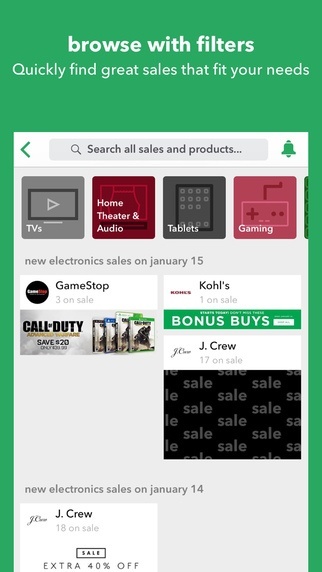 If sticking to your budget is crucial this year and you want to see if the gift you want is available for a better price at another store, let ShopSavvy do the research for you. Once you scan in an item's bar code ShopSavvy will let you know if a different store is selling the item for less. The free app, which is available from both iTunes and the Google Play Store, allows you to make a list of items you want to purchase and see what products your friends recommend.
Download ShopSavvy for Android
Deliveries Package Tracker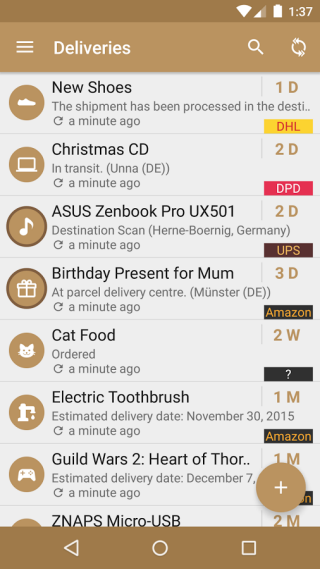 The shopping season can quickly become hectic and an app that can make tracking all your deliveries a breeze is the Deliveries Package Tracker app for Android. Just install the app, enter your tracking numbers, carrier information, name of the delivery and you can quickly check the status of all your deliveries at a glance. The app covers a whole lot of providers from Amazon and DHL to USPS and FedEx. You can get a detailed list of all providers at http://deliveries.oRRs.de The app also includes other additional features such as push notifications to keep you updated regularly. Price: Free
Download Deliveries Package Tracker for Android
Christmas Presents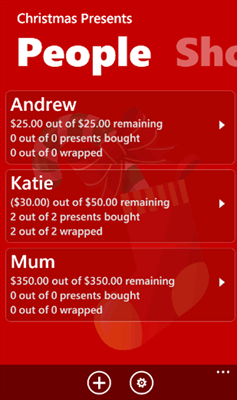 Another app for Windows Phone users to manage all their Christmas shopping is  Christmas Presents. The app offers a summary view of the days left until Christmas, how much money you have spent on your gifts and how you still have left from your budget.
You can assign individual budgets for each person, mark presents as purchased and wrapped and keep track of your shopping list to see what you still have to buy. Other features of the app include password protection of lists, sorting presents by number, to-be-purchased or alphabetical order and sending cards to your friends.
Download Christmas Presents for Windows Phone ($0.99)