Its common to include hyperlinks in a Word document, but have you used hyperlinks in PowerPoint? Well, they work pretty much the same way in PowerPoint too. In PowerPoint, it is a common practice to hyperlink text as well as graphical images to make the presentation more interesting. In this PowerPoint tutorial, we show you how to add hyperlinks to objects in a presentation so you can quickly access links to the web or other locations from within the presentation.
How to Add Hyperlinks to Objects in a Presentation
1. Open up the presentation and select the graphic that you want to add a hyperlink to.
2. Select the Insert tab. On the Links group , click Action.

3. The Action Settings dialog box is displayed. On the Mouse Click tab, select Hyperlink to.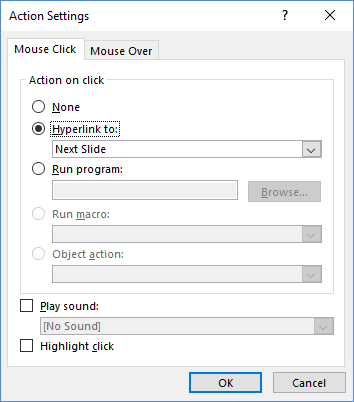 4. From the Hyperlink to drop-down list select URL.
5. The Hyperlink to URL dialog box is displayed. Type the URL to link to and click OK.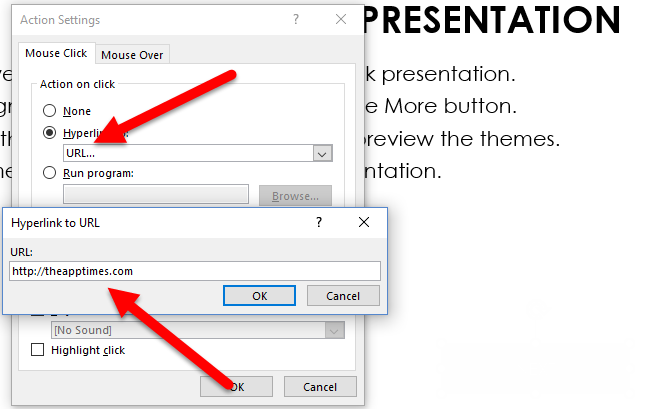 6. Click OK to close the Action Settings dialog box.
7. Run the slideshow. When you place your cursor over the graphical object that you linked, the mouse will turn into a hand symbol. You will also be able to see the URL that you linked to as a mouse tip.
8. Click on the image. You will now be directed to the URL you linked to.
TIP: If you want to add the same hyperlink to every slide in a presentation, you can attach the hyperlink to an object on the presentation's master layout.
How often do you add hyperlinks to objects in your presentations? Does it make your presentation more interesting?
If you found this PowerPoint tutorial useful, be sure to check out our Archives section where we have plenty more great tutorials to help you learn how to use PowerPoint effectively in your workplace.
If there is something you'd like to learn how to do in PowerPoint, send us an email at [email protected], and I'll see how I can help you with that.