Smartwatches are awesome! They don't just tell you the time of day, they can also help you maintain your fitness goals, send your reminders, let you monitor your health and even enjoy some music and games. There are plenty of great smartwatches in the market from the likes of Garmin, Samsung, and Apple, but there's a new entrant to the premium space from Amazfit called the Amazfit Falcon.
Amazfit have been making good quality smartwatches for some time now, but the Falcon is their foray into the premium space. So how does it fare in terms of looks and performance. Let's find out!
Features of Amazfit Falcon
Body
The Falcon is an oversized titanium beauty with a sapphire glass screen. The body is made from aircraft-grade material that is high strength and corrosion resistant. It is exquisitely crafted with a matte finish and exposed screw heads that exude toughness and class.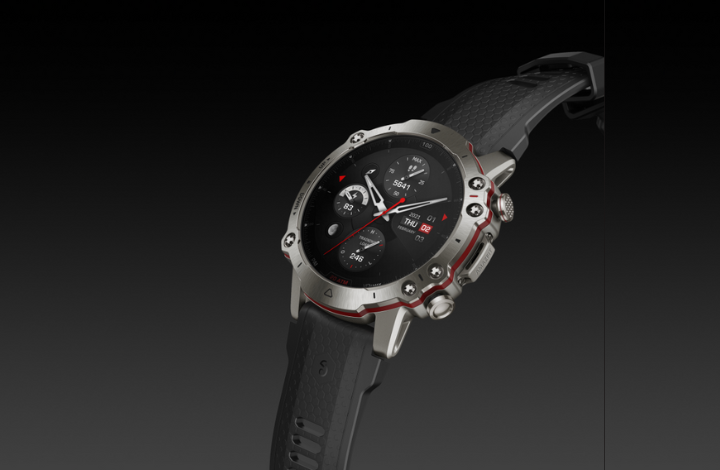 Display
The watch sports a colorful, 1.28-inch always-on AMOLED display with a 416×416 pixel resolution and an ambient light sensor.
This keeps the text and graphics incredibly sharp with no visibility issues, even in full sun.
Dust and Water Resistant
The Falcon comes with an IP68 rating for dust-resistance and a 20 ATM rating for water-resistance. This gives you the freedom to wear your smartwatch while you swim, surf or enjoy high-speed water sports like jet-skiing.
Touch Enabled Navigation
The watch is touch-enabled so navigation is easy. You can swipe up, down right or left to access the menus, widgets, shortcuts, app drawer and notifications. But if you prefer buttons, especially when you are on one of your sweaty workouts, you can make use of the 4 control keys.
Custom Watch Faces
Watch faces are a big deal when it comes to smartwatches and the Amazfit Falcon doesn't disappoint here. You can choose one from among the preloaded options and customize them to your needs. Or, you can get more awesome ones from the Zepp app.
Battery Life
As much as we love smartwatches, the perennial problem with them is battery life. The 500 mAh rated battery on the Falcon can keep you going for up to two weeks on a single charge. But with heavy usage, you can stretch it up to 7 days at least, which is pretty decent.
Accurate GPS Tracking
GPS tracking can be a bit of a problem area especially in wooded areas or places with tall buildings. The Amazfit Falcon is capable of picking up both L1 and L5 GPS signals, which makes its GPS tracking pretty accurate.
If you like to take a new running route, you can import a route file to the watch from the Zepp App and navigate your way along it in real-time. The watch will track your unique GPS movement in real-time, and display it directly on the screen. You can also see the shortest route back to the starting point of your journey if you're in a hurry.
Sports and Fitness Training
Zepp Coach offers all the AL powered sports guidance you need to set your goals and train your body. You don't have to do any fitness test or assessment to get started. Your workout plan is based on your physical characteristics and exercise experience level, so the guidance is tailored to you.
The app monitors your fatigue level, fitness level, and training status, and helps you get the right balance. If you're overtrained, your training schedule may be reduced – or you may be asked to take a rest day to avoid risk of injury or exhaustion.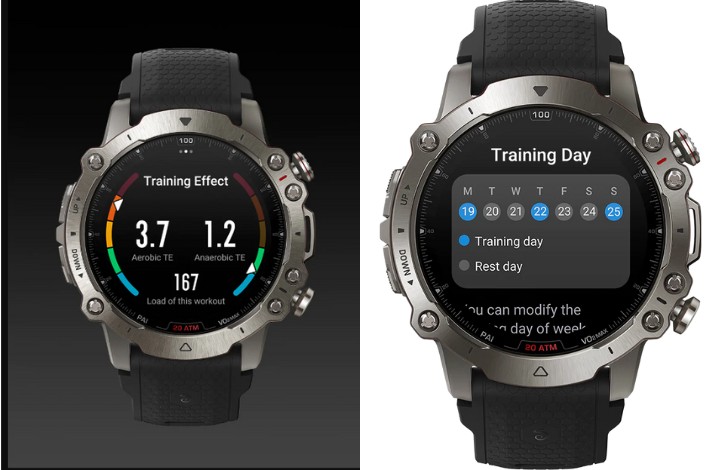 You can also connect the watch to professional workout devices like heart rate belts and cycling power meters via Bluetooth, for a more professional approach to training. And you can create your own routine using the training templates to better manage your activities.
If you are using 3rd party apps to track your activities, you'll like that you can sync data from your workouts to Strava, Apple Health, Google Fit, Relive and Runtastic from the Falcon.
With over 150 built-in sports modes, you can do traditional workouts or activities you've never heard of. That's cool because it means you can always try new things and never be bored with repetitive activities.
Finally, you can download and store your favorite music on your Falcon so that you can enjoy a good listen via Bluetooth speakers while running or training,.
Performance Review
When you're finally done with your workouts, the PeakBeats workout algorithm will summarize your performance to help you understand factors that can affect your recovery, progress and exercise capacity.
Simply put, if you're looking for motivation, knowledge and confidence to improve your sports performance or build better fitness habits, this watch has you covered.
Sleep Tracking
If you're into sleep tracking, the Falcon can help you with tracking the total sleep time as well as light, deep and REM sleep stages. It then gives you a comprehensive sleep score each morning.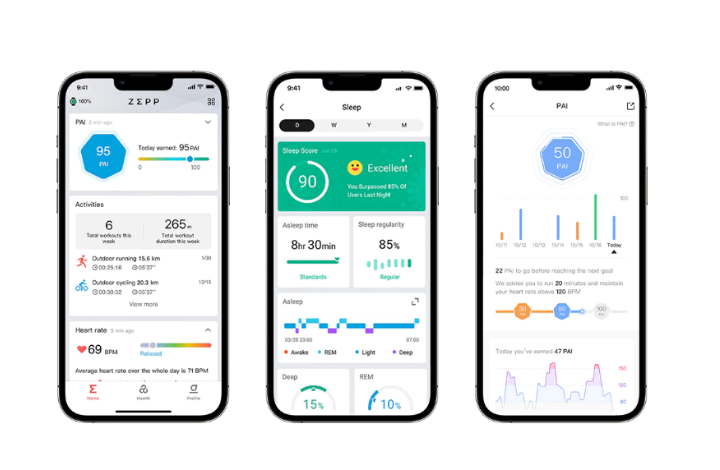 Health Monitoring
The Watch's 24×7 health monitor lets you track your heart rate, oxygen levels, breathing rate and stress levels. It uses a PAI Health Assessment system to show you a simple and personalized health overview score that can help you to lower risk of hypertension and heart disease. The Watch can also send reminders when you reach abnormal levels of these factors.
Main Specs: Amazfit Falcon
Size: 1.28″
Resolution:416×416 326 ppi
Connection: WLAN 2.4GHz21; Bluetooth 5.0 BLE
Buttons: 4
Water-resistance Grade: 20 ATM
Battery: 500 mAh
Dimensions: 49.45×47.2×12.95mm
Weight: 64g (without strap)
Health Sensors: BioTracker PPG biometric sensor (supports blood-oxygen, 6PD)
Movement Sensors: Acceleration sensor, Gyroscope sensor, Geomagnetic sensor Barometric altimeter, Ambient light sensor
Sports Modes: 159
Connection to Peripherals: Workout Devices; Heart rate belt; Power meter
Health reminders: Abnormally high & low heart rate; Low blood-oxygen; High stress level; Prompts to perform Breathing Exercise
Sleep Quality Monitoring: Sleep stages; Daytime naps; Sleep breathing quality; Sleep score
Where the Amazfit Falcon Could Do Better
Watch apps are a must for any smartphone to be one among the best. Unfortunately, the Falcon doesn't offer too many apps for users. Also, there is no built-in microphone or speaker so if you're thinking of making a call or taking one, you won't be able to do that either. And of course, no support for digital payments.
But the biggest setback to the Falcon lies in its heart rate monitoring.
Several tests have indicated that the monitor is completely unreliable, which is a huge disappointment for a watch that is competing with the likes of the Samsung Galaxy Watch and Apple Watch.
Final Thoughts
The Amazfit Falcon has plenty of good things going for it. It is drop dead gorgeous, packed with great features, has a beautiful display, is customizable, comfortable to wear, and offers great battery life. It falls short in things like support for third-party apps, voice assistants, mic and speaker support as well as digital payments. And it sorely misses out in the health sensor accuracy.
At $499 in the US, the Amazfit Falcon certainly isn't budget friendly. If you're spending that much money for a multi-sport watch, you'd want to at least have reliable heart rate data. And that is the heart of the problem with the Falcon. It still has a good rating of 4.4 stars on Amazon and if you're keen to check it out for yourself, head over to this page to decide for yourself.