Easter isn't the best time of the year for giving gifts, but if you know someone who has a zest for the great outdoors, you might be tempted to pick up Casio's smart outdoor watch the WSD-F10. The Android Wear smartwatch is not available outside of the United States but those who do live in the U.S can pick up the watch from the Google Store or Amazon from March 25th for $500.
The Casio Android Wear Smartwatch was unveiled earlier this year at CES and boasts of a 1.3 inch, 320×320 watch face with a big clunky plastic frame, which can be handy when using outdoors. The watch has a ton of watch faces, which Casio calls Tools.
They give essential information related to the outdoors such as the compass direction, tides, sunrise and sunset times, atmospheric pressure, and altitude. The watch offers real time notifications when there are change in the outdoor conditions and timely reminders on preset conditions such as when the sun sets.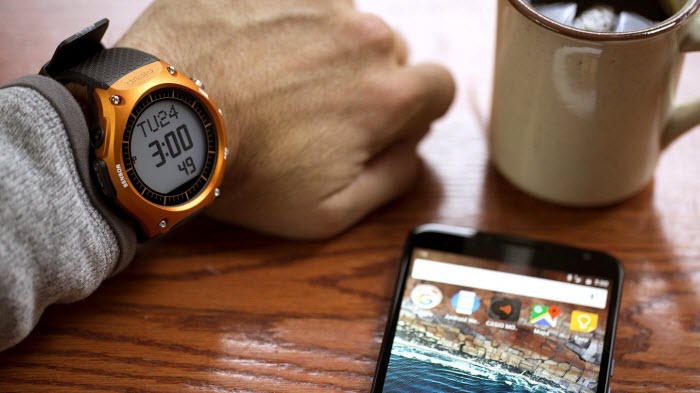 The smartphone comes preloaded with a number of apps including RunKeeper, ViewRanger, and MyRadar. Other cool features of the app include the fact that it is water resistant up to 50 meters; can withstand dropping shocks, vibrations and other demands of rugged outdoor use and is made of a monochrome LCD and color LCD installed on separate levels to maintain excellent visibility in any circumstances.
Specs of Casio Android Wear Smartwatch WSD-F10
OS : Android Wear
Display : 1.32-inch dual layer display; Color TFT LCD and monochrome LCD; Color: 320×300 pixels
Touchscreen : Capacitative touchscreen
Water Resistance: 50 meters
Environmental Durability : MIL-STD-810 (United States military standard issued by the U.S. Department of Defense)
Sensors : Air pressure and altitude sensor, accelerometer, gyrometer, compass (magnetic) sensor
Microphone : Vibrator
Battery: Lithium-ion battery
Wireless Connectivity : Bluetooth® V4.1 (Low Energy); Wi-Fi (IEEE 802.11 b/g/n)
Buttons: TOOL button, Power button, APP button
Charging Method : Magnetic crimped charging terminal
Recharging Time : Approx. 2 hours at room temperature
Battery Life : Normal use: more than 1 day (varies according to use); Timepiece Mode : more than 1 month (varies according to use)
Size of Case : Approx. 61.7mm×56.4mm×15.7mm (H×W×D)
Weight: Approx. 93g (including watchband)
Video Teaser
If you are interested in learning more about the outdoor Casio Android Wear Smartwatch, be sure to check out Casio's website for details.