If you love customizing and tweaking your Android smartphone to behave and work in a way that's convenient to you, you can take the services of one of many Android launcher apps that are available in Google Play Store. Today, we are going to take a look at CM Launcher – Boost, Secure from Cheetah Mobile, the guys who brought you the smart and ever so useful Android app manager, Clean Master.
CM Launcher – Boost, Secure App for Android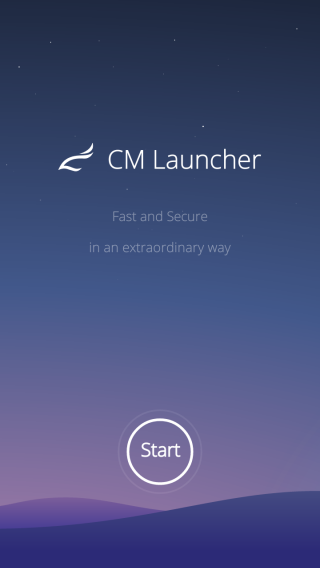 CM Launcher has been around in the Play Store for a few years now but it hasn't matched up to the popularity of launchers like Nova launcher or Google Now. Nevertheless, it does have its good talking points and its recent update brings extra power packed features that you'll find great value in.
When you install and launch CM Launcher, you'll find that it reorganizes your home screen from its default appearance. You'll find apps within folders, a new background, the Search bar at the top of the screen, and some of the most popular apps like the Play Store, Gmail, YouTube, Maps, Camera and Settings arranged at the bottom of the screen.
Alongside these apps you'll find a folder CM Tools containing the calendar, voice recorder, calculator and other utilities in your phone as well as a Booster app that indicates how much of memory your device is using. Tapping the booster icon will free up memory that is not used.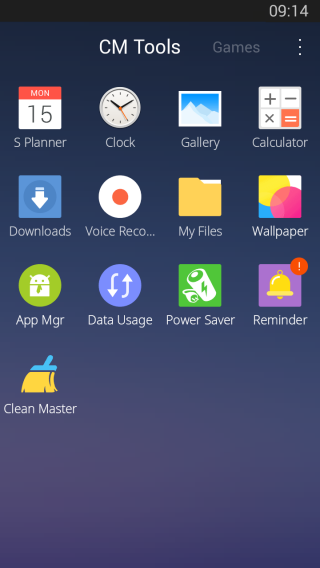 CM launcher also has its own settings accessible from the System Settings icon. The CM Launcher Settings page gives you access to the commonly used shortcuts to the flashlight, Wi-Fi, Hotspot, ringtones, vibration and Bluetooth settings. It also organizes your apps into appropriate folders making it easier to find apps.
It also saves you the trouble of creating folders and adding relevant apps to each folder. Also once you are inside an app folder, you can swipe left and right to scroll through other app folders as well. That's handy as you don't have to go back to the home screen every time you want to open up another folder.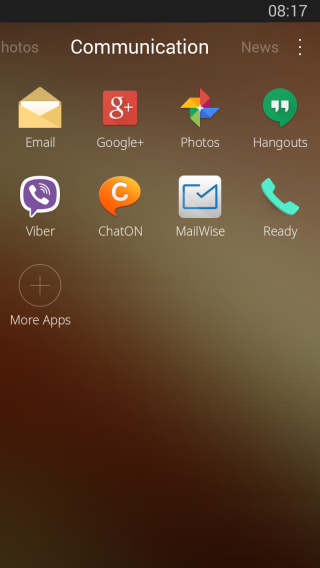 One folder that I find particularly useful is the Favorites folder. It automatically populates with your most frequently used app icons and is a quick way to access stuff in a jiffy.
In the latest update to the app, the development team have added a Reminder app that displays a badge symbol around apps that you need to follow up on such as unanswered calls, unread messages, Gmail and Power Saver. You'll need to install this app separately from the App Store though.
Also in the update is a Power Saver option that displays the temperature of your device, time left before you need to recharge, power issues and a single tap option for optimization. You can also get a quick look at the apps that are consuming the most power on your device and close or uninstall them individually.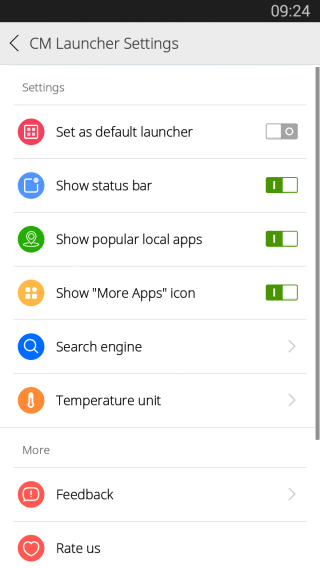 Also in the latest update are tools like Clean Master and App Manager that help clean out unused files and help you manage your apps effectively. Plus there are 38 new wallpapers that have been added to the collection.
If you are big on icon packs, you'll be disappointed with CM launcher as it only comes with the standard pack. Also missing are ready made theme packs that come with their own home screen design, app icons and widgets.
Final thoughts
If you are a first time user of launcher apps, you'll generally find them overwhelming and intimidating. CM Launcher on the other hand is easy to use, has a clean look about it and does not overpower you with options that can take the joy out of customizing your device.
If you are an Android power user, you'll probably find CM launcher to be quite basic in its features, but it's a secure, sleek, stylish, and smart app that will introduce you to the world of launchers.
Do check out CM launcher and tell us what you think.
Download CM launcher – Boost, Secure for Android
Does your smartphone freeze? No worries ! Now as you can access your android apps from anywhere on any device(PC/android/iOS) with cloud hosted citrix vdi from CloudDesktopOnline by loading Bluestacks on it. You can also access your complete MS Office suite on the same vdi with O365CloudExperts from Apps4Rent.com.