Mobile devices these days are empowered with great features that can even be used for cooking! If you are using an iOS device and a cooking hobbyist, you have the ultimate chance of enjoying one of the most comprehensive applications that you can use for cooking by downloading the Asian Cuisines mobile app. This application is one of the best deals that you can get from the iTunes store that comes for free. The Asian Cuisines mobile app features almost over 90 best Asian cuisines in the world that feature different delectable and healthy recipes across Asia.
Cooking Healthy Asian Cuisines with the help of a mobile app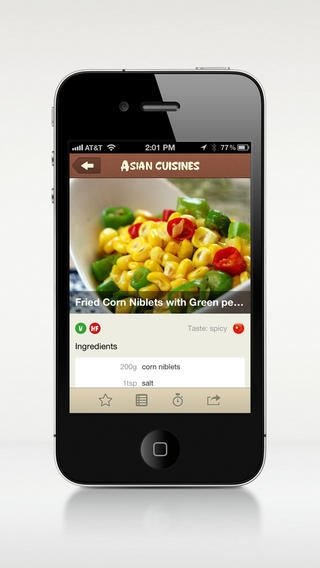 The Asian Cuisines application comes very handy for someone who loves cooking. With the help of the mobile app, you have an access to the most chosen and popular Asian cuisines originating from Japan, Thailand, China and Korea. And all these best recipes come for free right on your mobile phone. You need not have to spend for an expensive cookbook to find great lists of Asian menu to cook for your loved ones and special guests.
You can always take pride of learning different recipes across Asia without the difficulties of learning them. The app comes with a quick and easy reference about the step-by-step guide on the procedures needed to cook a dish and it is reinforced with images to make it easier for the user to understand each procedure.
Healthy food choices with filtered menu
The Asian Cuisines application comes wonderfully with a filtering feature that allows you to program your search result according to your diet preference. Whether you are a vegetarian or prefers a low sodium diet or a recipe rich in fiber, you can always rely on the app to filter the results for you according to your health needs.
The menu comes with exact measurements on the ingredients found on each dish, allowing you to find the most appropriate cuisine to cook. The best part is that you can also check the beautiful images that come with every dish to make you appreciate the cuisine that you are about to cook.
Integrated with a shopping list and social features
The application comes very handy as your buddy in the kitchen as it comes with a cooking timer that sets an alarm to alert you that your dish is almost cooked. It is also integrated with a shopping list to ensure that you have all the ingredients that you need for a particular dish. You can also share your recipes with your friends by emailing them the menu directly without the need to exit from the application. This will ensure that you and your friends are using the same spices on each dish that you want to cook together.
Simple, healthy and convenient
You don't have to be an expert chef to be able to cook tasteful Asian cuisines. With the help of this app, you will realize that cooking your favorite Asian dishes is easy and more convenient. You don't have to spend more from eating on expensive restaurants as you have already a cooking expert guide within your device.
Check more about this app here: Asian Cuisines