When you think of the word Bear it sure doesn't conjure up images of an elegant forest animal. Its namesake, on the Mac Store however, definitely does. Bear is a stylish writing app that lets you take notes, write prose and even do sketches among other useful things. If you've been looking for a beautiful way to write prose on your Mac, iPad or iPhone, it is time to take a look at Bear. The Bear app has been around on the Mac Store since late 2016 but for anyone who has never used the app, here's the whole deal.
Features of Bear Writing App for Mac
Advanced Markup Editor  – It supports over 20 programming languages
SIRI support – Create new notes with Siri and your wonderful voice
Rich previews – So you can see prose, not code
In-line support – Ideal for images and photos
Cross-Note Links – To quickly reference other notes
Todos – You can add them to individual notes to ensure related tasks are done
Themes – For when you want to add some color and style to your notes [Pro only]
Export options – Get your notes as a HTML, PDF, DOCX, MD, JPG, and other formats [Pro only]
Smart Data Recognition – Knows elements like links, emails, addresses, colors
Hashtags – So you can quickly find and organize notes like a pro
Formatting Options – So you can use shortcuts to make parts of your content stand out
Focus Mode – To hide notes and other distractions when it matters
Easy portability – Saves or stores all your notes in plain text for easy portability
Sketching – Supports sketching, drawing, and Apple Pencil
Multi-device sync  – Via iCloud so you can access your notes anytime, on any Apple device [Pro only]
Watch Support – Dictate and append to recent notes with your Apple Watch
Regular updates to keep you and your writing current
Bear Interface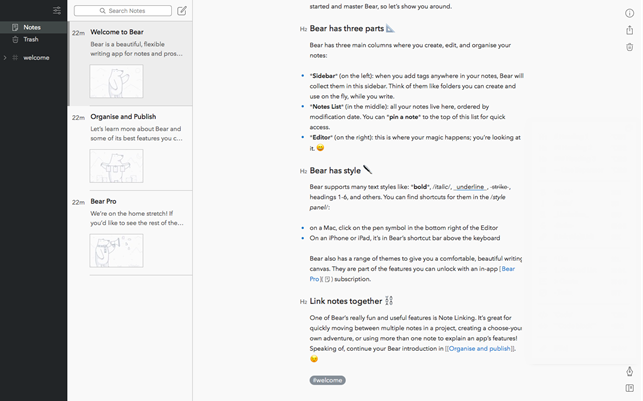 Bear App on the Mac has a minimalist interface with 3 collapsible columns. At the far left is the Sidebar. Any tags you add to your notes will show up here. This has a nice folder-like feel to it.
In the middle of the UI is the Notes list. All your notes are listed here by date modified. To quickly access an important note, simply pin it up to the top.
On the right side is the Editor is where you get to do all your writing.
At first glance, the Bear really looks bare and muted. But there are some cool themes in the Settings area that can add a dash of life into your UI, if you like.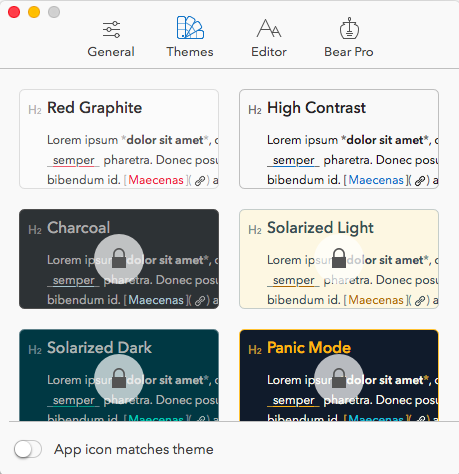 A couple of themes (Red Graphite and High Contrast) are free but are not noteworthy. The paid themes, about 8 in number are eye- catching particularly Gotham and Dracula. To access these themes, you'll need to become a Pro user.
At the bottom right corner of the Mac, you'll see a faint Pen icon. Tap on it to access Bear's style guide. It features shortcuts to access heading style, line separator, bold, italic, underline, strikethrough and links; lists, quotes, to-do checklists, codes and even attach files.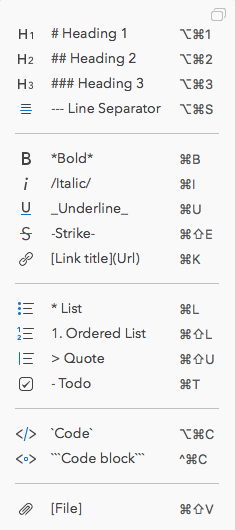 At the top of the Writing pane, click the circled i icon to access the Info panel. Here, you'll see options to export to PDF, HTML, or Word or even take a screenshot of your writing to share on social media.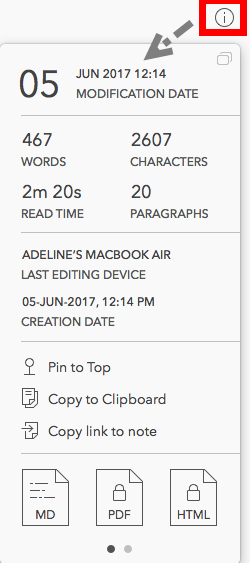 This section also has helpful information like word, character and paragraph count and date of creation of your note.
You Could Give These Features A Bear Hug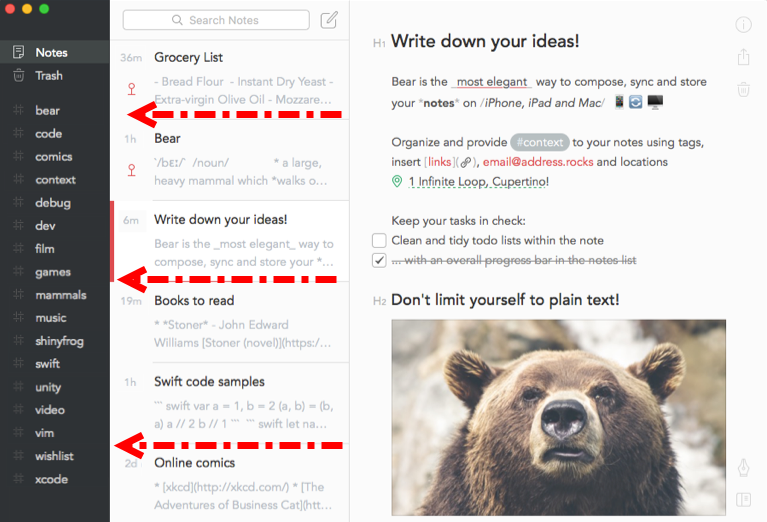 Tags
One of the most powerful features in Bear is tags. Tags are created when you add a hashtag to a word, like #review. The app automatically treats it as a sort of folder or category and collects notes with the respective tags into the appropriate category. This makes grouping of notes super easy. And you can add as many tags as you like to a note.
Now that's not all. Bear also lets you create sub categories of tags. Just add #review/mac apps and the Mac Apps sub tag will be created. Again, think of this as a sub folder inside the main folder. This gives you more organizational control over your notes.
Links
Note Linking is definitely one of the coolest features of Bear. It is super handy when you want to keep notes related to a project together. While you are writing a note, you can copy the link to the note by right-clicking or control-clicking the note and choosing Copy Link.
Then, just go into another note and paste it. Bear will automatically create a link on the note. A quicker shortcut is to use double brackets and include the name of the note, like this: [[Note App Review]]. No need to copy or paste anything!
And just like any smart, note taking app, all your work is automatically saved as you write. So don't bother looking for that Save button. And since Bear is also available for the iPad and iPhone, your data will get synced across devices seamlessly, thanks to iCloud. With Handoff integration, you can start a note on your Mac and finish it off on your iPad.
Markdown
If you are writing for the web, you can make use of Markdown code to see what your final content will look like as you type. You'll need to enable this from the Settings window on the General tab section.
When you start writing a note but realize later that its better off as a checklist, you can select the Pen icon at the bottom and then click the Checkbox icon to convert it into a checklist. Sweet!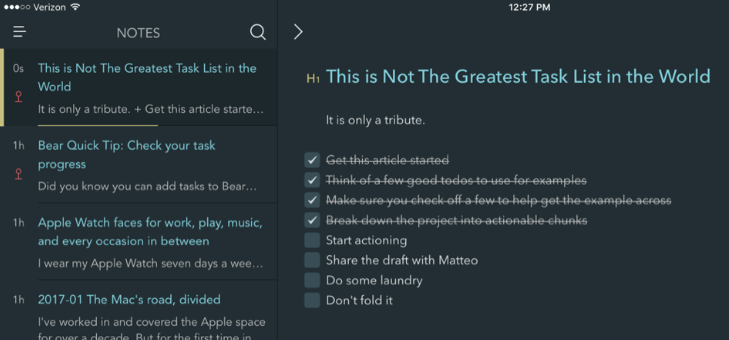 Whether you want to write a novel, manage your project notes, build a to-do list or just doodle ideas, Bear offers the simplicity and convenience of note taking on the Mac.
Sketches
Bear is not just about typing words. It also supports sketching! Just use your fingers to draw your notes. Or, if you have an Apple Pencil, that works too!
Another feature you are sure to like is iMessage stickers. Go to the App Drawer in your Messages app and look out for the Bear Stickers icon. Its cool!
Notes Archive
As you create notes, your notes list undoubtedly gets very long. If there are notes you no longer need to reference, they are only going to clutter up your list. In such cases, you can make use of the Notes Archive feature. This way you have a clean notes list and you can still search and find older notes in the archives.
Quick Access
Want to get to your notes quicker? The Bear app sidebar has a special section to help you get to certain types of notes. Such as notes that are untagged, to-do, archived, or set for today. This allows you to easily organize your notes and access them anytime in a convenient fashion.
Custom Icons for Tags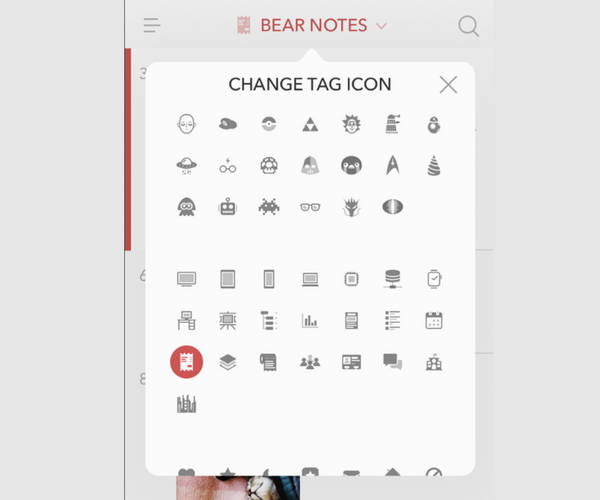 Tagcons are basically icons for tags. If you have a tag called Receipts, you can choose your own custom icon.
Currently, the app has over 170 icons in its library. More icons are expected to be added to the library in the coming days. Once you set up your own custom icon, it will appear in the header as well, making it easy to know which tag you are browsing.
Export Notes
You can also export notes you want from a specific tag. And if you have sub-tags, they'll become subfolders.
Epub Export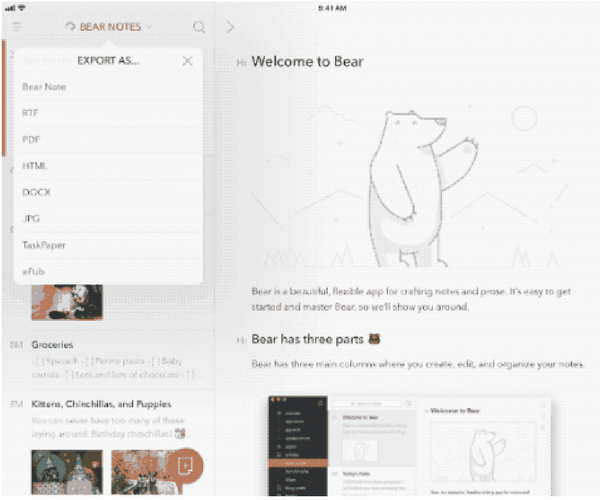 Bear is more than just a notes app. If you plan to write lengthy prose, then you'll like the ePub export feature. Pretty self-explanatory stuff – you can export all of your writing material in the ePub format.
My Impressions
I spent quite a bit of time with the Mac writing app Bear and had a truly comfortable and enjoyable writing experience with it. I love how easily you could create a note, convert it into a checklist, link it to another note and organize notes in the app.
The writing experience itself is seamless. I particularly like the distraction-free mode that puts the focus on the content rather than all the additional distractions and options. I spend most of my time on my Windows PC and that means working with a cluttered noisy interface almost all the time. Bear offers a completely relaxing and pleasant experience. The clean UI, easy shortcuts, convenient right-click menus and hidden options just made the writing job smooth and easy.
I also like how Bear offers little hacks like adding ToDo items to my notes or interlinking notes. In today's insane multitasking world, no one task can be done without completing a few more alongside. These little features really made referencing and working with multiple items super easy.
One more word of appreciation has to be reserved for the app's tagging system. A simple hashtag and slash system for creating folders and subfolders just makes organization of the notes brilliantly easy. The Advanced Search feature is also pretty awesome. I can easily search for tasks within my notes that I still had to finish and see the ones that I completed.
In all, I had a smooth, intuitive writing experience with Bear. There were no hiccups finding any of the tools or features of the app. One thing that I did not notice was highlighting and color-coding text. There may be users who find that sort of thing useful.
Pricing and Download Link
You can do a lot with the free version of Bear – write prose, sketch ideas, build lists and take notes. If syncing files, switching themes and exporting your notes is something you want, you can sign up for a Pro subscription plan. That's $1.49/month or $14.99 annually, which is a pretty reasonable price for such a cool writing app.
If you do a lot of note taking or writing on your Mac or iOS device, I highly encourage you to give the 2016 Apple App of the Year award winner Bear a try.
Bear : Price: Free | $1.49 | $14.99 | Download Link : For Mac | For iOS Official Site : Bear-Writer.com
If you have used this elegant writing app for Mac, we'd love to hear your experience! Share it with us in the comments section.