Looking for a simpler way to power your iPhone? Belkin's latest launch may just be what you are looking for. The company has unveiled a portable power bank that can recharge via the Lightning connector. In simple words, you can use the same Lightning cable you use to charge your iPhone to charge the power bank as well. Here's more on the Belkin Boost Charge Power Bank.
Belkin Boost Charge Power Bank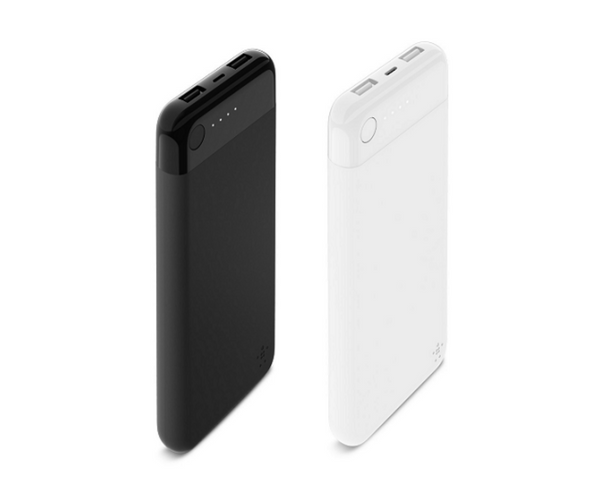 The Belkin Boost Charge Power Bank has 2 USB-A ports but lacks a USB-C port. It also sports an LED indicator to check your battery level. There are 4 light indicators:
100 percent – All lights lit
75 percent – Three lights lit
50 percent – Two lights lit
25 percent – One light lit
The power bank is made of plastic polymer andcomes in white and black colors with a two-tone satin look giving it as glossy appeal. It is great for on the go charging weighing about 240 gms. Safety measures on the power bank ensure protection against over-charging. The device also has an auto-sleep mode to prevent unnecessary power loss. Its dimensions are 154.45 X 71.00 X 17.00 mm.
The power bank is the first of its kind to be certified by Apple. It comes with a 2 year warranty and is available for on Amazon for $59.99.
If you think that the price is way too much for your liking, you can consider the AUKEY 20000mAh Power Bank with Lightning & Micro Input Portable Charger that also uses the same Lightning cable to charge your iOS device or Power Bank. This device is not MFi certified but is available for a more affordable $34.99.
What do you think of the Belkin Boost Charge Power Bank? Would you prefer an Apple certified accessory over a third party one? Let us know in the comments.