Everybody who owns a mobile device knows how important it is to have enough juice in it to get you through an entire day, especially when you are on the go. Power banks are one of the most-handy accessories to own in that regard. With their light, compact body and great power holding capacity, they can be a lifesaver in your modern-day life. Power banks are a dime a dozen in the market and there's one to suit everyone's needs. You may need one with a bigger capacity, or one that's cheaper, or simply one that's from a big brand. Today, we look at the compact, high capacity Ainope Portable Charger.
Ainope Portable Charger – Features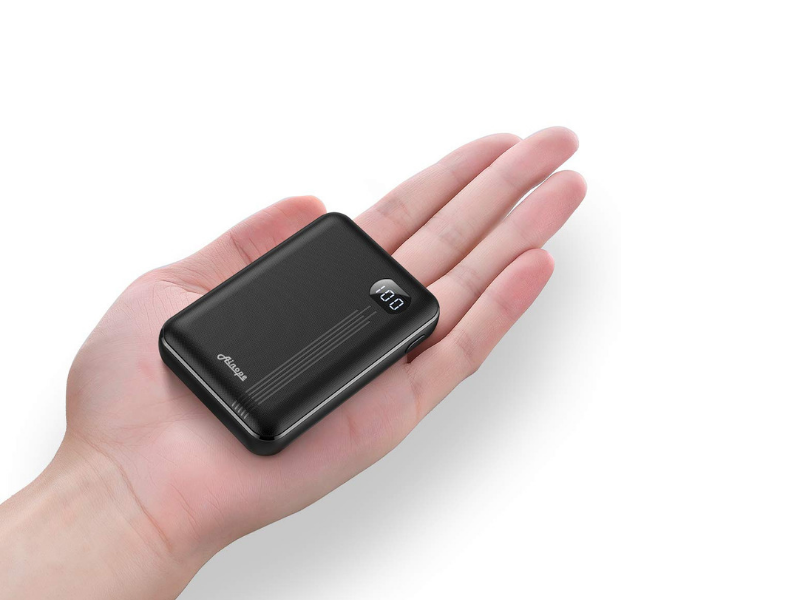 The Ainope portable charger is a premium 10000mAh battery that is smaller than an iPhone X and as light as a baseball but can charge a phone over 3 times and most tablets once.
It has dual USB outputs, a 2A Input and a 3.1A Output that enable you to simultaneously charge two devices. It also supports charging while discharging. That means you can charge your phone at the same time the power bank itself is being charged.
Charging Capacity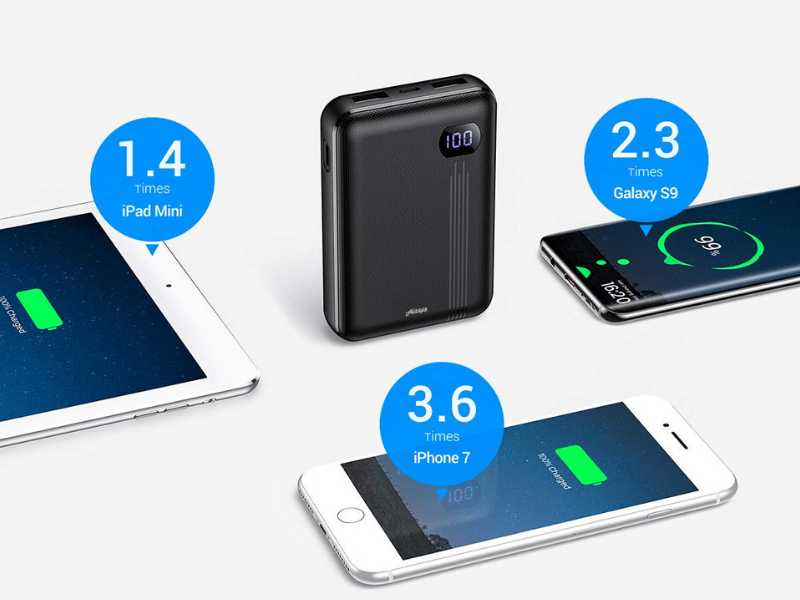 The power bank itself has good charging capacity. It can fully charge an iPhone 7 3.6 times, an iPhone X 2.6 times, a Galaxy S9 2.3 times and an iPad Mini 1.4 times. It's smaller than an iPhone X and as light as a baseball but can charge a phone over 3 times and most tablets once.
LED Display
One of the nicest features of the Power bank is that it sports an LCD power display. This lets you know exactly how much power is available in it so you can conveniently recharge your power bank in time. Most power banks sport LED lights that don't give a clear indication of how much power you have left on the battery. Ainope's power bank takes the guesswork out of the job, which is rather nice.
Safety Features
Ainope's portable 10000mAh power bank has a multi-protection system that ensures complete protection for the device. This iPhone external battery pack is compatible with some low input devices (e.g. Smart Watches, some Bluetooth Headsets and GPS devices).
Summary
Ainope's 10000mAh power bank with its compact size is comfortable and convenient to hold in your hands. It is also easy to put it in your pocket or back-pack when you're out traveling.
The power bank has a reasonable price and a solid rating of 4.4 out of 5 stars on Amazon. If you're in the market for a power bank that is portable, light, and has a good capacity, check out Ainope Portable Charger.