Anker's mobile accessories are highly popular for various reasons – reasonable price, user friendly features and dependability are just some things that come to mind. Today, we take a look at a portable power bank from Anker that is sure to be highly useful if you plan to charge your Macbook, iPhone, Galaxy smartphone, iPad or other mobile gadgets while on the go. It's also great for home or office use thanks to its multiple USB-A and C ports and a flashlight. Read on to learn more about this handy portable power bank Anker Powerhouse 100.
Anker Powerhouse 100 – Multipurpose Wonder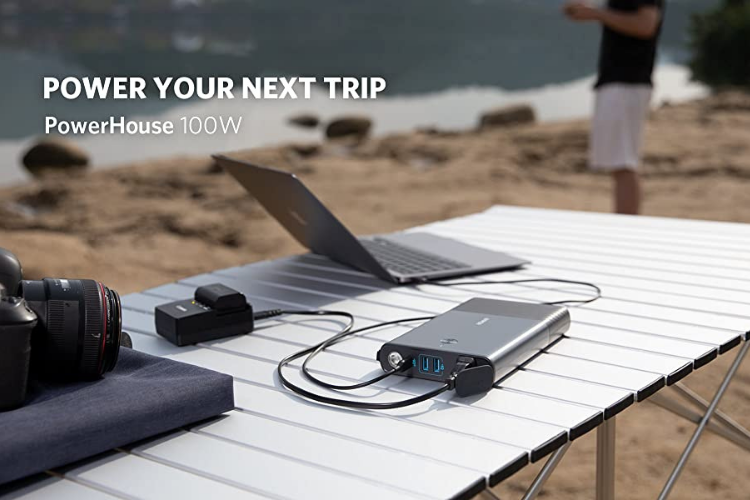 Design
The Anker Powerhouse 100 is a really compact device at just 7.91 x 4.74 x 1.21 inches. This means it easily fits into your travel bag without adding to the bulk. It also comes with a handy lanyard for easier carrying and a textured rubber end that provides better grip. This compact design makes it a more convenient power bank for charging smartphones and tablets rather than larger devices.
Charge Multiple Devices in One Go
One of the biggest conveniences in our digital life is owning a gadget that can charge multiple devices simultaneously. And the Powerhouse 1oo does not disappoint in this regard. With a 45W USB-C port and 2 USB ports you can charge up to 4 devices at once. The 100W AC outlet gives you the flexibility of charging a wide range of products from lanterns to fans.
The huge 27,000mAh capacity battery lets you charge a 2020 MacBook Air one and a half times, a DJI Mavic Mini three to four times, and an iPhone 11 up to five times.
High Speed Charging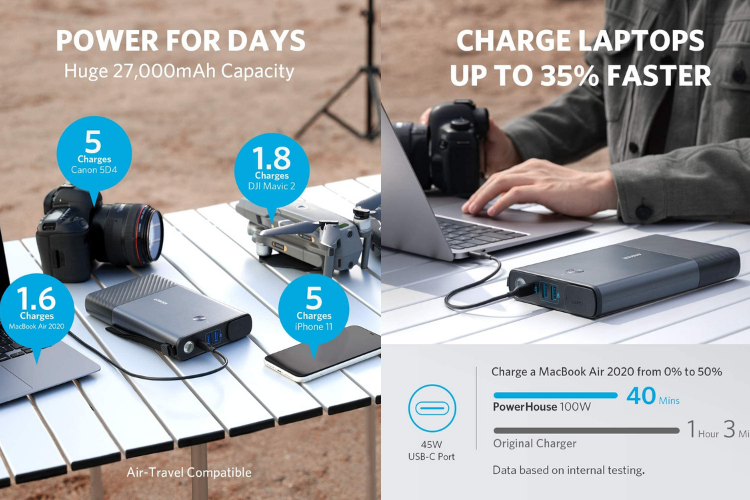 That's not all. The 45W USB-C port also gives you the advantage of high speed charging. For instance, you can fully charge a 2020 MacBook Air in just over 2 hours.
Stable Power Supply
With the Powerhouse 100, you can expect the power output to be just as good as what you get at home. The built-in AC outlet uses a pure sine wave inverter that reduces audible and electrical noise in sensitive appliances too.
Built-in Flashlight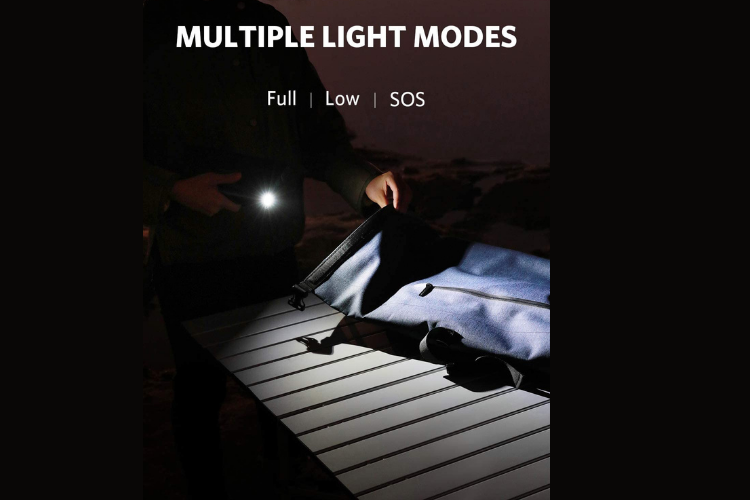 What's more. The powerbank also has a built-in flashlight that ensures you're never stuck in a dark place on your travels. You can choose between full brightness, low brightness, and SOS lighting modes at the push of the button.
Final Thoughts
The Anker Powerhouse 100 is priced at around the $160 mark. That may seem a little pricey, but considering the extra functionality you get with its AC outlet, you may find it worth the cost.
The Powerhouse 100 is a handy accessory to carry with you if you work a lot on the go or spend a lot of time working from cafes.
Check out the Anker Powerhouse 100 on Amazon