The absence of the audio jack on the iPhone 7 and iPhone 7 Plus has put off a lot of Apple fans. But accessory makers discovered an opportunity to fill that gap with new innovations. Belkin, creators of some of the most innovative products in the market is one such company. It has devised a dongle that could let you listen to music while charging. It called the device the Lightning Audio Charge RockStar. 5 months after launching in the U.S, the accessory is now available in India. We have all the details.
Lightning Audio Charge RockStar Price
The Lightning Audio Charge RockStar is available on the official website in India at Rs. 4,999.  The device can be picked up at leading Apple Stores for now.
Lightning Audio Charge RockStar Features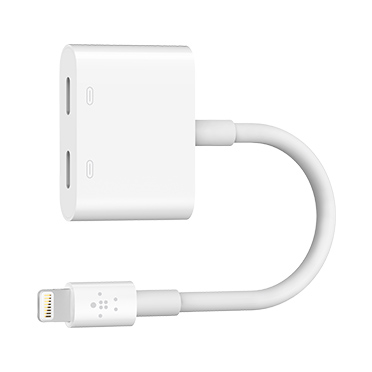 The Lightning Audio Charge RockStar comes with dual functions. On the one end, it plugs into the Lightning port to charge your iPhone or iPad. On the other end, it houses two lightning sockets. One connects to the Power cable while the other lightning socket connects to the lightning earpods to listen to audio. There is no support for syncing though.
This charger allows charging both the iPhone and the iPad up to 12W. The adaptor also offers support up to 48 kHz, 24-bit audio output. If you are still using your 3.5mm headphones, it will work with the Phone 7's lightning adaptor. Remote control and microphone support are also included.
This Belkin accessory is compatible with all compatible Lightning Audio headphones and the Apple Lightning to 3.5 mm Headphone Jack Adapter. It also works with Apple's iPhone 7 Smart battery case.
The device is Apple certified and is designed specifically for the iPhone and iPad devices. So if you want to listen to music, watch videos, play audiobooks, or use your GPS while charging,  you can do it with the Belkin Lightning Audio Charge RockStar.