Belkin, a renowned brand in the world of charging accessories, is set to launch its latest offering in the form of the Belkin BoostCharge Pro. This innovative charger brings 15W MagSafe charging speeds to your nightstand. Plus, it offers a travel-friendly design, making it the perfect companion for your iPhone 14 and AirPods Pro. With its minimal and compact footprint, the BoostCharge Pro is ideal for slipping into your travel bag or luggage. This ensures that you stay powered up wherever you go. Interested? Check all the exciting details inside.
A New Approach to 2-in-1 Charging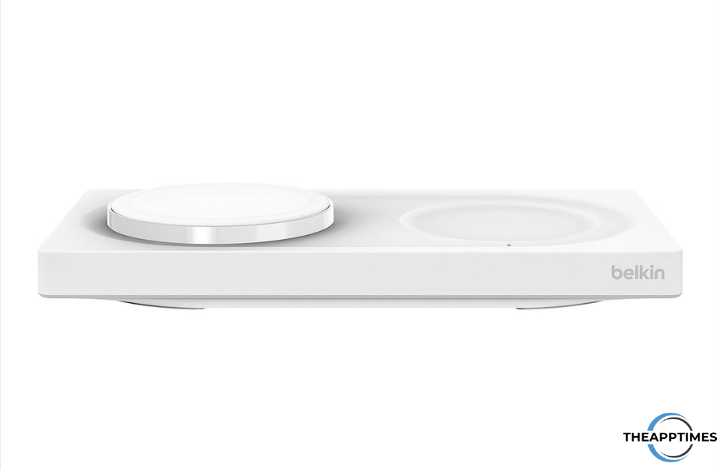 The Belkin BoostCharge Pro takes a unique approach to the traditional 2-in-1 charger design that we typically see with MagSafe chargers.
Unlike its counterparts, the BoostCharge Pro features a more horizontal orientation. This allows you to lay it flat on your nightstand and fit seamlessly into your bag.
The ability to charge your smartphone and earbuds simultaneously is not new to Belkin. It's compact and portable design sets it apart from other chargers on the market. And, the BoostCharge Pro is no exception.
Powering Your Devices with 15W MagSafe
At the heart of the Belkin BoostCharge Pro is the 15W MagSafe pad. It is ideally positioned on the right side of the unit. This pad is compatible with Apple's iPhone 12 series and later models, including the highly anticipated iPhone 15.
The BoostCharge Pro also features a 5W Qi pad on its right side. This is perfect for charging your AirPods and other wireless charging-enabled devices.
Pre-Order and Availability
Excitingly, the Belkin BoostCharge Pro is now available for pre-order on Amazon. Priced at $79.99, it is expected to be released on August 8. That's just in time for the arrival of the new iPhone 15 in September.
The pricing of the BoostCharge Pro is in line with other high-quality chargers from Belkin. That's excellent value for its functionality.
In comparison, the model with an onboard Apple Watch charger is priced at $150, making the BoostCharge Pro an attractive and cost-effective option.
The Convenience of the Horizontal Design
While the BoostCharge Pro offers impressive charging capabilities, one potential drawback is the absence of standby mode support.
Due to its horizontal design, your device will lay flat on the nightstand during charging. However, considering the charger's features and price point, this is unlikely to be a dealbreaker for most users.
Other MagSafe chargers on the market may offer support for standby mode but often come with a higher price tag of $100 or more.
Conclusion
The Belkin BoostCharge Pro is set to make charging more convenient for iPhone 14 and AirPods Pro users. With its horizontal design, 15W MagSafe charging capabilities, and travel-friendly form factor, it offers the perfect combination of functionality and portability.
Whether you're at home or on the go, the BoostCharge Pro ensures that your devices stay powered up and ready for action. Don't miss out on the opportunity to pre-order this game-changing charger and experience the future of wireless charging.
Visit Amazon to learn more and pre-order your device.