Belkin's innovative lineup of smart home accessories Wemo has a new addition to its lineup. It is the Wemo 3 Way Smart Light Switch that lets you control nearly anything that a traditional light switch can, including ceiling fans and porch lights. And, unlike most smart light switches that can only control a single fixture or outlet, this switch can do more. Here's more on the Wemo 3 Way Smart Light Switch.
Control Your Lights from Anywhere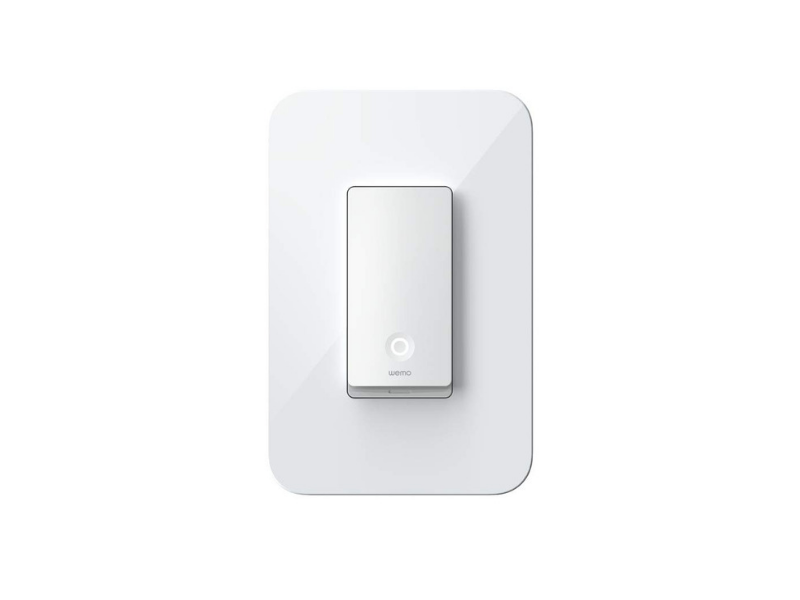 The Wemo Smart Light Switch lets you control lights and ceiling fans from the wall using the Wemo App or with your voice. It connects to your existing home Wi-Fi network to give you easy, wireless control of your lights. You don't need any third- party hub setup or a subscription plan to get started. Another cool feature of this 3 way smart light switch is that it can be installed almost anywhere.
Set Schedules
With the Wemo Light Switch, you can even set automatic schedules for any light. Using the Wemo App, you can schedule your lights to turn off at sunrise or synchronize with your porch light to switch on during sunset.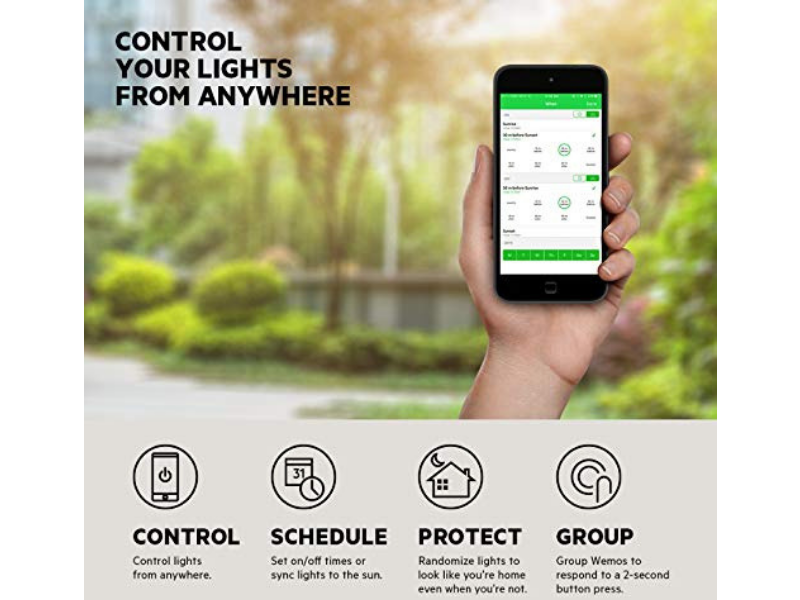 The Wemo Light Switch can randomize your lights and protect your home better than a mechanical timer. Just set it to "Away Mode," and the Switch will turn the lights on and off randomly to make it appear as if you are at home, even when you're not.
Compatible with Single Pole Switches
If you have the traditional 3-way switches in your hallway, where two switches control the same light, simply replace them with the Wemo 3-Way Smart Light Switch. You'll only ever need one Smart Light Switch per 3-way circuit.
Multiple Grouping
If you own multiple Wemo devices, you can group them together using the long press feature. Then you can turn everything on or off with a single 2-second press of your Wemo Light Switch.
Works with Alexa, Google Assistant, IFTTT and HomeKit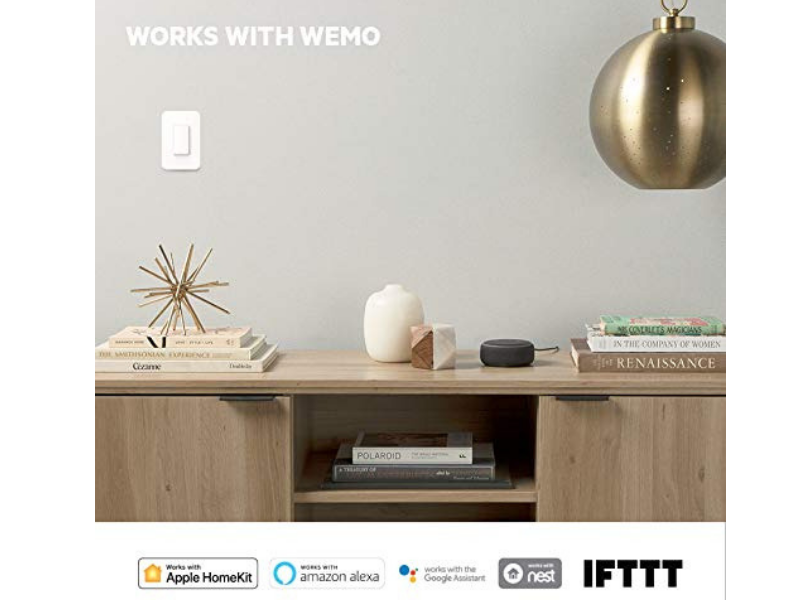 Wemo works seamlessly with popular smart assistants. You can use it with Amazon Alexa to give you hands-free voice control over your lights and devices. You can also control the lights using Google Home, your Android smartphone or any device that has built-in Google Assistant support.
If you're into the IFTTT service, you can find applets to turn on the Wemo Light Switch or turn it off based on certain events. Finally, you'll love the fact that you can control the light switch with the Apple Home app and Siri from your iPhone, iPad, Apple Watch, Mac, or HomePod.
Wemo App
Download: iPhone; Google Play; Amazon
Features and Specs – Wemo 3 Way Smart Light Switch
Dimensions: 1.72″ W x 4.1″ H x 1.64″ D
Weight: 3.68 ounces
System Requirements
WiFi router
Android 6.0 or higher
iOS 11.0 or higher
Neutral wire required
Replaces single pole or 3-way switches
Only requires one Smart Light Switch per 3-way circuit.
Works with your existing single/double/multi-switch plates
Not designed to work with metal face plates
Wemo's 3 Way Smart Light Switch is great for anyone new to the smart home market. It is super easy to set up, doesn't require separate hubs and is economical as you need only one Smart Light Switch per 3-way circuit.
The Wemo Smart Light Switch 3-Way is available now on Amazon for $49.99.
Check it out and tell us what you think!