If you're a frequent traveler, life on the road can be difficult, especially if you rely much on modern gadgets. But this RAVpower FileHub Wireless Travel Router can make things a lot better. That's because it works as a battery, a storage hub, a media streamer and a travel router. Read on to learn more about this cool accessory that should be part of anyone's travel kit.
Why Buy the RAVpower FileHub Wireless Travel Router?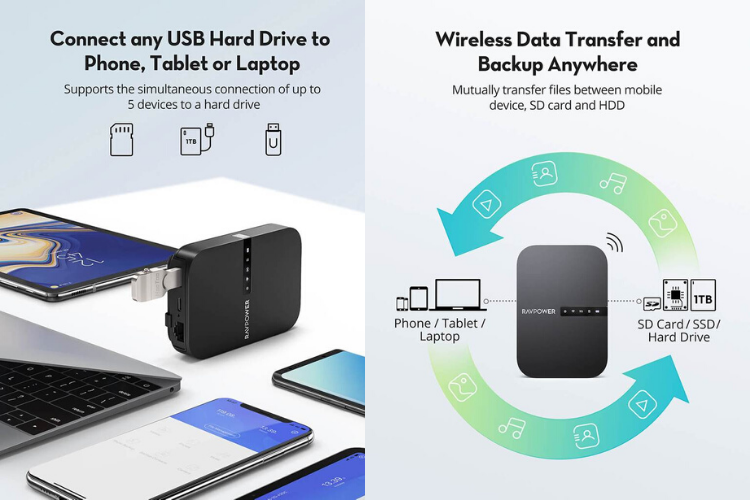 Small, Compact, Perfect to Carry Around on Your Travels
The FileHub Travel Router is a small gadget, about 5.5 x 3 x 0.9 inches, weighing around 0.44 pounds. Its small, compact size ensures that it takes up very little space in your luggage or travel bag. Best of all, it replaces at least three other accessories you would otherwise carry with you.
Free's Up Device Storage
The RAVpower FileHub Wireless Travel Router acts as a handy storage device, letting you directly save photos and videos to the attached SD Card or HDD directly via the in-app camera.
Handy Travel Router
This accessory can also play the role of a handy travel router. Just plug the Ethernet port to a router at wherever you are staying and you can have your own private Wi-Fi network with speeds of up to 300Mbps on 2.4GHz band and up to 433 Mbps on 5GHz.
This gadget is especially useful when you're travelling with family. Because, you only need to set up the accessory once, instead of doing it on each and every family member's phone, tablet or other device.
Stream Music, Photos, Videos and More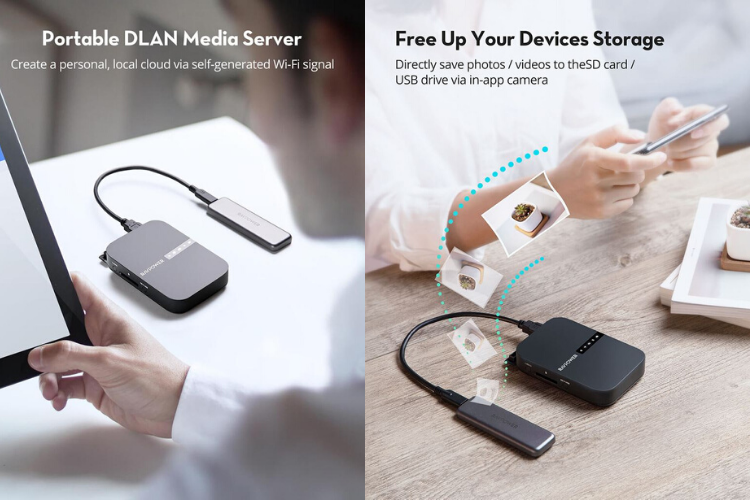 Thanks to its dependable Wi-Fi speeds, you can enjoy streaming music, photos, videos or movies from Disney Plus to an iPhone or iPad. You can also stream movies from a thumbdrive in the FileHub's USB port. There's one limitation though – don't stream more than three movies at once. You can also browse documents and transfer files mutually between the SD Card, SSD/HDD and your device.
SD Card Reader and USB Port
The RAVPower FileHub has a USB port and an SD card reader that makes it easy to access data on SD cards or USB drives. Not only can you easily connect to an SD card or thumb drive, you can even have multiple people connect to it simultaneously. So one person could stream a movie on his/her iPad while another person can stream a totally different movie on his/her device.
If you're taking the kids with you on the go, you could download all the movies needed to keep them busy (on a USB drive). And the kids can then watch whichever they want on their own devices. No hassles.
Backup Up Your Photos & Videos
If you have taken videos of your outdoor trip on your phone or other device, you can have the FileHub automatically back up everything to a USB drive at the push of a button.
Battery Recharge
The FileHub has a 6700mAh battery acting as a portable battery pack to keep the juices flowing when you're on the go. While it isn't a power bank, it can definitely give you at least one full recharge, should you need it.
To recharge the FileHub itself, you need to plug in the micro-USB/USB-A cable (supplied) to a standard USB-A charger (not supplied).
Final Thoughts
RAVpower's FileHub Wireless Travel Router (RP-WD009) is a fantastic accessory to keep you and your family connected and entertained while on the road. It takes the hassle out of connecting multiple devices to a network, keeps your videos and photos safe and can provide an emergency recharge too. It is available for a tidy sum of $59.99.
If you want to avoid carrying multiple devices on your travels, consider buying the RAVpower FileHub Wireless Travel Router. It also makes for a cool #stockingstuffer or Christmas Gift.
Check it out and tell us what you think!Buy from:Amazon — $55.99