Today most of us own multiple gadgets, be it a mobile phone, AirPods or smartwatch. While that's a nice cool convenience, charging them often involves searching for power outlets and dealing with a bunch of coiled wires. If you own multiple such devices, one of the most convenient accessories you will want to own is a good wireless charger. Better yet, one that can power multiple devices in one go; such as the UCOMX Nano Wireless Charger. Here's a closer look at what this wireless charger can do for you.
UCOMX Nano Wireless Charger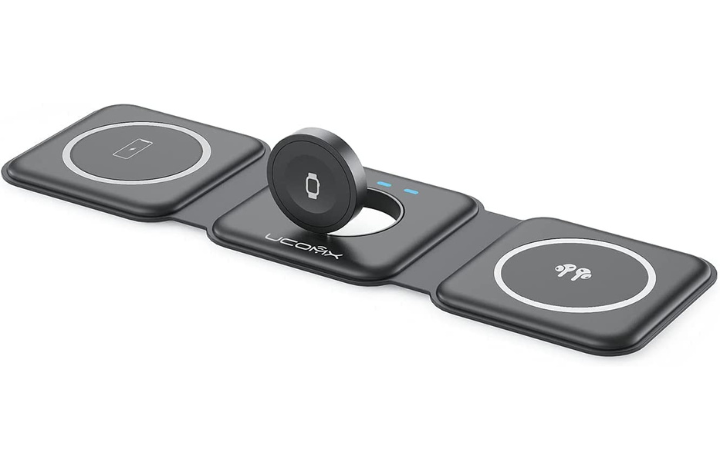 The UCOMX Nano Wireless Charger is a portable wireless charging pad that can charge a mobile phone, Apple Watch and an AirPod simultaneously. It works with the iPhone 13/12/SE/11/XS/8, Samsung Galaxy, AirPods Pro, and Apple Watch. And its light, flexible nature ensures that it works great, both in an office or home environment as well as a travel companion.
Flexible Convenience
Fully folded, the UCOMX Nano comes to about half the size of an iPhone. When unfolded, it reveals 3 charging pads – to power your iPhone, AirPods or any other device you own that is Qi-Compatible.
You can even fold it into a triangle and place your iPhone in a convenient angle for streaming movies, YouTube and such.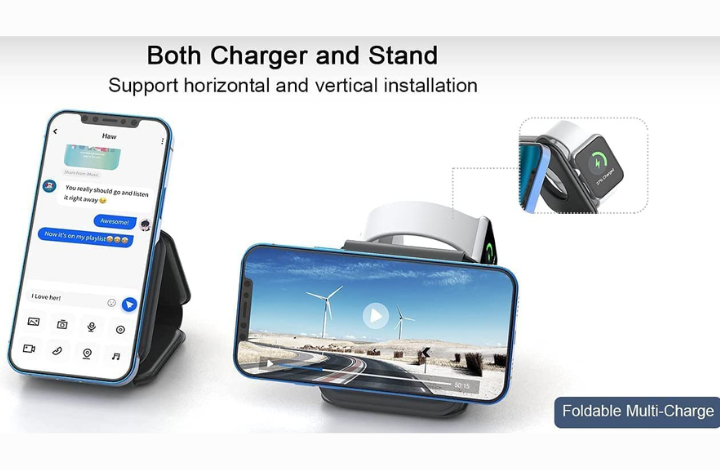 You can even do a complete 360° fold and use it only to charge a single device, saving you a lot of space.
3 Charging Modes
The UCOMX Nano offers 3 modes of wireless charging : phone 10W, AirPods and Apple Watch 5W each. Upgraded coils on the charging pad helps increase the power conversion rate by 35%.
Additional Features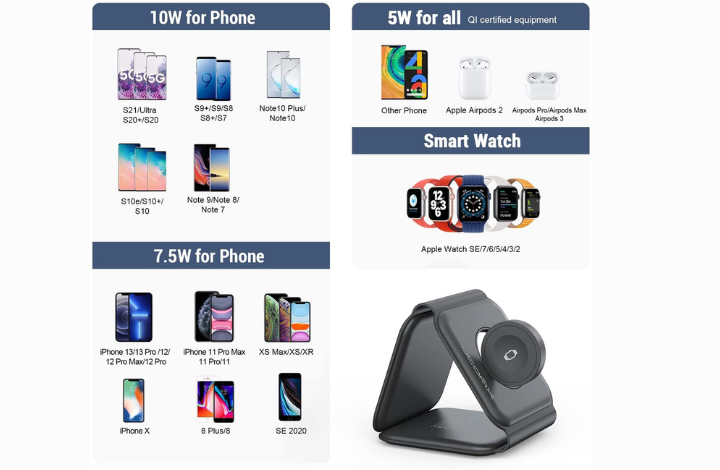 Magnets inside the charger helps to ensure that your charging devices don't fall off by accident. However, this feature is only compatible with the iPhone 12, 13 and later models.
Plus, the UCOMX Nano comes with valuable features such as foreign object detection and magnetic isolation sheet to ensure zero radiation. It also comes with short circuit protection and temperature control features. If the temperature exceeds 104 ?, charging will automatically be stopped to avoid battery damage and fire.
If you have a charging case on your devices, you'll need to make sure the cases are not more than 3mm thick. Or, you might need a special magnetic charging mobile phone case for convenient hassle-free charging.
Conclusion
Wireless chargers are one of the most highly recommended items to take with you on your travels. The UCOMX Nano can replace 3-4 charging devices, which is highly economical.
With a decent 4.3 star rating on Amazon, having a UCOMX Nano on hand isn't a bad idea at all. It comes with a USB power adapter, 1M-power cable, a user manual, and the magnetic wireless charger itself. So, get rid of your outdated wire chargers now. Pick up the UCOMX Nano 3 in 1 Wireless Charger and Magnetic Foldable Charging Station for just under $40 on Amazon.