Whether you're looking for fresh ideas for your kitchen, or planning to surprise your wife with a home cooked meal, one of the coolest and quickest ways to find that special recipe is to look them up online. Even better, you can find one on your Android or iOS device. Here's a list of the best recipe apps that will help you get some cool ideas to whip up your loved one's appetite.
Updated: August 2016
Best Recipe Apps for Your Android and iOS Devices
Yes Chef!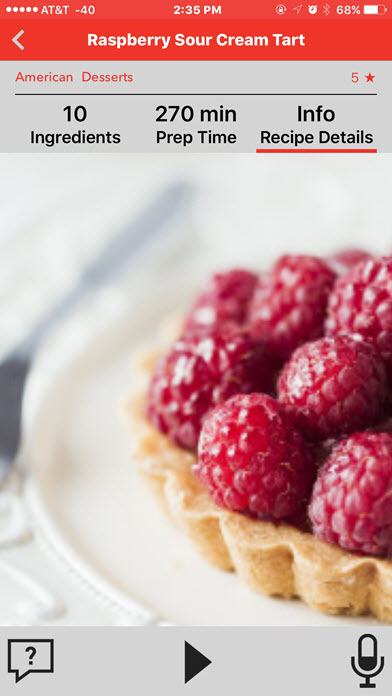 This incredibly cool app lets you get started with cooking recipes using voice commands. Just say Chef, search for Eggs Benedict and the app will pick up the recipe for you to start cooking. Say Chef, next, and the app will start reading out the ingredients and step by step instructions. You can also customize the app to set the desired speed and volume of the speech. If you need to run through a recipe without ever having to wash your hands to access the iOS screen, this app will come in handy. Price: Free.
Loaf – Recipes for Easy Cooking
What more can you squeeze out of a recipe app that already hasn't been thought of? Well, how about personal recommendations from chefs based on your personal tastes? The latest app to tease our senses on the App Store is Loaf, short for Love Of All Food. It aims to help you discover recipes based on your tastes and get step by step instructions through animated clips to make whipping up amazing meals super easy. The app lets you ask someone questions on a recipe, track and share your creations, and record your own recipes using the built-in recipe writer. Loaf is simply a must have app for all food lovers.
Download Loaf – Recipes for Easy Cooking for iPad
Food Network In the Kitchen
If you love The Food Network, then this app is for you. There are awesome recipes, seasonal menus, a recipe box, a kitchen timer, unit converter and a shopping list to help you with your cooking. You can search the app by chef or ingredient and find top rated recipes from the kitchens of over 20 chefs and special how to videos on select recipes. You can save your favorite recipes and even access personal recipes you saved on the Food Network website. The app features new recipes every month and you can share recipes you love on Facebook Twitter or via email.
Download Food Network for Android
Jamie's 20 Minute Meals
If you're a fan of the well-renowned celebrity chef Jamie Oliver, you may want to buy this one, although at a pretty steep price of $6.99. The app contains 60 quickie recipes with a healthy perspective typical Jamie-style. The recipes are organized by category, there's also a Search option to find recipes based on recipes and ingredients.
There's the usual shopping list, audio tips from Jamie, and links to videos not particularly related to the recipe in question but to cooking tips. One of the best features of the application is that the serving size can be switched from two to four people with the click of a tab.
This way, you'll know the exact proportions of the ingredients needed to make the meal for any number of people.The app has a fantastic user interface and is a good food app, again, if you love Jamie's cooking.
Download Jamie's 20 Minute Meals for Android
Download Jamie's 20 Minute Meals for iOS
Allrecipes Dinner Spinner
There are days when you just can't make up your mind about what to cook. If this situation sounds familiar, then it's time to whip out this app, hit the spinner or shake the phone and get a random selection of dishes and ingredients. Or search through the huge collection of recipes, upload and store your own recipes, and create shopping lists for ingredients. You can even view reviews and comments of other users and share your favorite recipes on Facebook and Twitter. A neat user interface makes finding a recipe easy.
Download Allrecipes Dinner Spinner for Android
Download Allrecipes Dinner Spinner for iOS
How to Cook Everything
Available for $9.99 on the iPhone the How to Cook Everything app is an all-encompassing database that offers more than 2000 yummy recipes with over 4000 illustrations. Whether its step by step instructions you want or instructional videos you'll find it all in the app. Additionally, each recipe has a built in timer so you don't overcook or undercook your meals and a constant-on button that doesn't turn off your iPad when you're referring to it.
This app works best on an iPad as many of its handy features such as bookmarking, detailed how-tos, notes section, ability to select quotes with Mark Bittman voiceovers, and the constant-on button that make it more intuitive to use are available on the tablet. How to Cook Everything has plenty of ideas to inspire you to cook something new everyday and this is a must have app if you're a food lover.
Download How to Cook Everything for iOS
NYT Cooking – Recipes from The New York Times
The iconic NYT plays expert cook with their food app for iOS devices called NYT Cooking. You'll find over 17000 time tested recipes with beautiful photography and easy-to-follow instructions for each recipe. You can also browse the newspaper's archive section for more recipes and look forward to the new recipes they update every week. You can search the app by diet, preparing style, meal type or cuisine and bookmark recipes you cooked.
The app is quite interactive as well in that it allows users to rate the recipes and leave comments for fellow cooks to follow. The Personal Recipe Box lets you save your favorite NYT recipes as well as recipes you found on other websites and access them on any iOS device. You can also link Evernote to save your recipes and sync them to the app. The iPad app contains additional features such as recipe recommendations, customizable collections, instructional videos and so on.
Download NYT Cooking – Recipes from The New York Times for iOS
BigOven
BigOven rightfully claims its place among the best recipe apps not simply because it received rave reviews on PC Magazine, TIME Magazine, and The Huffington Post but because you'll never be lost for recipe ideas thanks to its database of over 350,000 recipes and its easy to use (and print ) menu planner lets you plan your meals for a week without stressing yourself out.
The app features collections and menus that are available by season, course, holiday, diet, or lifestyle. You can store your personal recipes, save recipes you want to try, and add recipes you discovered on other websites as well. The app also makes it possible to convert your recipes to grocery lists, which makes it easy for you to pick up items you need for your meals. If you're having doubts about whether to cook a particular recipe or not, you can take help from the comments and reviews of the Big Oven community to make that decision.
Yummly Recipes & Grocery Shopping List
Yummly made it to the Best of 2014 apps on the App Store and for good reason. It has over 1 million recipes from all over the world in its database and thankfully a powerful search feature that lets you find the perfect recipe without spending hours and hours on the app. You can find recipes by holiday, cuisine, taste, diet, nutrition, allergy, cook time, technique, and more.
The app also curates all your favorite recipes from popular food apps like AllRecipes, Epicurious, and Food52, as well as from top food blogs like Chow, Serious Eats, and Steamy Kitchen. For the health conscious, there is also a nutrition tracker and Health App integration. Yummly is also a smart app that can learn your taste preferences and make recipe recommendations.
The apps most appealing feature is its integration with Instacart, (available in certain locations only) allowing you to add items from your grocery list into the shopping cart and have them delivered to your doorstep within an hour. There's so much to love about Yummly and you'd be left wanting if this wasn't on your list of food apps to own.
Download Yummly Recipes & Grocery Shopping List for Android
Download Yummly Recipes & Grocery Shopping List for iOS
Kitchen Stories
Kitchen Stories has everything you need in a food app – delicious recipes and step by step instructions accompanied by beautiful photos, recipes and how to videos (in HD) all presented in cool theme packages like gluten-free recipe ideas, 20 minute dishes and so on. Other features of the app include auto generated shopping lists, option to collect and save recipes that you love, a practical measurement converter, notepad to add your comments, the option to join the Kitchen Stories Family, share your recipes with them and make foodie friends around the world.
Download Kitchen Stories for Android
Download Kitchen Stories for iOS
Joy of Cooking
Joy of Cooking has made a beautiful transition from cookbook to app. It features thousands of recipes and all the best tips and instructions from its latest best selling book, HD graphics, pre-set digital timers to get all your recipes right, voiceover to read the recipe instructions step by step, voice commands to navigate the app, built-in menu maker, bookmarks, Favorites collection, shopping lists, Sleep Block, measurements and conversion calculator, and notes page among other useful features. If you loved scouring the Joy of Cooking website, you'll surely love everything the app has to offer. Just be ready to shell out $7.99 for this bundle of joy.
Download Joy of Cooking for iOS
Paprika Recipe Manager
Paprika Recipe Manager is all about managing your own cookbook from recipes collected across the web. You can tap to add recipes from hundreds of websites, or manually type them into the app for saving. As you collate recipes, you can organize them into various categories according to your convenience and cooking style.
The app's other prominent features include the ability to automatically generate grocery lists from recipes, built-in timer, meal planner, notepad, pantry log and Paprika Cloud Sync to carry your recipes wherever you go. At $4.99 Paprika is well worth the price because it's a unique recipe app that doesn't throw a million recipes in your face, but rather let's you create one from scratch and organize and manage the recipes you want, at your convenience.
Download Paprika Recipe Manager