When it comes to running your business efficiently and securely, a good VPN service is highly essential. VPN services help businesses work in a secure environment, protecting against cybercrime, privacy breaches, and malware without breaking the bank. There are plenty of great VPN solutions in the market. Our focus today, is on Business VPN by KeepSolid, a powerful VPN service that provides several advantages that are key to business security, privacy protection and productivity.
Need for a Good Business VPN
Any modern business, particularly one with a flexible and mobile workforce, needs to ensure high levels of data privacy and security. With constant cyber- attacks becoming the order of the day, it is also crucial to keep the company network and internet connection secure. Plus, employees must have secure access to company facilities when working remotely.
A good VPN for business must ensure an easy installation and set-up process. It must also be capable of scalability, allowing businesses to seamlessly integrate their growth and expansion. A dedicated server that delivers higher speeds and greater reliability is an added advantage.
At the administrative level, a good VPN service must offer settings that allow company-wide control rather than individual control options. Finally, 24/7 priority support or a dedicated network support executive must be available for quick resolutions.
The KeepSolid Advantage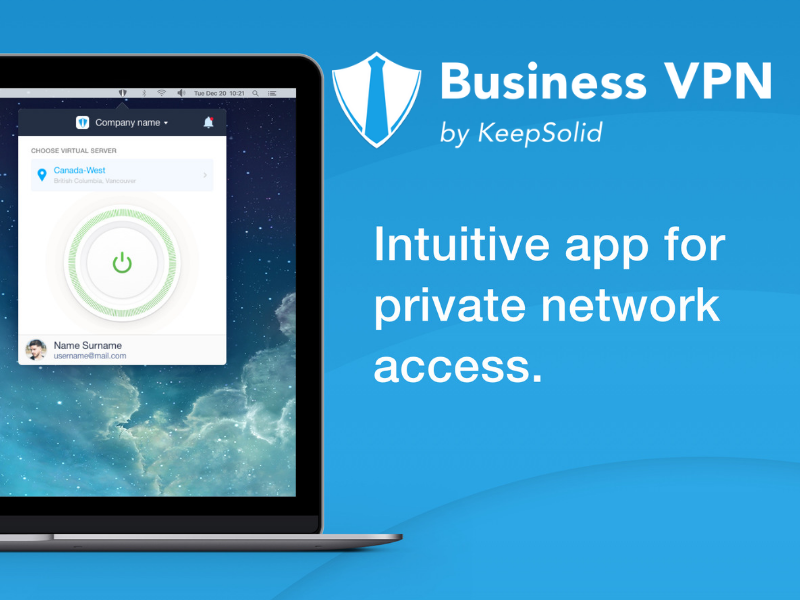 Business VPN by KeepSolid offers several benefits for businesses.
Military-Grade Encryption
Military-grade encryption system is highly essential for securing all business data. KeepSoild uses AES-128 and AES-256 encryption standards to ensure that all business information and correspondence is securely protected from falling into the wrong hands. This service also complements any security system your business already has in place. It also works independently to provide a sufficient level of protection on its own.
Private VPN Servers
KeepSolid has over 400 VPN servers at 70+ locations worldwide. Their Business VPN subscription plans offer multiple servers, each with a unique personal IP. This feature is highly advantageous for business working with a mobile workforce. Remote workers can seamlessly collaborate under a single IP and avoid complications resulting from geo-restrictions.
It also makes your business look professional when the location of your remote workforce is not exposed. Also, the company's strict no-log policy helps to keep all business communications and history safe in case of any legal actions.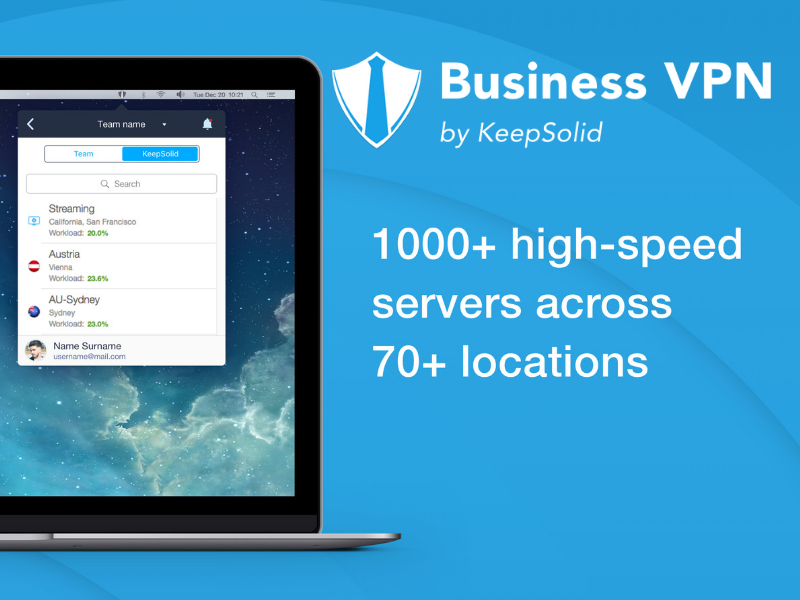 Seamless Installation and Setup
Setting up a Business VPN account in KeepSolid is seamless. Just head over to the official website and register for one of the subscription plans. (You can request a free demo before you sign up to learn more about the software.)
You can then select your private VPN server(s) and create your teams. Then add team members, assign users to the teams and grant them their user rights. The Business VPN app can help you manage your account remotely. KeepSolid's user friendly UI makes it easy to manage the portal, which in turn can significantly reduce management costs for your business.
Customer Support
When you work with third party systems and tools, it is essential that they deliver top quality customer support. KeepSolid provides professional high-priority customer support for every customer, ensuring requests are resolved swiftly.
Scalable
Every business grows over time. KeepSolid's Business VPN plans allows you to scale your business seamlessly without restrictions. Whether you are growing your infrastructure, or adding more services, this business helps you evolve with your business' ever-changing needs.
Multi-Platform Support
Business VPN currently does not support Linux, but popular platforms like Windows, macOS, iOS and Android are fully supported.
Pricing
KeepSolid Business VPN has 2 flexible subscription models. The $119.99 monthly plan supports 10 users on 1 server. The $339.99 plan supports 30 users across 3 servers. You can also choose an annual plan and save up to 15% on total costs.
Small Team – $11.99/user/month or $9.99/user/month (annual billing)
10 Users
1 Dedicated Private Server
50 devices
400+ public servers in 70+ locations
Military-grade encryption
Premium customer support
Big Team – $11.33/user/month or $9.44/user/month (annual billing)
3 Private Servers
30 users
150 devices
400+ public servers in 70+ locations
Military-grade encryption
Premium customer support
If you require more users and servers, you can apply for a custom plan.
Summary
Every business with a digital presence needs to have safeguards to protect its identity and data. Business VPN by KeepSolid offers a smart security solution with all features necessary for achieving this objective. Military grade encryption, an intuitive portal management, and dedicated customer support ensures that your VPN experience is as smooth as possible.
If you are keen on giving KeepSolid Business VPN a try, check out their 7-day free trial. You'll get a good understanding of how it works and if it is just what your organization needs to work in a secure online world.