Case-Mate, makers of fashionable cases for smartphones and smartwatches also have a nice collection of accessories for the iPhone. Today, we take a look at their wireless charging pad, the Power Pad, which can be used as a vertical stand or as a horizontal pad. Here's more on the Case-Mate's offering – the Power Pad wireless charger.
Why Buy Case-Mate Power Pad?
Delivers fast charging for Apple iPhone (7.5W)
Can be placed on a stand and charged in portrait or landscape mode
Can be charged on a pad
Soft LED light indicator lets you see status of charging
2-year warranty
Case-Mate Power Pad Features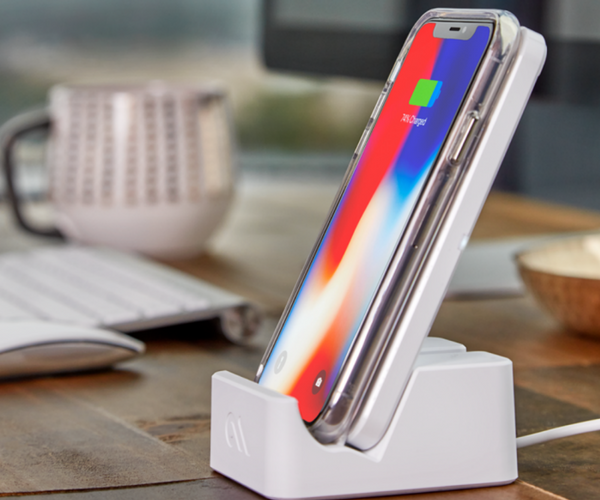 – Stand/Pad
When it comes to charging our smartphones, we all have our own preferences. Sometimes, we prefer to lay our phone flat on a pad and let it do the charging. At other times, we like to place it on a stand so we can use it while it charges.
But not all wireless chargers afford us the luxury of using it as a pad and as a stand. Case-Mate's latest launch, the Power Pad is one stylish charger that meets this requirement. It also comes with a stand so that it can be used on a table or desk.
– Design
The flat pad sports a unique phone shaped design with TPU ridges to prevent the pad from slipping off the surface. The included stand has a ridge to place your phone in portrait or landscape view.
– Fast Charging
The Power Pad is Qi certified and it is capable of fast charging the iPhone (XS/Max/XR/XS 8/8Plus/X).
– Price
The Qi Certified Case-Mate Power Pad comes in 2 colors, black and white for $38. Included in the box is a 5F power cord, an 18W power adapter, the Power Pad, a stand and a stand riser.
Buy the PowerPad with Stand ($38)
Check it out and tell us what you think in the comments below.