When it comes to designing innovative and elegant accessories, it's hard to ignore Elago. Whether it's cases for the AirPod, Apple TV Remote, AirTag, or accessories for your home automation tools, this California based company has everything you need to stylishly accessorize your tech gadgets. Today, we take a look at the 3-in-1 Elago charging station that can charge your iPhone, iWatch, and AirPods without breaking the bank. Check it out!
Elago Charging Station – Stylish, Practical & Cheap
If you live in the Apple ecosystem, chances are, you've already blown a ton of money on your phone, tablet and extras. You don't need to spend more to accessorize them. At $30, Elago's 3-in-1 charging hub can top-up your iPhone, Apple Watch, and AirPods simultaneously while giving off a stylish look.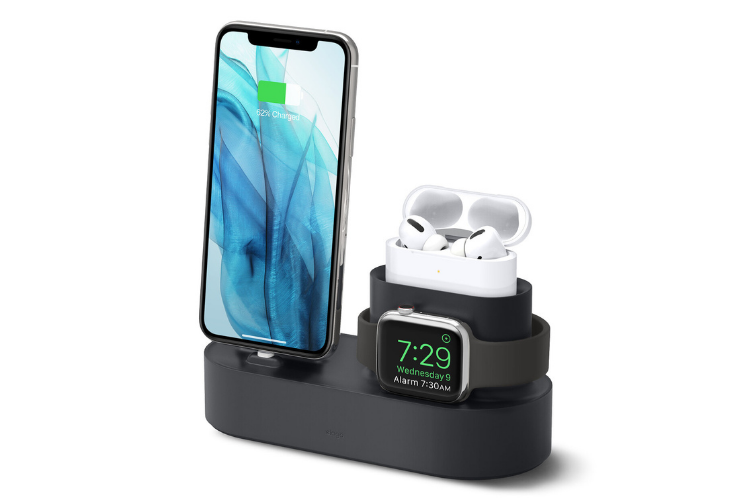 Multi-functional Stand
Made from durable silicone, this stand is sturdy enough to securely holds your favorite Apple gadgets. It supports the Apple Watch Series 7/6/5/4/3/2/1/SE, Apple AirPods 3 & Pro, and the iPhone 13 and 12 Series.
Precise Cutouts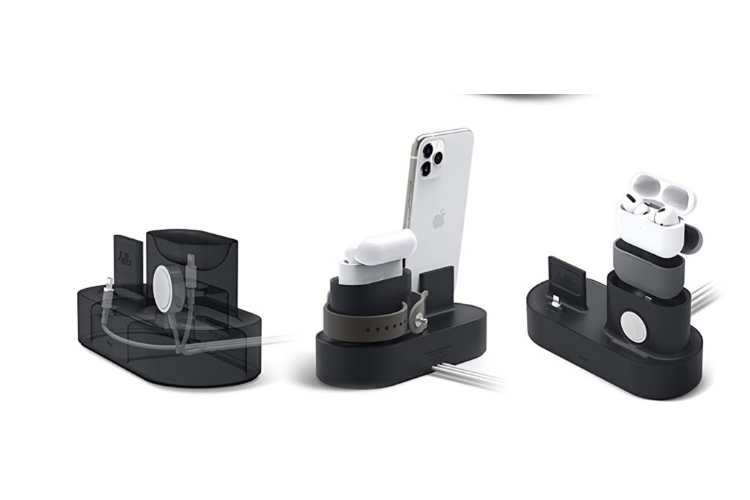 The back of the hub has precise cutouts where you can insert your cables without a tangle. Just make sure you are using the official cables from Apple. Third party options may not have the right level of thickness to fit precisely.
Travel Friendly
Its tough silicone design makes it a great travel accessory; you simply wrap your cables around it and drop it in your bag without having to worry about it.
The Elago 3-in-1 charging station comes in shades of white, black, lavender grey and sand pink. It's a handy accessory for anyone who owns an iPhone, Watch and AirPod and wants a convenient way to recharge them. However, know that this is not a wireless charger and does not come with its own set of cables.
It also makes for a great Christmas gift for an Apple lover in your family.
Check it out if you're in the market for a nice charging solution for yourself or your near and dear ones.