Charging multiple devices is becoming the norm today, since most of us own more than one mobile device. Thankfully, there are plenty of accessory makers who are bringing innovative solutions to the table that is making our job easier. ZeroLemon, creators of the world's first Tri-Cell Battery Design for high capacity batteries is launching a new charger called the Extreme Charge Station that can fast charge up to 6 devices simultaneously. Like the sound of that? Read on to learn more about this highly anticipated accessory.
Why Buy the ZeroLemon Extreme Charge Station?
You can fast charge up to 6 devices simultaneously
You can charge your laptop, tablet, camera, smartphone, Apple Watch, Kindle and Nintendo Switch
10W output charges 1.4 times faster than regular chargers
15W output charges 80% faster than regular chargers
No extra cables
Smart temperature control
Comprehensive safety measures
Here's a closer look at the features of the charge station.
4 Ports + 2 Wireless chargers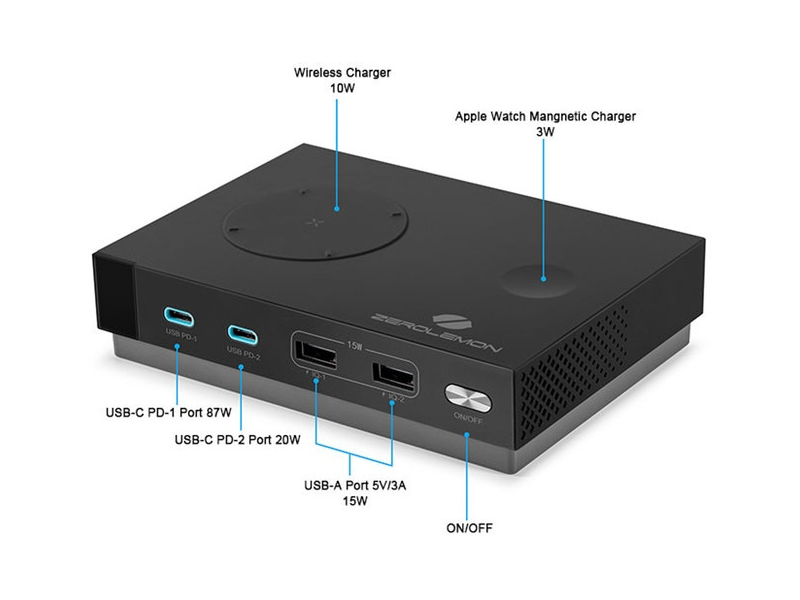 The ZeroLemon's Extreme Charge Station sports 4 USB ports (2 PD-enabled USB-C ports, dual USB-A ports) and 2 wireless chargers that can charge laptops, tablets, cameras, cell phones, Apple Watches, and other mobile devices.
The charging station is compatible with devices that include a MacBook Pro, iPhone, as well as devices from Samsung Google, LG, Motorola, Huawei, Alcatel, ASUS, Kyocera, Palm, and RED. It can even charge your Amazon Kindle and Nintendo Switch.
The maximum output of the ports is 135W, allowing you to charge 6 devices simultaneously. With such powerful output, it can quick charge two laptops or tablets, three mobile devices and one Apple Watch all at once.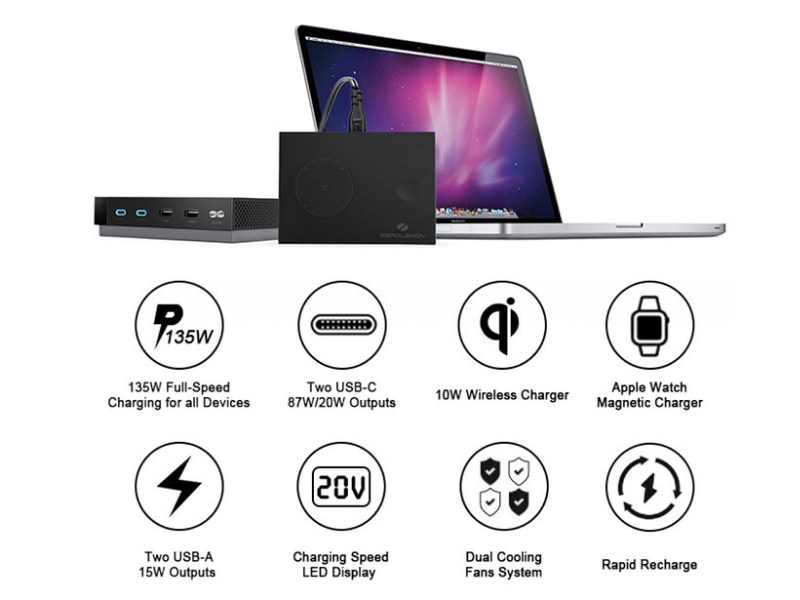 Most chargers in the market come with a low USB-C power output, which is not ideal for charging Macbooks. But this charge station from ZeroLemon can charge a 15-inch MacBook Pro from 0% to 100% in 2 hours.
When it comes to charging your iPhone and iPad, it can do charges as fast as 18W and 30W respectively via Type C to Lightning connection.
Temperature Control & Protection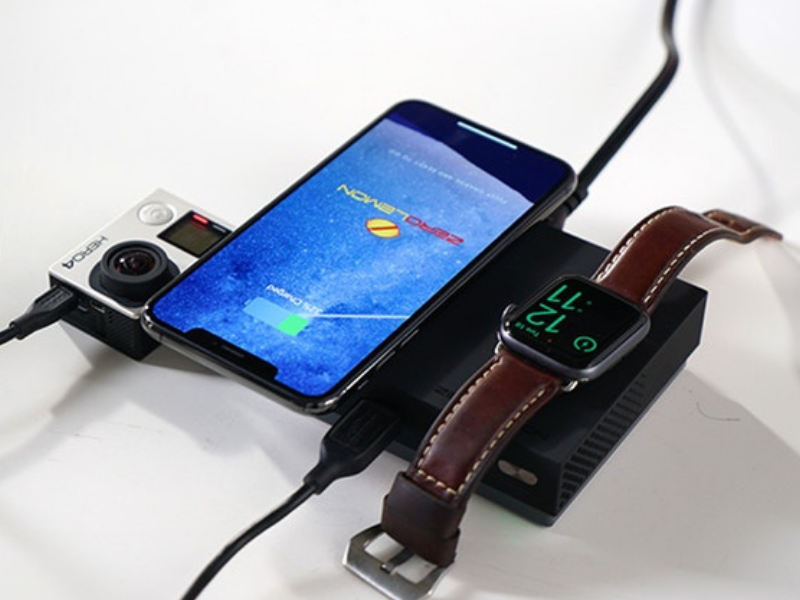 The ZeroLemon Charge Station stands apart from other chargers when it comes to temperature management. While most charging stations simply disconnect when the temperature gets too high, ZeroLemon has a built-in thermal management system that ensures the temperature remains under 105.8? (41?).
The charger also offers protection against voltage fluctuations, short circuiting, overcharging and over currents.
Pricing and Availability
The ZeroLemon Extreme Charge Station is currently available on Kickstarter at $59 with an estimated retail value of $99. The product will start shipping in October of 2019.
Final Thoughts
If your workspace is cluttered with multiple charging bricks, adapters and cables, ZeroLemon Extreme Charge Station offers a convenient clutter-free solution. It is also a great travel companion saving you from the hassle of dealing with a bag full of messy cables and extra accessories.
If you want a convenient all-in-on solution for charging your laptop, smartphone, tablet, or other device, order your ZeroLemon Extreme Charge Station today at a great value price of $59 on Kickstarter.