If you are someone who spends a lot of time on your laptop, chances are you've had to deal with a horrid pain in your neck, likely caused by you staring down your laptop for long hours. Well, you don't have to put up with such pain anymore, thanks to the Couchmaster Cyboss. This is an ergonomic desk that is designed to help you work comfortably on your laptop from the comfort of your couch. It is ergonomically designed to suit all body shapes and sitting postures. If you're struggling with that recurring neck pain, this one is worth checking out!
Features of Couchmaster Cyboss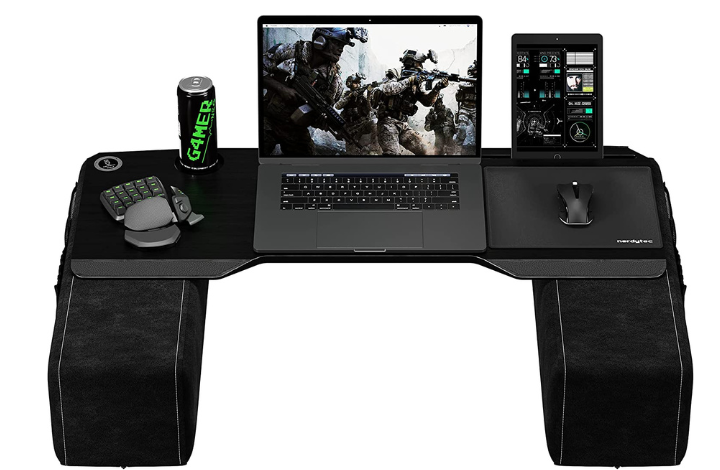 The Couchmaster Cyboss is a desk with two super comfortable foam cushions measuring 9.5 inches wide, 8.5 inches tall, and 26 inches long and a hard bamboo desktop on the top.
This couch desk is spacious enough to hold your laptop, all your important accessories and space to set your coffee cup too without giving off a cluttered look.
Ergonomic Desk that's Suitable for All
The Couchmaster Cyboss is designed to provide ergonomic comfort for everyone, irrespective of their body shape and sitting posture.
That's because this desk offers plenty of space to manoeuvre so you never feel cramped however long you sit. All you need to do is
is place the cushions at hips' length apart, sit between them, and pull the desk on top of the cushions. So irrespective of your body shape or sitting posture, you can adjust the desk to your working comfort.
Spacious Desk Space
The couch desk is also very spacious to work on. The desk surface is about 39.5 inches long, 15.5 inches wide, and less than 0.5 inches thick. There is a cup holder section to keep your steaming hot cup of brew while a ventilation grille at the centre helps keep the laptop cool while it is running.
Plenty of Storage Space
On the right side of the grille, you have space to keep your mouse and other necessary peripherals. There is a slot to even keep your tablet device or smartphone, complete with holes for the cables to go through.
Strong and Stable
The Cyboss is a couch desk but that doesn't mean its going to be wobbly when you place it on your couch or bed. The foam cushions on which the desk rests are very firm and won't shift under pressure. If you're working from your bed, you could put your legs through the desk and still find a comfortable position to work.
Conclusion
Working from a bed or couch or simply enjoying a gaming session from the comfort of your couch is bliss. The Couchmaster Cyboss is perfectly engineered to help you be productive while working from the comfort of your couch. With a good design, sturdy cushion arms and spacious storage space, you no longer have to feel stiff or cluttered.
The Couchmaster Cyboss has great reviews on Amazon as well with a 4.5 star rating. If you are keen to work in comfort, check out this ergonomic desk and tell us what you think!
The Couchmaster Cyboss is available on Amazon for around $180.