Section breaks are applied when you want to apply a different formatting to a certain section of a page in your document or to certain pages in your document. For example, if you are authoring a book, you may want the front matter of the book to have a different page number as compared to the rest of the book. Or, you may want to add a watermark to certain pages of your document. In such instances, you can apply section breaks to that part of the document. In this post we take a look at some of the section breaks types that are available in Word 2010, when you can use them and then examine how to create a section break
Section Break Examples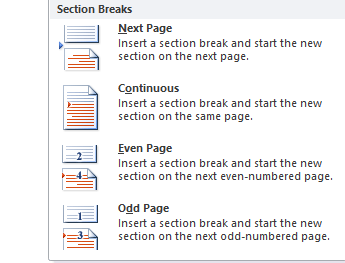 You can insert 4 different types of section break. Each section break can be formatted uniquely from the other sections by modifying its margins, header and footer, page numbers, borders, columns of data and so on. Let's take a quick look at the types of section breaks:
Next Page: This section break is ideal for creating new chapters in a document. When you apply this section break, the next section starts on a new page.
Continuous: You can insert a section break when you want a part of your document to be formatted differently, such as when you want to add two or columns on the page. In this scenario, the Continuous section break is applied in the same page of the document.
Even Page: An Even Page section break inserted on a page starts the next section on the next even numbered page.
Odd Page: An Odd page section break starts a new section on the next odd numbered page.
Both the even and odd page section breaks can be used when you want your document chapters to begin on even or odd pages.
How to Create a Section Break in a Word 2010 Document
1. Place the cursor at the location where you want to create a section break.
2. On the Page Layout tab, in the Page Setup group, click Breaks.
3. From the drop-down, select an option.
If you want to view where you inserted the section breaks, on the Home tab, in the Paragraph group, click the Show\Hide button.
The section break provides information about the section break applied.
Now you can add sections breaks to your document with ease.
How to Delete a Section Break
If you no longer need a section break to be applied to your document, here's what you need to do.
1. On the Home tab, in the Paragraph group, click the Show/Hide button. This will enable you to easily locate section breaks in your document.
2. Select the section break. Just drag from left to right to select it.
3. Press Delete.
After the section break is deleted, the text above and below the section break flows as part of one document and the formatting of the text below the break will apply for all the text.